If you can't decide between trying to gain experience for a future career in medicine or a trip abroad, why not do both?
Join Gap Medics and you can obtain valuable skills in the medical field in India! The Gap Year program in India has participants volunteer in the local hospital in the city of Jodhpur, where they will get exposure to a number of different fields.
Additionally, Gap Medics volunteers get to explore the exciting Indian culture as well as foster meaningful relationships with fellow participants. Don't miss out on this amazing opportunity to take a Gap Year in India! Learn more on the Gap Medics website!
Reviews
Alumni Interviews
Meet Beckie Deeks, Gap Medics Alum in India
GO: Why did you decide to participate in the Gap Medics program in India?
Beckie: I was having trouble getting hospital work experience in my home town and thought that not only would going to India be a fantastic experience, but it would also help me with the university application and selection process. The program seemed well organized and I knew I would be in good hands whilst making all appropriate arrangements and whilst I was out there.
GO: What made this experience unique and special?
Beckie: I had never been out of Europe before so travelling to India was a very special thing for me. My time in the hospital was amazing and it could not have been more opposite to that of a NHS hospital back home, for example the disposal of a body part after surgery consisted of leaving it on the side of the changing room, which was quite amusing! The people I met out there were so kind and genuine and the student supporter who was living there was so knowledgable and guided us through our time there, showing us all the greatest places to visit, from visiting the Palace to where to eat out each night. The workers at the hospital were so welcoming and went out of their way to show us how things worked in terms of their technology and general practice. There are so many things to do once you're out there that you might not have thought of before or had not been mentioned in correspondence with the GM workers. During the week I also spent time at the orphanage for disabled children which was a fantastic experience and is something that will stay with me for a long time. Also, one night two girls and I were invited into a rickshaw drivers home and his wives and daughter's gave us beautiful henna tattoos, which was a fabulous experience in itself as they were so genuinely interested in us and our culture, as we were with theirs. We also got to watch several surgical procedures (up close!) a day which was amazing.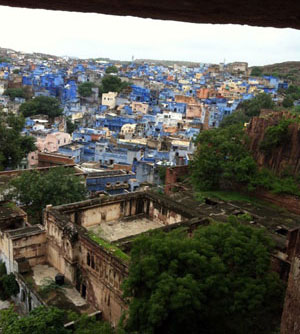 GO: How has this experience impacted your future?
Beckie: This experience has definitely helped me in terms of university places as they really like you to have experience in a hospital environment in order to do nursing/medicine. I strongly believe that it has greatly assisted me in showing my determination to carry out a career in nursing, and in terms of transferable skills I have gained and can apply to my everyday work.
GO: What is one piece of advice you would offer someone considering this program?
Beckie: I would suggest going on this program for at least 2 weeks, as that gives you time to experience the hospital and India itself. Once you're out there, there are trips organised to go visit the Taj Mahal, camel safaris etc, but unfortunately I didn't do these as the week simply wasn't long enough. 2+ weeks would also be better value and allow you a greater insight into the nature of the hospitals and country.
Meet Emily Kelly, Gap Medics Alum in India
GO: What inspired you to take a gap year in India with Gap Medics?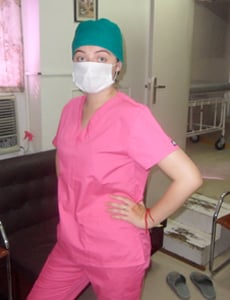 Emily: Firstly I feel it is important to note that Gap Medics is not just a program for gap years as the name may suggest. They run programs in a medical work experience setting from 1 to usually around 6 weeks. I spent four weeks with Gap Medics in India. During my final GCSE year at school I realized that a career in medicine was something I wanted to pursue. At the time I was friendly with two boys in the year above me and I asked them about what I needed to do in terms of work experience as I had heard that was a very important part of the application.
They then told me about Gap Medics which they had found out about online and we all decided to plan a trip as we thought it would really benefit out application and be a great life experience. In the early stages of planning my trip Gap Medics were really helpful over the phone and by e-mail which was really encouraging. Although they are a business they obviously were interested in our well-being, safety, and were not pushing us to book a trip unless it was what we really wanted. When I finally paid my deposit I was very excited but I knew there was a lot of work to do as we were raising all the money ourselves through baking and other activities which was no easy task but in the end we managed it just in time.
GO: What were some highlights of your travels?
Emily: Definitely the most important highlight of my travels was realizing I really did have a passion for medicine. Working in a hospital environment for 4 weeks was fantastic. I observed over 16 different surgical procedures as well as shadowing doctors on ward rounds and general clinics. One of the most memorable moments in the hospital was being invited to observe open heart surgery on a Sunday. As we were not usually supposed to go into the hospital on a weekend we felt very privileged to be invited to such a delicate procedure.
We stood in the operating theater for 9 hours and were allowed to look inside a human heart and observe a man being put on and off a heart lung machine and surviving! It was just incredible to see them almost bring him back from the dead. As well as working in the hospital we were fortunate to have the opportunity to do some traveling after our placement. I fell in love with India during my travels and if anyone taking a placement in India has the possibility to travel anywhere I would really recommend it.
GO: How has this experience impacted your future?
Emily: I will be applying for medical school this October. My experience in India really shaped me and my desire to study medicine so will form a large part of my personal statement. It has also given me an insight into medicine and has shaped the focus of my studies as I am now half way through the International Baccalaureate Diploma. I am focused on achieving the goal of getting into medical school and that is driving me to concentrate at college to get the grades I need.
Further Info
About Gap Medics
Gap Medics is a specialist company that is dedicated to arranging hospital work experience placements for students who are applying to medical or nursing school. Our Head Office is in Newcastle upon Tyne in England, but students join us from all over the world - in particular the UK, USA, Canada, Australia. Our placements offer students from age 16 upwards a genuine insight into the work of doctors and nurses in Africa, India and the Caribbean.
All of Their Programs