Get Creative: Using Travel as Inspiration
Published 10/08/2012 by Miljen Aljinovic
Travel has long been known as one of the most direct and visceral ways of feeding the soul. Moving around and experiencing places you're not familiar with impacts not only your worldview but the entire way in which you establish and maintain that view. It augments fundamentally the very ways in which you view the human race, not only among the people who surround you, but yourself and your family back home included.
Aside from widening your perspective to ways of life and cultures you may not have been previously aware of, the feeling of constantly moving and having to adapt to new surroundings changes the way in which you react to new situations, making that very adaptation easier every time.
Sometimes we can get bogged down by ruts in life and routine, and travel is one thing that can unlock whole new directions for us to funnel our creative energy, more often than not ushering in entire new eras in artistic development. All travelers can tap into their creative side while abroad - here are some of our favorite reasons why traveling is the best inspiration for getting your creative juices flowing.
1. Change of Surroundings
A change in surroundings is always paramount in overcoming any form of creative block. New experiences not only bring about new ideas, but augment the ways in which we look at our memories of home and put them in a light where things that may not have seemed interesting or inspiring are now - when juxtaposed with where you find yourself or how far you've come - perfect art fodder.
The whole world is so immensely filled with beauty that we often forget to look at the parts that stare us in the face every day. It's like staring into a bright light, or listening to a loud noise, eventually you get acclimated and don't notice it even exists any more. When you find yourself in a rut, changing your surroundings will almost always open your eyes, simply by giving you something new to look at. This will often bring you to realize that the same things you find so amazing here probably existed back home, but in forms you had never previously noticed.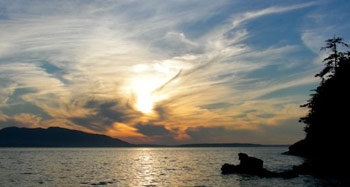 2. Change the Way You Think
The biggest benefit of travel is rearranging not only your mind, but the way in which it operates and creates new memories and ideas. Many people leave on their journey (be it a gap year or otherwise) dissatisfied with their home and surroundings, only to find upon their return that they missed home more than they thought they could, and to look upon what was once bland and familiar with new, refreshed and loving eyes.
Changing your perspective on your surroundings isn't the only positive aspect of a mental shift. Depending on where you travel and how hard you try to expose yourself to the local cultures (and most places you go, it's more difficult to resist than to succumb to), any traveling can find their artistic side through entire fields, styles, genres, and media they were never exposed to at home.
This is especially true for musicians, for example, where walking through a town square, minding your own business you could hear a sound, a beat, or an instrument you've never heard before and be forever changed. The important thing is to be open to experiences and discoveries like this, because they will more often find you than you will them, and you never know when it'll happen.
3. Meet People from Different Walks of Life
Aside from the perspective shift that comes from the simple act of moving around, the conversations one can have with people will often be the things that stick for the longest and bring about the greatest change. While there may be a language barrier, there's always etiquette, hospitality, and universal actions that allow resourceful travelers to get into some quite interesting conversations with locals almost anywhere in the world.
Through conversations with people very different from yourself, you will learn what people's lives are like, and the sort of differences that exist on the most fundamental levels, such as life priorities. Many times it's those conversations that will bring about the greatest self-reflection and positive change.
4. Be Courageous!
Taking the leap and deciding to go abroad does a whirlwind for your psychosis - being thrown into the unknown, facing challenges daily, and ultimately surviving will inspire independence and self reliance. You got this, and your newfound confidence will spill-over into many aspects of your life, including your ability to create.
The most important thing to remember when traveling is to have an open heart and an open mind. Take that jump with no reservations and you'll be surprised by what most meaningfully impacts your travels. Remember, 90% of all progress as a human consciousness happens outside one's comfort zone.
Life on the road can be tough, life abroad is not all roses and stars and sunshine. Reflect on your experiences. Find unique outlets for processing all that you have seen. Whether you prefer to write, paint, sing, or another passage for expressing your thoughts, art is a tried and true method for deepening your connections to a place.
"Certainly, travel is more than the seeing of sights; it is a change that goes on, deep and permanent, in the ideas of living." - Miriam Beard