This is a great chance to get exposure to one of Asia's most exciting and vibrant cities while gaining international work experience. Don't just travel to Shanghai, explore, learn and experience what China's really all about. Then go home and get your resume to really stand out! Our custom internship program's in Shanghai are tailored to fit your background.
Five reasons to intern with us!
Reviews
Alumni Interviews
Meet Louis Grayson, Next Step Connections Alum
GO: What originally inspired you to intern in Shanghai with Next Step Connections?
Louis: Well, it was an absolute fluke that I ended up with Next Step Connections (NSC). I originally applied through my school who worked with another school. They found NSC. I really didn't know what I wanted to do after I graduated and I had no plans for the summer. My family and friends were always pushing for me to study abroad or do something internationally, what with my mixed culture background. I knew China in general was the place to be for business; all the hype I have heard over the years was true. I wanted to see this in relation to my studies in international business as well as for myself. I had no idea what to expect before I left. All I knew was that Shanghai was one of the best economically growing cities. NSC was one of the best programs I have been with for service in this field. They were very helpful. Rather than treat me like a business, they would treat me and everyone else who were interning with them, like a family member or friend.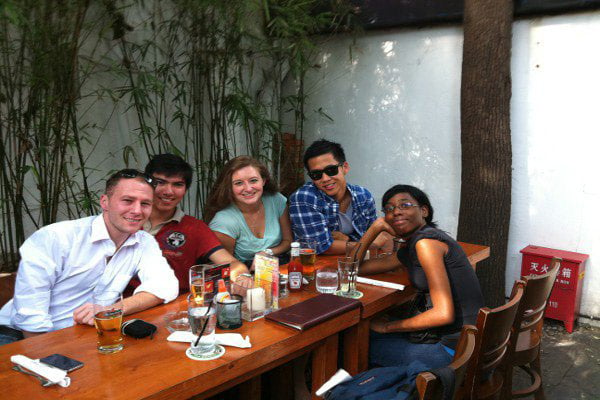 GO: Describe your day to day activities as an intern in Shanghai.
Louis: I interned at a company called ET2C international. They were a sourcing, marketing and trading company. My role was a marketing and sales intern. I had a product that the company gave me to sell. I would also have to come up with presentations and get as many clients and contacts to get people interested in what I did. This was my job; I had a lot of hands on experience and even got to go out of Shanghai to represent my company. I would work 9-6 every Monday - Thursday. On Friday, I would go to Mandarin class to practice my Chinese. I would take the metro anywhere I wanted to go. Since I worked during rush hour, it was definitely a big experience. Every day, as I went to work and came home, the metro would be absolutely packed. You would have to wait in line to get on the train and you were shoulder to shoulder with people. That was definitely an experience.
I would try to eat out with people I had met through the internship for dinner after work, to try the different types of amazing food in Shanghai. On my weekends, which would start on Thursday night usually, I would go out with friends to experience Shanghai's night life. The night life in Shanghai is, hands down, one of the best I've experienced yet. It was not only great fun, but you also got the opportunity to meet other interns and other people who you could relate to and eventually become friends with.
GO: How has this experience impacted your future personally, professionally, and academically?
Louis: This experience will always be with me for life and it is something I am really glad I had a chance to do. I would recommend it to everyone. Personally, this experience has made me into a more open minded and out going person. It has taught me how to interact with people from different cultures and has taught me to how to mature personally and mentally. Professionally, I have learned different skills that I feel will be of great attribute to me in the near future. This experience was not only beneficial to me for my resume, but it has also opened me more to an idea of what I want to do after graduation. Academically, after interning at a corporate business, I can now relate what I did in my internship to what I do in class.
Meet Ibrahim Syed, Next Step Connections Alum
GO: What originally inspired you to intern in Shanghai with Next Step Connections?
Ibrahim: When I graduated in Canada, I was really looking to develop a skill set that would provide me with an edge over other graduating students. Throughout my life, I always loved traveling and was looking for an opportunity that would allow me to get exposed to a completely new culture and at the same time allow me to develop my professional skills. I was looking for a one-stop shop experience, and that is exactly what Next Step Connections guaranteed. Next Step Connections not only provided an opportunity to travel to China but also offered a guaranteed internship in my chemical engineering background. This cultural and professional experience come in very handy since most companies in USA or Canada operate in multicultural and diverse teams.
GO: Describe your day to day activities as an intern in Shanghai.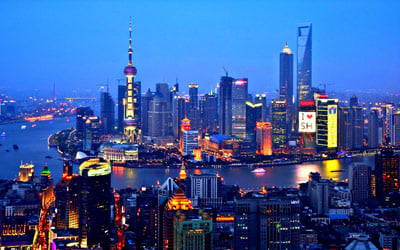 Ibrahim: Every day in Shanghai was an adventure and fun. I got to meet a lot of other like-minded interns in China and was able to explore a new culture together. Next Step Connections provided support from the moment I applied to the moment I departed from China. They were always a call away for any kind of help needed whether it was language or directions. On a daily basis we explored different areas of the city, went shopping and tried different eateries. Next Step Connection also organized guided tours to different towns near Shanghai.
All the Next Step Connections interns lived in the same building or area and so we got to become really good friends and became more like a family to each other. We traveled to different cities including Beijing and tried to do it in the most local fashion as possible. We took a local 13hr train to Beijing and that was a lifetime experience. The idea of having like minded friends exploring a culture with you is really a plus since it allows you to overcome any challenges that you may feel. Next Step Connections also organized private Chinese lessons on a weekly basis to help us settle in the culture easily. We could choose our own schedules with our instructors. At the end of the internship, I got to travel to Tibet and Nepal with friends before flying back. I got to see Mt. Everest and the little Chinese I learned came in very handy when I took a local 3 day train to Tibet.
GO: How has this experience impacted your future?
Ibrahim: This was a once in a lifetime opportunity that allowed me to put life in perspective and understand the importance of diversity and culture. China is a growing economy and almost everything is manufactured in China and so it was a great place from an engineering standpoint to go out there and learn a few things that make that society so successful in this world. I worked at a drug manufacturing company which provided a great insight into organic synthesis research, manufacturing and engineering of pharmaceutical products. I was exposed to a culture deeply immersed in working and producing the success they dream of. The experience was not only motivational but allowed me to think beyond our assumed boundaries. Next Step Connection also organized networking and professional team building events where we were able to interact with business and professional leaders in China especially at a time when China is growing.
Further Info
About Next Step Connections
Next Step Connections (NSC) develops career related educational programs in Asia for college students and young professionals. We run tailor-made internships in Asia fitting your educational background and career aspirations. In the last 4 years, over 400 individuals between 15-45 years old and from 25 different countries, have participated in NSC's professional internship programs. Our mission is to help bridge the gap between the student and the professional world, providing our participants with hands-on work experience and real-life training.
All Their Programs