Independent-minded candidates will thrive in this program where you truly get to experience the real Spanish life. Adelante International Internship Programs in Barcelona provide candidates with the opportunity to improve Spanish language skills while living and interning in Spain alongside native Spaniards. Programs begin with 2 weeks of intensive Spanish classes followed by participation in an internship in your chosen field - eg. business, graphic design, tourism, teaching, psychology, and many more. Housing is your own room in a shared apartment in Barcelona.
Five reasons to intern with us!
Reviews
Alumni Interviews
Meet Ernst Brocker, Adelante Abroad - Barcelona alum
Ernst Brocker is from Cape Town, South Africa and is currently unemployed after a three month internship and all-round razzle in Spain, reminiscing a time when he could freely spend as much money as his monthly writer's salary would allow whilst simultaneously basking in the glorious freedom of being one's own boss (in a foreign country!). Being a freelance writer isn't for dummies. He loves food and music, but especially food. He is currently single and open to possibilities.
GO: Why did you decide to intern abroad with Adelante Abroad in Barcelona?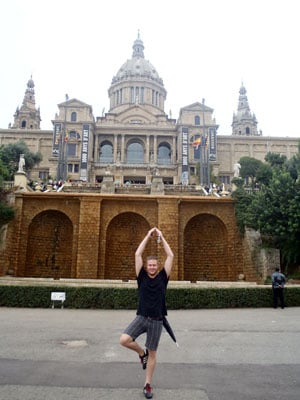 Ernst: It was about a year ago when I first got bitten by the travel bug. A friend of mine was telling me about the most awesome stories of his trip to New Zealand and I was suddenly overcome with a great yearning to collect my own stories to tell. So I went online and started scouting around for some overseas opportunities. After sifting through some thousands of websites ranging from cleaning elephants in India to picking grapes in France I came across the Adelante Abroad website. My luck was in: they were offering an internship scholarship to a place I've always dreamed of visiting: Barcelona. And it turned out all I needed was to get all my friends and family (and their friends and family) to make sure that I procure the most votes (LIKES on Facebook), a very convincing motivation letter and a lot of prayers.
The winds were in my favour and my Spanish ship was ready to dock: the votes came in and after careful consideration the Adelante directors chose my application! I was over the moon - especially considering I'd never been overseas before.
GO: What made this intern abroad experience unique and special?
Ernst: For starters, this was my maiden voyage to an overseas country - so everything was unique and special. I literally went through the last few months as wide-eyed as I'd ever been. But what was really awesome was that the type of internship I did sent me to various places around Barcelona, allowing me to experience as much of the city as possible. I met a lot of people on my various assignments and have made some really amazing friends along the way. Though I can't properly partake in a Spanish conversation, I've picked up quite a bit of the language and vocabulary - something that could potentially lead to me learning the language in full.
GO: Describe a typical day in your internship.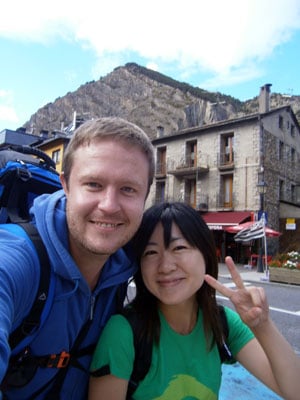 Ernst: There was nothing typical about my day. Every day was completely different. The only constants were my Skype meetings with my boss in Los Angeles on Thursday at 17h30 and doing on average 4-5 assignments per week. An assignment would consist of me doing some research on the venue I'm reviewing and taking pictures of, going there on the most popular night and time and taking as many pictures of people (and myself) having a blast. Sometime before my Thursday meeting I'd edit the pictures, looking for the best and deleting the blurry ones, write a short review of my experience of the bar/ restaurant/ club/ coffee shop. Then I would report back to my boss and she would give me notes and revisions which I'd hand within 24 hours of out meeting. So one day I might go to three different bars or pubs and sleep till noon the next day, then get up and start sorting through the pics whilst getting ready for the next installment of bars and coffee shops.
GO: How has this experience impacted your future?
Ernst: I've always had a fear of technology, and in a way this internship has forced me to become more acquainted with my camera (albeit a crappy one). I now have a better idea of what an F-stop, ISO, etc is. It has challenged my people skills greatly: dealing with a completely foreign culture and not being able to speak their language has been testing, but it has made me a lot tougher when having to deal with confrontations as well as appeasing an unhappy bar-owner once caught taking pictures of his sexy bar-staff. Hopefully all of my newly acquired skills, which vary from writing reviews, specialized photography and the use of social media will lead to exciting new job opportunities in the future.
GO: What was the overall highlight of your trip?
Ernst: It's difficult to pin-point one thing in particular when everything was amazing in its own way, but if I had to choose one thing that will always bring a smile to my face it would have to be hiking in Andorra. It's one of the most beautiful little countries I've seen and has such a fascinating culture. Literally wedged in between France and Spain with the most breathtaking views. We climbed to the biggest, highest lake in Andorra, slept in a refugee hut without electricity or a fire in -1 degree weather. It was amazing.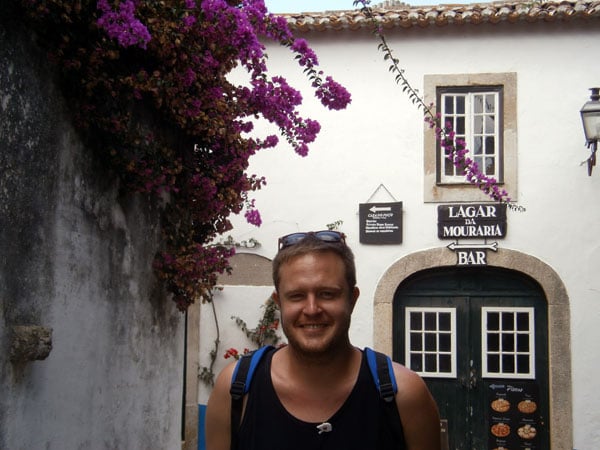 Meet Amy Borum, Adelante Abroad alum
GO: What originally inspired to join the Adelante Abroad in Barcelona?
Amy: I had always had a desire throughout college to travel/study/learn abroad and an internship seemed like a perfect way to gain real world experience, refine my Spanish-speaking skills, and learn more about a different culture. I chose Barcelona because of its proximity to the beach, lively culture, and interesting and unique architecture.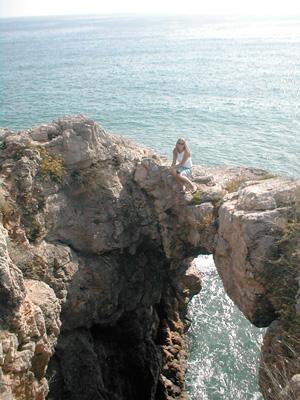 GO: Describe your day to day activities as an intern in Barcelona.
Amy: I taught English to students in an after school setting in a small town 45 minutes outside of Barcelona by train. The students ranged from age 5 to age 19 (although I did tutor a woman in her mid-40's as well). I worked in the afternoons and rotated through different age group classrooms daily. It was such a unique and amazing learning experience! I definitely honed my adaptation skills and further refined my Spanish-speaking skills more than I expected through teaching English.
GO: How has this experience impacted your future?
Amy: I gained a tremendous amount of self-knowledge while interning abroad with Adelante, as I was forced to adapt to a new culture, new environment, new language, and new job skills. This setting really helped me grow as a person, and allowed me to really understand and adapt in an situation in both a personal and professional setting. My Spanish-speaking skills certainly helped in my career as well. It was an amazing experience and I am so glad to have made it happen - I would definitely recommend it to anyone!
Meet Brett Arnold, Adelante Abroad alum
GO: What originally inspired you to intern in Barcelona with Adelante Abroad?
Brett: I was sitting in class my senior year of college thinking about how the last few years as I knew it were about to come to an end. I felt like there was still something more that I needed to accomplish. My admissions counselor has been urging me to study/intern abroad for about 3 years as I was minoring in Spanish. She said it would be a great experience. I started to peruse the internet in search of just the right program for me. After narrowing down my search to 3 programs, I ultimately decided to go with Adelante Abroad. They had the opportunity I was looking for, a Marketing internship in Barcelona, Spain. They also promoted more of an "Independent Living" experience but also provided a sense of support during my stay abroad.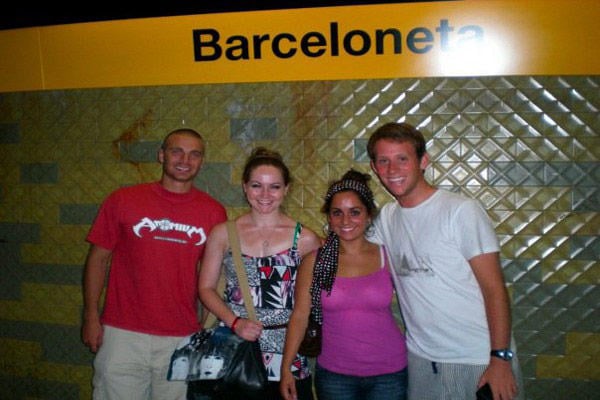 GO: Describe your day to day activities as an intern in Barcelona.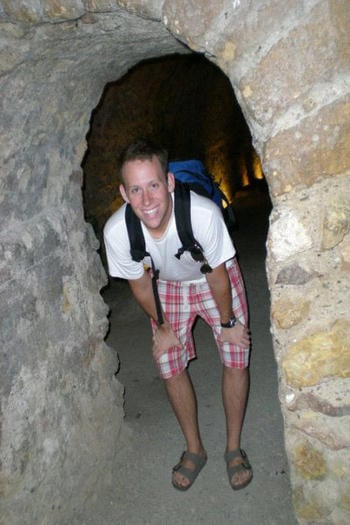 Brett: This is where I was most happy with my decision of choosing Adelante Abroad. My typical day began around 8am when I woke up and got ready for my internship. I stopped just across the street almost every morning at a great little cafe and grabbed my latte to go with a chocolate croissant, both of which grew to become staples in my diet! I took the the train to my internship. I usually read a book as my internship was about 30 minutes outside of Barcelona. During my internship I was able to connect with several businesses across Europe. My boss and co-workers were very welcoming and always willing to help when I had questions. I would intern for around 4 hours (10:00 - 2:00) and would head home around 2:00pm.
I met several people during my 2 weeks of schooling and we regularly met up with each other in the afternoons to explore all that Barcelona had to offer- museums, parks, beaches, restaurants, etc. On many occasions, I would get home, grab my bathing suit and head to the beach. When they say Spain shuts down for siesta, they mean it! I didn't have anything else to do for a few hours so I headed off to the beach, which grew to be one of my favorite places. On rainy days, my friends and I visited all sorts of museums and historic homes right in the heart of Barcelona. The company I interned for had a huge lunch for me at a local restaurant on my last day. There ended up being around 30 people. Another company that also hired an Adelante intern was there as well.
GO: How has this experience impacted your future?
Brett: This experience impacted my future in so many ways- and for the better. It really opened up my options for what I wanted to do with my life. Before Spain I had everything planned out- and it was pretty boring! After my journey, I realized I can do whatever I put my mind to. I have gained a greater sense of adventure and I see myself as a more open-minded individual now. I see challenges as opportunities to strengthen my mind and culture myself.
Professionally I have been selected for positions I wasn't quite "experienced" for. However, because of my go-getter attitude and my rounded background I have been able to advance at a significant pace. I never thought I would be to this point, this fast, at least for my age. I am constantly urging my friends to get out there and travel- study abroad for a semester- see what happens. For me there is only good that comes from my experience and I would do it again in a heartbeat.
Further Info
About Adelante
What were you doing in 1999? That is when Adelante Abroad sent its first candidate to Madrid, Spain, to do an International Internship Program there. She participated in a 6 month program, in a graphic design internship with a mid-sized company and lived, at first, on her own in a great little downtown apartment. By the following month we sent over two more candidates and have never looked back.
Internship, Semester & Summer Study, Teach and Volunteer Abroad programs define our menu of offerings and expertise now. Yes, you have your own room in a central, shared apartment, but meals are typically not included because we want you to grocery shop in your new country. Yes, we have staff on site full time but do they call you every day to check in? Nope. They are there if you need them but are trained to give you space to bump into things, make mistakes and finally find, on your own, how you fit in to your new country & home.
All Their Programs