Intern abroad in one of the most popular destinations in Europe, Barcelona! Spain is one of the most traveled destinations, especially for study abroad students, and therefore offers a variety of internship opportunities that can be tailored to meet your professional goals. Talk to a Connect-123 representative today to arrange an internship that best fits your goals!
Five reasons to intern with us!
Reviews
Alumni Interviews

Meet Rana El Naggar, Connect123-Barcelona Alum
Rana El Naggar is 21 years old from Cairo, Egypt. She is a student from Dubai, and is currently working in a non-profit in Barcelona. She enjoys political debates, Spanish food, and the amazing Barcelona sun!
GO: Why did you decide to volunteer abroad with Connect123 in Barcelona?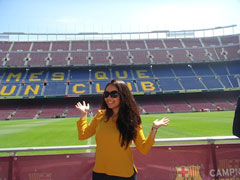 Rana: I decided to choose Connect123, because I trusted their service immediately. I trusted their service because they mentioned a refund if an intern was not matched to their best interests. Connect123 gave me the impression that they were going to be there for me throughout my internship, not just in the first phase. This turned out to be very true, they welcomed me into barcelona from the moment I stepped into the airport. It is great to have a group of people ready to help you and answer your questions any time of the day... especially in a new country. It was also more difficult for me because I spoke very little conversational spanish.
GO: Describe your day to day activities as a intern.
Rana: My internship is based in a NGO for development. My tasks vary on a daily basis depending on new events, presentations and deadlines. I am mainly responsible for the business plan, finances and corporate evaluation. The administrative operations were also taken care of by me. Language barriers did not stop me! I was involved in all the presentations and workshops in the NGO and their partnerships, as well as generally interesting presentations that colleagues went to. I took care of the newly implemented CRM system. Continuous thorough research was done on a daily basis; social media, searching for client donors or NGOs and registering the team for potential grant options.
GO: What made this internship experience unique and special?
Rana: The most important detail that made this experience unique and special was my superior, my boss. He is a very patient man, very well experienced and very well mannered. I could tell that he would be able to teach me so much because of his impressive history. I consider myself very lucky to have been placed by Connect123 with an honest man like him. My main goal in this internship abroad experience was to learn, and I learned more than I thought I could. My boss at Connect123 allowed me to enter a language school in the mornings to develop my Spanish. That is the reason why I chose to travel to Barcelona for my internship, to learn a new language.
I advise all future volunteers to make sure that they know who they will work with, because those people will become the closest people to you during your experience. If their personality is unclear, make sure that their experience reflects the experience you wish to have in the future. More importantly, I advise all future volunteers to take each opportunity to learn in every possible way, either from colleagues, or by networking.
GO: How has this experience impacted your future?
Rana: After a few cultural shocks, I have learned so much about European cultural. Living in a country is very different from a vacation, where you truly experience the culture of an area and its people. I think this experience helped me grow as a person by. I learned to be more accepting of other cultures and how to deal with differences of opinions in a very diplomatic manner. I have learned to be completely independent- with my money, my work and my personal life, which was difficult at the start. Professionally, I learnt more than I thought possible. I managed to work and meet people whom I aspire to be like in the future. This is the most rewarding experience I've had with Connect123.
Further Info
About Connect-123
Connect-123 develops and administers internship programs in Buenos Aires, Argentina; Cape Town, South Africa; Shanghai, China; Dublin, Ireland; and Barcelona, Spain. In all countries, internship opportunities are hosted by local companies, non-profit organizations, schools, research institutes and health care clinics. In South Africa, study abroad programs are offered through the University of Cape Town.
All Their Programs