Peace Corps Alternatives: Easier Ways to Volunteer Abroad
Published 05/25/2011 by Sarah Palmer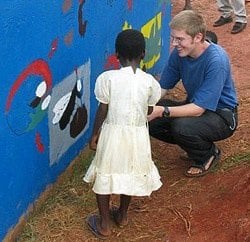 What You Need to Know:
Peace Corps is not for everyone, but this doesn't mean you can't volunteer abroad. There are plenty of alternatives!
Alternatives can be broken down into separate categories to address your needs.
I interned at Peace Corps headquarters throughout college, and over four years, was taught a good amount about what volunteers do and why they join.
I also learned some common reasons why people forego volunteering through Peace Corps--whether they're testing the waters before jumping in, or even if this particular avenue just isn't right for them.
Before we start...
I'm hesitant to say "alternatives" because honestly, Peace Corps is its own animal. It's difficult to find a group that really models what Peace Corps offers--trained and supported placement in countries that request it, with extensive transitional assistance once volunteers return home.
Peace Corps is a federal agency funded by the U.S. government--volunteers are financially supported and receive stipends and readjustment allowance for their work.
The organizations listed below are privately held and much of their operating costs come from volunteers and donors--volunteers often cover program fees and flight costs. This isn't to imply that one option is better than the other; it's just a fundamental difference between the two.
Instead of seeking out organizations that truly can be called alternatives to Peace Corps, I broke down the most common reasons I've encountered for choosing not to join, and from there came up with a few other volunteer abroad suggestions.
About Peace Corps
An American federal agency, Peace Corps has placed trained volunteers in countries that request them since 1961. Its three goals promote cross-cultural exchange and understanding:
Volunteers assist with projects overseas
Teach others on behalf of Americans
In turn educate Americans on behalf of other peoples
Volunteers serve for 27 months in 77 countries on eight project areas: Education, Youth and Community Development, Health, Business and Information/Communication Technology, Agriculture, Environment, HIV/AIDS, and Food Security.
A shorter time commitment
Not all of us are ready to spend two years volunteering in another country--heck, committing to two years anywhere sends me into fight-or-flight mode.
Maybe you love your current job and have no plans to put it on hold--but you do have a couple weeks' vacation leave saved up! Or perhaps you're a student, and you have a summer to volunteer, but that's it for now.
Short-term programs to consider:

IVHQ provides high-quality and affordable volunteer placements around the world in almost every field; programs last from 1 week up to 6 months.
UBELONG offers two types of 1 week to 6 month programs - immersions and expeditions - that promote cross-cultural understanding through international development.
Edge of Seven is a nonprofit organization that fuses international travel with service. Project length is anywhere between 3 and 24 weeks.
A greater choice of location
While Peace Corps takes your regional preference into consideration as you apply, your placement ultimately comes down to need. And, while the agency works in more than 70 countries, it might not work in the one you want, such as Brazil or India.
Flexible programs to consider:

Global Volunteer Network works in more than 20 countries in Africa, Asia, Europe, the Americas, and the Pacific. Programs focus on childcare, education, environmental conservation, and more.
Habitat for Humanity's (mentioned above) volunteers serve in nearly 100 countries throughout every region worldwide.
WAVA places volunteers in 20 countries throughout Africa, Asia, Europe, the Americas, and the Pacific. Participants work with animals, environmental conservation, women's groups, and more.
It's difficult to find a group that really models what Peace Corps offers -- trained and supported placement in countries that request it, with extensive transitional assistance once volunteers return home.
Fewer eligibility requirements
Peace Corps volunteers must be U.S. citizens, be 18 or older, ideally have a college degree or equivalent life experience, and demonstrate that they're physically and psychologically capable of adapting to and thriving in cultures and geographies different from what they're used to.
Have fewer program requirements:

International Volunteer HQ places individuals and groups on projects throughout Africa, Asia, and Central and South America, focusing on education, childcare, and conservation.
GVI hosts volunteers from around the world, with options available for individual volunteers, students, families, and groups. Projects address conservation, climate change, construction, education, and more.
GeoVisions also hosts volunteers from all over the world, with options for individuals and for groups.
A volunteer vacation
Peace Corps ain't a volunteer vacation. It's a long-term program wherein volunteers become active, contributing members of their host community--they become family. You might have seen the tagline, "The toughest job you'll ever love," which really sums it up. Peace Corps is a huge commitment, a life-changing one.
Is that daunting? Going back to the "I'm such a commitment-phobe" quip from earlier, even writing that paragraph gave me a mini-shock. I live for travel, and keep saying, "Man, I'm totally gonna move to [whatever country]," but I just.. love my city too much to leave it behind for too long. But visiting a bunch of different places? Totally!
Volunteer vacations to consider:

American Hiking Society is one of the most well-known volunteer vacation programs in the U.S., offering one-week crew placements where participants clear brush and debris and help rehabilitate hiking trails.
Global Volunteers has provided volunteer vacation opportunities worldwide to work with children, education, healthcare, and more for 25 years.
Earthwatch volunteers work five days to three weeks on scientific projects worldwide focusing on wildlife, research, and environmental conservation.
Good luck and happy searching!