Study Spanish abroad with COINED in Argentina, South America's premier destination!
COINED provides a variety of options to study Spanish in the beautiful landlocked country. Small Spanish language schools are located in Buenos Aires, Cordoba, Mendoza, Bariloche and Ushuaia.
Buenos Aires, Argentina's capital holds some of the world's most interesting cultures and beautiful, European-inspired architecture, which is sure to help you immerse yourself in this Spanish language program. Argentinians are known for their friendliness and hospitality, making your time studying and perfecting your Spanish abroad a fondly memorable experience.
Team up with COINED to start your Spanish immersion course in Argentina!
Reviews
Alumni Interviews

Interview with Ron Spreng, COINED alumnus in Argentina
GO: Why did you decide to study abroad with COINED in Cordoba, Argentina?
Ron: I am a sixty-plus year old retired history professor. I've been dabbling in Spanish for a few years, and I got the "itch" to visit a Spanish-speaking country. I don't care for very hot weather, and I don't care to be surrounded by tourists from the US, so I opted for Argentina in August -- their version of winter, which is like a Minnesota September. I also have shirt-tail relatives in Argentina, folks whose ancestors brought our German/Swiss family name from Europe. I settled on Cordoba because of the historical/cultural significance of the city, and because it was small enough to be a "walking city," unlike BA. I researched schools, looked at Google maps street view, and settled on COINED because of the location, good reviews, price, and because COINED is involved in humanitarian efforts in addition to teaching Spanish. I stayed in a home and, as luck would have it, my housemates were German girls, and our "Mom" was a very good cook.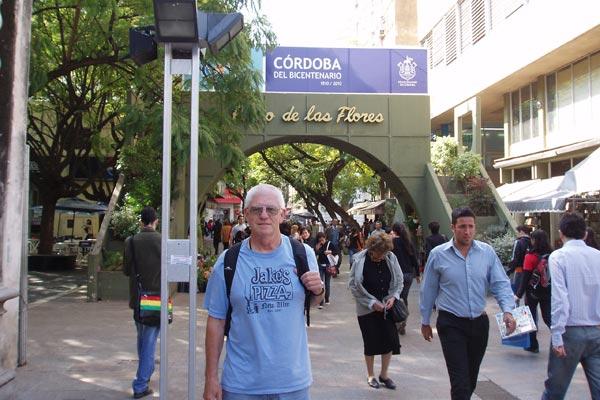 GO: What made your study abroad experience unique and special?
Ron: I enjoyed being "alone" in Cordoba, meaning there were very, VERY, few people from the US there. There were two in the school, and I met a man for coffee one day that I had met on Facebook. Other than that, I was in a large Spanish speaking city where few people knew any English -- something I discovered my first day when I was lost, downtown, 5km from my lodgings, and had to navigate a couple of bus transfers to get home.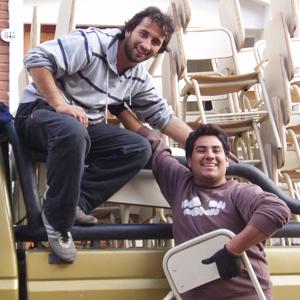 What fascinated me was the fact that nearly every day a "local" would mistake me for an Argentine and ask me for directions, the time, to sign a petition, whatever. This led to many spontaneous and humorous "conversations!" I also had the opportunity to teach a class to a group of teenagers in an area school, playing music and talking about the social and cultural background of American Rock and Roll music, with some US geography (foto attached). I found everyone to be friendly and helpful, and if I had my camera out someone was always willing to pose, as the guys loading furniture that yelled "Foto!! Foto!!" from their truck (foto attached).
My classmates and I took bus trips to nearby communities, one the birthplace of Che Guevera, and even though I was the "viejo" (old guy) I got invitations to join the young crowd in their activities, from futbol to asados (barbecues attached). I am a walker, and the museums, shopping (street, store, and mall), parks, plazas, zoo, and multitudes of bakeries and cafes provided high entertainment at low expense. I enjoyed simply walking into a hardware store, pet store, book store, whatever and saying that I was from the US and just wanted to visit their store.
Throughout my experience, I felt very safe and welcomed. People were courteous, offered me a seat on the bus if I had my backpack, were patient with my poor Spanish, and, in general, seemed to enjoy the opportunity to chat with a guy from the US. Since coins and small bills are difficult to come by in Argentina, I could "play dumb" and they would cut me some slack when I tried to by a 12 peso sandwich with a 100 peso note. ;)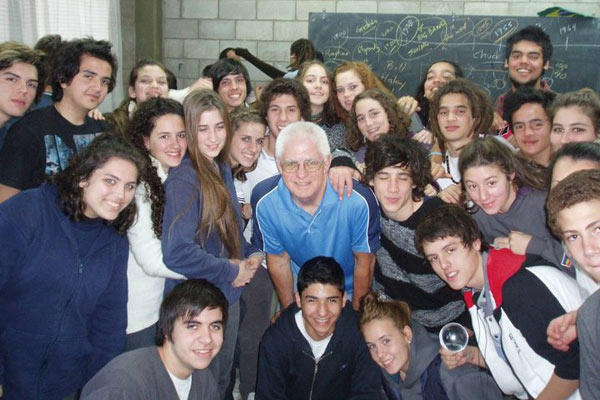 GO: How has this experience impacted your future?
Ron: As far as the future, I am "hooked" on improving my Spanish and visiting Spanish speaking countries. I hope to improve my language skills so I can volunteer to teach or do work projects. I would enjoy returning to Argentina, or Chile -- I very much enjoyed the Chileans I met traveling -- but they are a long way from Minnesota. This summer I plan to spend a couple of weeks in Mexico, learning a different "dialect" of Spanish and living in a society where a blue-eyed, white-haired guy will not be mistaken for a native!
Further Info
About COINED
COINED, Comision de Intercambio Educativo, is a non-profit organization which since 1971, has been active in the field of intercultural exchange and international education. In 1985, COINED founded its first Spanish school to function as the academic branch of the organization.
COINED offers Spanish courses in multiple countries such as Spain, Mexico, Argentina, Honduras, and Peru, to name a few. COINED's aim for Spanish immersion is to teach Spanish in a setting that will allow participants to appreciate each unique and diverse culture, while achieving fluency in Spanish. The importance of exploring each country and each city outside the realm of the classroom is of utmost importance; Spanish immersion experiences are not only about achieving fluency, but gaining an appreciation and understanding of a new and fascinating culture.
COINED International is an industry leader in the Latin American educational field. With dozens of schools throughout the Latin American world, internship opportunities and volunteer options, COINED ensures a life-changing experience abroad while you gain professional skills and develop Spanish language skills. Internships are available in major cities throughout the Latin American world, so inquire and join COINED for an amazing international internship experience today!
All of Their Programs