The Education Abroad Network (TEAN) is proud to offer five partner universities for students to choose from in Sydney; The University of Sydney, Macquarie University, University of Technology Sydney, Notre Dame University, and the University of New South Whales. Participants are guaranteed living arrangements in our premier apartments, and can look forward to iconic beaches, beautiful weather, buzzing nightlife, and plenty of places to explore in Australia's largest and oldest city.
What separates TEAN from other study abroad providers in Australia? Let's start with our amazing excutsions. Students can choose to spend a pre-semester week in New Zealand's adventure-packed South Island, or experience Australia's east coast, including a special trip to the Great Barrier Reef. During the semester students are given plenty of opportunities to visit other parts of Australia, including the Outback, and to cap it all off TEAN organizes an alternative Spring Break tour of Thailand. How amazing does that all sound?
Intrigued? Then visit the TEAN website to learn more about studying in Sydney.
Reviews
Alumni Interviews
Kyle Goldhoff - Sydney, Australia
Kyle Goldhoff is from Cincinnati, Ohio. She attends the Univeristy of Texas at Austin where she will receive a degree in May 2013 in Radio-Television-Film. In the spring of 2012 she studied at the University of New South Wales in Sydney, Australia through The Education Abroad Network. She loves traveling, photography, and dancing.
When: Spring 2012
Highlights: Even though this was study abroad I would not say academics were the highlight of my trip at all. The two highlights for me were all of the traveling I got to do and the close connections I made with a few Australia girl friends. I met them early on and hung out with them at least once a week from then on. We got so close and still keep in contact today almost five months after I left and know we will in the future. They took me to parties and showed me their favorite spots which really enhanced my overall experience there.
Morning: To say any two days during my time in Australia were the same or that there was a typical routine would just not be true. I tried to make each and every day different and do something new each day. During the week I had class 4 days at various times. Some days class was not until the afternoon and on those days I liked to meet up with friends for breakfast or go shopping somewhere near the my building in Bondi Junction or in Bondi. I really tried to take full advantage of living only about a 7-10 minute bus ride from the beach, something I had never experienced in my life. The Tiffany Tower where I lived, and is TEAN's premiere housing option, sits directly above the Bondi Junction train and bus station. So even though UNSW's campus was 20 minutes away we could just jump on a bus right downstairs and there was always someone from the program going to class at the same time.
Afternoon: Sometime in the afternoon every day but Friday and the weekends was spent on campus. I typically ate lunch on campus two of those days. I loved the food they had, including an amazing salad place in the upper campus food court and a noodle bar in the Quad one. After class on Wednesday's the Uni Bar had happy hour and tons of students gathered there for an after class drink. This was always a good time. We always took the bus home and sometimes before heading home we would go explore a new area of Sydney or shop a bit. By shopping I usually mean just looking since everything was pretty expensive there. The Tiffany was also right next door to one of the largest malls in Sydney, it's a Westfield. It had everything you could possibly need, not only clothing and typical mall stores but two groceries, a Target, a pet store, and so so much more!
Evening: We were lucky to have a great kitchen in our apartments so we took advantage of this and cooked a lot of evenings while others we would go out and try new restaurants. We went out a majority of the nights during our time abroad and most nights had a specific bar that were good on that night. Monday nights we went into the bars near central, known for being backpackers and study abroad bars. Tuesdays we would go to the cross to my favorite bar, World Bar. Wednesdays it was basically American night at a bar near Bondi Junction, which was convenient. The only Australians that were there were looking to meet Americans. Thursdays were not a big night so we typically did wine and a more low key bar. The weekend nights were definitely the most fun and we would go to clubs in the city. These were definitely my favorite. I will say one thing, I never turned down the chance to go out!
Meet Ashley Burns, TEAN - Australia alum
Ashley is from Foxboro, Massachusetts and is currently attending Umass Amherst. She is graduating in May of 2013, and majoring in Art (digital media). She enjoys photography, cooking/baking, shopping, and seeing the world!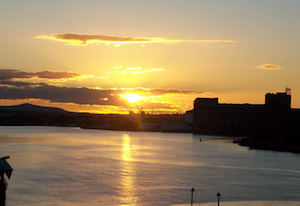 GO: Why did you decide to study abroad with TEAN?
Ashley: I chose to study abroad with TEAN because after I did my research on what abroad program had everything I was looking for, it was clear TEAN was what I wanted! There is a close knit community within the groups of students that share a week of orientation together in the city, and the staff members can answer any questions and are super helpful. I liked the program because rather than just being an exchange program where you are kind of own your own to figure things out, there is someone there to help you and show you what to do and where to go every step of the way until you are comfortable enough to do things on your own!
GO: What made this study abroad experience unique and special?
Ashley: My abroad experience in Australia through the TEAN program was special because I feel that I was able to pack in so many amazing experiences into such a short period of time. One semester is not a long time, but I was able to attend various events sponsored by TEAN as a way to see the country and further experience the culture all the way through the end of my trip. I had always wanted to go to Australia, and TEAN gave me that fabulous opportunity and the extremely knowledgeable TEAN staff provided me with information about the culture, country, history, and people that I will never forget!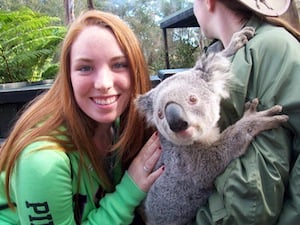 GO: How has this experience impacted your future?
Ashley: Studying abroad has definitely impacted my future in a positive way. In addition to Australia, I have also been to Spain, London, and Mexico. Experiencing other countries and learning how other cultures work is definitely something that will give you a new outlook on your own life. I feel like a more educated person, and I have an appreciation for culture, language, and all different kinds of people! In a professional sense, I feel that it is a huge asset that I have been to foreign countries, and have a certain international awareness that other people who have not been abroad may not have. I have been able to take academic courses in every country that I have been to, and upon coming back to my home University I can see how some of the global history and other countries affect the United Sates and the way we run our country.
Further Info
About Education Abroad Network
The Education Abroad Network is a relatively small organization that thrives on giving each and every student deserved personal attention, extensive program preparation, and answers to every question under the sun. Creating partnerships with many universities in the South Pacific and the Pacific Rim has allowed The Education Abroad Network to become experts at planning and delivering programs in the area. Using their experience to build more opportunities for future students, TEAN has now moved into Asia as well. Check out one of the many awesome programs below, and visit The Education Abroad Network's website via the link to the left to make your study abroad dream a reality!
All of Their Programs