This program is ideal whether you're looking to become more fluent in the German language or looking for an elegant European city as a backdrop for your summer, semester or academic year study abroad experience. No previous German language study is required and courses are taught in English or basic German. In addition to the included features, you will get a taste of the local flavor with a meal allowance to subsidize breakfast and lunch or dinner Monday through Friday as well as a public transportation subsidy.
AIFS helps students with all of the details including accommodations and even airfare options. Excursions through the program include visits to London, Munich, Vienna and more! Click on the "Visit Our Website" link above to get all of the details on this amazing experience today!
Reviews
Alumni Interviews
Interview with Tien-Wei Huang, AIFS alumnus in Salzburg
GO: Why did you decide to study abroad with AIFS in Austria?
Tien-Wei: As a Piano/conducting major, doing any kind of internship wasn't in my college plan, so I started looking for a study abroad program. That's when I found you guys, I mean, Austria: a place for Beethoven, Mozart, Chopin and many others. That's when I knew I couldn't miss this chance. Although I had been to Austria many times (3+) already, I never studied there; guess I just wanted to feel what it was like being a real music student.
GO: What made your study abroad experience unique and special?
Tien-Wei: I have to break it into two parts. First, as a backpacker, I love getting lost, even though I have a map I love to wander around till I have no idea where I am. This time I didn't even need a map because I knew if something happened I could always call the office to help me, but luckily that never happened.
Second, the most unique part of this study abroad is that I was the only male in the group. 1 out of 21. That's also why I named my review "one of the kind" :p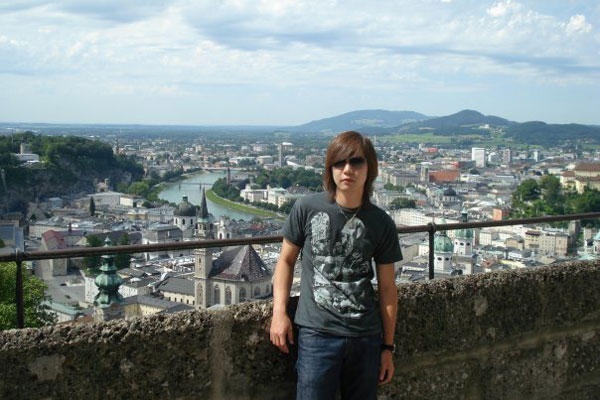 Learning music in Austria was the most special part for me. As I said, I had been to Austria many times, but this time I got to study there, see how the music program works, practice, socialize with local music students. I made a few friends and we still talk music through email these days.
GO: How has this experience impacted your future?
Tien-Wei: I already decided that I am going to Austria for grad school. As I mentioned, I made some new friends there, we are hoping to get together and play in the grand hall one day, it's a big dream, but thanks to this program, I know where I am supposed to go.
Interview with Emily Muehr, AIFS alumna in Austria
GO: Why did you decide to study abroad with AIFS at the University of Salzburg?
Emily: I decided to study abroad with AIFS because they worked directly with my university and had professional and exciting programs I wanted to experience. I chose the University of Salzburg based on the variety of classes offered, the central location of Austria in Europe, the amazing excursions offered and the affordability of the program in general. Salzburg is an absolutely beautiful and wonderful city!!
GO: What made your study abroad experience unique and special?
Emily: This study abroad experience changed my life. I was able to fully experience a different culture and immerse myself in everyday Austrian life. I had not taken any German classes before studying abroad and as the months went on I learned more and more. Additionally, I had the opportunity to visit museums in Vienna, participate in a sleigh ride in the Austrian mountains, hike to ice caves in Austria, explore the city of Prague and much more! Where else in the world can you do all of this?
GO: How has this experience impacted your future?
Emily: Studying abroad has impacted my future in every way possible. I am able to see the world with a different point of view every day because of my time abroad. As a nurse, I am continually working with patients from many different cultures. My study abroad experience has helped me to become a more caring, culturally sensitive, respectful, and open person. Personally, I continue to keep in contact with many of my fellow study abroad friends. I have visited many of them in the US and they have also visited me in Austin; these are lifelong friends that I have made studying abroad. Since my time abroad, I am hooked on traveling and love to go new places as often as I can. Before studying abroad I had never been out of the country. I can proudly say I have been to 18 countries now and can't wait to add more to the list!
Interview with Robert Crane, AIFS alumnus in Austria
GO: Why did you decide to study abroad with AIFS at the University of Salzburg?
Robert: I chose to study in Salzburg because of its central location in Europe, which allowed me to travel throughout the continent relatively easily. Also, the city is situated in the foothills of the Alps, which provided the perfect backdrop to the beautifully preserved Austrian city.
GO: What made your study abroad experience unique and special?
Robert: My study abroad with AIFS in Salzburg was a once in a lifetime experience. I met people from all over the United States and many European countries, with various backgrounds with whom I have be become lifelong friends with. Our shared interest in travel and new experiences is what brought us together, and the adventures we embarked on have made it a lasting friendship.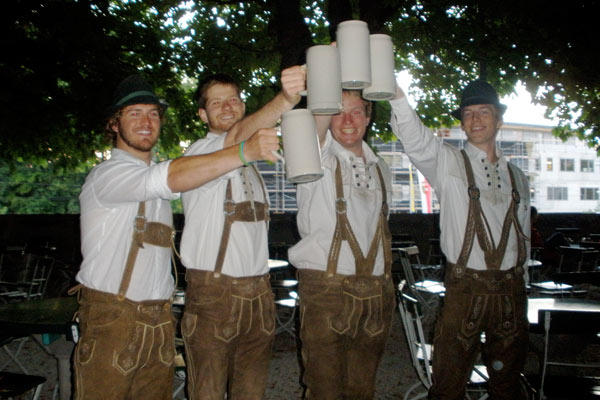 Salzburg was a perfect location to study because it combined the feel of a traditional Austrian city with easy access to the rest of the continent. Having traveled throughout Europe, I believe Salzburg is the most beautiful city in all of Europe. Additionally, I was able to see first hand many historic sites you can only read about in books and view online.
GO: How has this experience impacted your future?
Robert: This experience has given me the confidence to easily travel to new places without any anxiety. Studying in Salzburg has given me the opportunity to really develop an appreciation and love of a foreign culture. Through my experience I was able to learn a foreign language and take part in many of the local traditions. Studying with AIFS has opened my eyes to the vast cultures of the world and shown me that there is always something new to discover. I enjoyed Salzburg so much that I have been back several times to visit my new friends.
Interview with Anna Veers, AIFS alumna in Austria
GO: Why did you decide to study abroad with AIFS at the University of Salzburg?
Anna: I was looking for a program in a German speaking country, since that is the language I have studied in school. I looked at a few different programs, and AIFS had a lot of features that I liked. They provided housing, a meal stipend, and offered classes I was interested in. I'm also a huge fan of "The Sound of Music", so that was definitely another reason to go to Salzburg.
GO: What made your study abroad experience unique and special?
Anna: This was my first time traveling to Europe, so that definitely made this a special experience. I also met a lot of great people while on the program - both the staff and the other students. All the traveling I was able to do was amazing. I honestly enjoyed every minute of my study abroad experience, and if I could change anything I would have gone out more! This was one of my favorite semesters.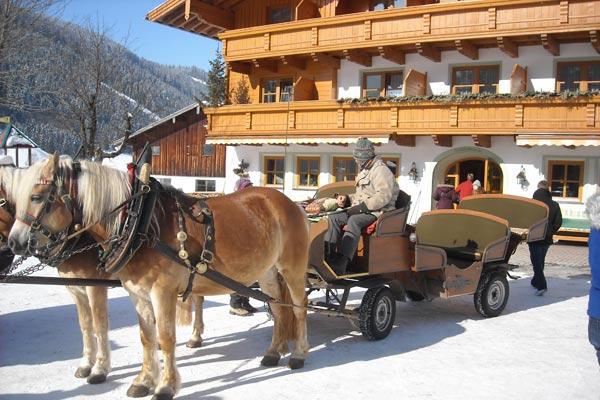 GO: How has this experience impacted your future?
Anna: After spending this semester abroad, I can't wait to go back to Europe. I have been looking into the possibility of working abroad for a couple years, all because I absolutely loved my semster in Salzburg. This semester abroad also helped me grow as a person, putting me outside my comfort zone, and making me more confident.
Interview with Brette Petty, AIFS alumna in Austria
GO: Why did you study abroad with AIFS at the University of Salzburg?
Brette: Once I decided to study abroad my sophomore year, I began researching where to go and what program to use. My schools study abroad office had tons of brochures with locations all over the world but most students from my school go to Ireland or England. I knew I wanted to try somewhere different, to go somewhere alone and to go to a central location where I could easily travel to and from. With those three requirements in mind, I began to explore my options.
Flipping through brochures and pamphlets, I kept coming back to Salzburg. To me, it looked more beautiful than any other country. The idea of living in the snow-covered Alps and going on a horse drawn sleigh ride to an Alpine hut, as described in the AIFS booklet, truly drew me in. I knew that this was the type of country I would truly enjoy. I come from German roots and knew a little of the language, which made me even more excited about going. By the time I read the whole description of the semester in Salzburg, there wasn't a doubt in my mind that that was the only city I wanted to live in.
GO: What made your study abroad experience unique and special?
Brette: Studying abroad in Salzburg, Austria is unique by default, since not as many students choose to study there as in other popular cities such as London or Rome. While my fellow classmates on my program chose Salzburg for all sorts of personal reasons, something special about the city reeled us all in and made us want to live there. We became an extremely close-knit group and bonded over our experiences and our love of Salzburg. Studying abroad in Salzburg is special to me because it is a period of my life where I grew into the person I was meant to be. I became more outgoing, met incredible friends who I will be friends with for life, and was able to experience Europe in a way that only living in the heart of Europe allows you to do.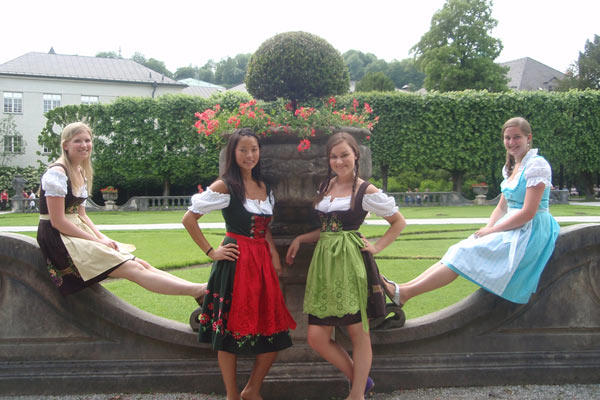 Salzburg is such a culturally rich city of music and history that there is always something to see or do. You can go to Munich for a weekend, see the Salt Mines, the Fortress that once protected the city from invaders, or simply stroll along Getreidegasse and take in the sights. Even though Salzburg is a small city, with approximately 150,000 residents, you will never feel bored or alone. The people are helpful and friendly and the scenery from any corner is extraordinary. The fortress atop a hill in the center of the Alt Stadt gave me a sense of comfort, of home, while living in Salzburg, because I knew whenever I saw it that I was safe and that I was living in one of the most beautiful countries in Europe. As my friends all like to say, we all left a piece of our hearts in Salzburg and can't wait to go back and visit again. Three years after my experience, a day hardly goes by that I don't think about study abroad and the wonderful time I had living in the Austrian Alps.
GO: How has this experience impacted your future?
Brette: Studying abroad opened my eyes to so many opportunities in life that I would probably have not even considered had I not gone to Europe. Moving to a foreign country not knowing a soul and being successful and happy there gave me the courage to know that I can do anything I set my mind to. I learned that it is up to one individually to take advantage of opportunities and that sitting out will only give you regret later. Academically, studying abroad gave me a unique knowledge base for appreciating cultures and made me a more understanding individual. Professionally, studying abroad is a great resume builder and talking point in interviews. It shows employers that you are independent, cultured, and willing to try new things. While many students study abroad, only a small percentage of them study in Salzburg and that will make you even more unique and strong as a candidate.
Studying abroad in Salzburg, Austria was by far the greatest choice I made during my college career. Before I went abroad I would talk to as many classmates as possible that went abroad to get an idea of what I was getting myself into. They all told me that it was an indescribable experience that changed them and at the time I couldn't comprehend how living four months in Europe could be THAT life-altering. Now I know that it is an experience that changes you forever, that helps you grow as a person, and gives you the some of the best friends and memories you will ever know. Studying abroad in Salzburg only makes the experience better because you will be in the heart of Europe, in a city rich in culture and history, living atop the Austrian Alps!
Further Info
About AIFS Study Abroad
Founded in 1964, AIFS prides itself as an industry leader in providing summer, semester, and academic year study abroad programs. AIFS sends nearly 5,000 undergraduates every month to study abroad in one of 23 AIFS international campuses.
Programs are available in Argentina, Australia, Austria, Botswana, Brazil, Chile, China, Costa Rica, Cuba, Czech Republic, England, France, Germany, Greece, India, Ireland, Italy, New Zealand, Peru, Russia, South Africa, Spain, Turkey, as well as multi-country programs. AIFS offers Gap Year programs, along with internships and volunteer opportunities abroad. With locations throughout the world, AIFS College Study Abroad is able to offers high-quality, college-level courses in subject areas as diverse as Islamic Studies, French Cinema, business and engineering.
All of Their Programs