Sign up with China Study Abroad this year to study Mandarin Chinese at the Beijing Mandarin Academy in China. Students of all Chinese language proficiencies, from extreme beginners to those looking to master the language, can do so at the Mandarin Academy. Courses run from a couple weeks to as long as a year.
On top of standard language courses, specialty courses can also be taken, which focus on Chinese used in newspapers, TV, culture, business and more. Also, those looking to prepare for the HSK certification exam can take a preparatory course focused on the exam.
For all of the details on studying Chinese at Beijing Mandarin Academy, check out China Study Abroad's informative website!
Reviews
Alumni Interviews

Interview with Petra, CSA alumna in Beijing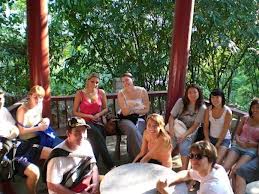 GO: Why did you decide to study abroad with CSA at Beijing Mandarin Academy?
Petra: The CSA website was really easy to navigate and they were one of the few courses that offered a home stay option for accommodation. From my very first contact with CSA they were helpful and organised and clearly understood the needs of a student studying abroad.
GO: What made your study abroad experience unique and special?
Petra: Obviously I was extremely lucky to have such a great host family, and thanks to them I have gained real insight into Chinese culture and my mandarin has improved much faster than I expected. The CSA activity pack that I purchased has also shown me some aspects of the city that I wouldn't otherwise have experienced. But what had really made this experience special is the friends I have made - meeting people from all over the world had opened my eyes to so many different cultures and that is something I wouldn't have experienced anywhere else.
GO: How has this experience impacted your future?
Petra: Being in Beijing has really convinced me I need to come back! I am hoping to continue my mandarin at university and then possibly come back to Beijing through CSA when I am finished studying. I think learning about china is of incredible importance in the modern world and living here, studying the language, is true best way I can think to do so.
Further Info
About China Study Abroad
Sign up today with China Study Abroad (CSA) to have an amazing study, teach, or intern abroad experience in China! CSA offers options in locations all around the country, including Beijing, Shanghai, Nanjing, Kunming, Qingdao, Xi'an, and more. CSA was founded on the concepts that Chinese is best learned through immersion in the Chinese culture and environment, and teaching, studying, or interning in China should be fun, exciting and simple. Signing up with CSA means that four essential services will be taken care of during your trip: accommodation, schooling, excursions & activities, and 24/7 student support. Check out some great program options below!
All of Their Programs