Get in2 China invites you to study Mandarin Chinese in China! Since its inception in 2003, Get in2 China's language program has helped over a thousand students from 40 different countries achieve their language goals. Both private and group classes are available for students of all language proficiencies. Prior to beginning studies, each student will be placed in a course that is consistent with their current language ability.
In addition to traditional language courses, specialty courses are also available. Other options include: Business Chinese; HSK; Chinese Law; News & Current Affairs & more. Accommodations for participants will be in modern apartments in a centrally located building in Beijing, and various other cities. Each apartment contains 2-3 students, each with a private bedroom. For more information on accommodations, please consult the Get in2 China page: Accommodations.
Get in2 China also offers students the option to join a professional internship in China, and further grasp the opportunity to learn about the Chinese business culture. Acceptance into the internship program guarantees placement in a top Chinese firm. By combining the language study program with an internship, you will have the opportunity to learn about the culture and business practices of China. Many students choose an alternative home-stay option to maximize their cultural experience abroad.
Service learning opportunities are also available for students looking for a way to give back to local communities during their study abroad experience in China. Visit the Get in2 China website to learn more.
APPLY HERE >>>
Reviews
Alumni Interviews
Interview with Ruben van Gommery, Get in2 China Alum
GO: Why did you choose Get in2 China as your study abroad in Beijing program?
Ruben: I've been studying chinese in Holland for 1 year and then I decided to go to China to continue my studies. I looked through many schools but my choice fell on Get in2 China since they offered me a comprehensive Mandarin course that I had been looking for. I studied with them for 3 months, 20 hours a week. Also the cost was almost twice as less than any similar program I could find. They also replied me almost instantly every time I had a question.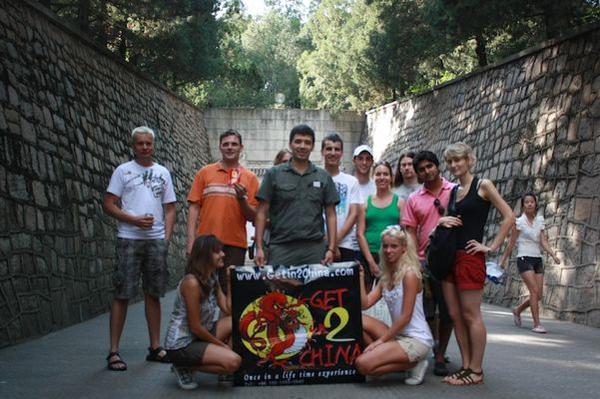 GO: What made this study abroad experience unique and special?
Ruben: Just to be in China is already a unique experience. Plus I made lots of friend from all over during my stay at the Get in2 China school. It was truly a great experience. Now, after I got back to Holland, I will continue my studies and look forward to going back to China in the near future.
Further Info
About Get in2 China
You may have heard of a place called, oh I don't know, China. Ever thought of getting in on the action? Now you can! Based in two major cities, Beijing and Shanghai, Get in2 China is your entry into the Middle Kingdom through study programs, volunteer opportunities and, most of all, internships. Thinking of interning at a bank? How about a law firm or an IT company? Perhaps you're more artistically inclined or seek experience at an NGO? At Get in2 China Group, we'll find something that's right for you.
We also know our stuff: We've been at it since 2007 and have established a network of over 2000 partners in almost any field imaginable. Most of all, our placements are in China's two most dynamic and global cities: Beijing and Shanghai.
All of Their Programs