Central College Abroad - Study & Intern in London
Central College Abroad offers both study and internship opportunities in London, England! CCA has affiliations with London South Bank University, London College of Fashion, and Morley College and City Lit. Housing is guaranteed in the Vandon House, a centrally located student residency in Westminster, which is one of the safest and most secure cities in all of the UK, and home to the Queen, the Houses of Parliament, and the new Scotland Yard.
CCA's world-renowned London internship program is available to students enrolled in a semester or academic year study program. Every semester, students have over a 100 internships to choose from in a diverse number of fields. The CCA internship coordinator in London works with each student to find an internship that suits their personal and professional development goals.
Explore the city with the conveniently close tube station during a semester or full academic year long program. Go study and intern abroad in London with Central College Abroad!
Reviews
Alumni Interviews
Interview with Chelsea Grieger, CCA-London Alum
GO: What originally inspired you to intern in London with CCA?
Chelsea: I attended Central College, and while applying to go abroad I didn't know that I wanted to do an internship. I wanted to go to London, but after hearing about the great experiences students had while at an internship, I knew I had to get an internship as well! Some of the best opportunities for internships are found in London. Not only did my internship boost my resume, I was also able to interact with the locals. A lot of what I learned about London, I learned while working at 4Children.
GO: Describe your day to day activities as an intern in London.
Chelsea: My activities varied depending on what needed done. I worked in the publications department at 4Children, so a lot of press releases needed to be updated to the website. I would check for any errors in the press release and then put them online. I worked with a lot of their websites, updating what needed to be changed. During the first few weeks of my job, I attended 4Children's launch of a new program where there were many Members of Parliament present! Other than working on the website, I did a lot of clerical work: I worked with spreadsheets, sending emails, and I even organized their publications cupboard for two weeks. But the main thing I took away from the experience was my social interaction from my coworkers. It was a once-in-a-lifetime opportunity!
GO: How has this experience impacted your future?
Chelsea: There are so many ways my internship has affected my future. Personally, my confidence in my abilities grew tremendously. I came back knowing that if I could handle a job abroad, I could definitely get a job in the US. Also, my internship gave me the confidence to explore the unfamiliar city. On my first day, I had to navigate my way through the tube to make it 45 minutes to my internship site.
Professionally, my internship opened a lot of doors to other internships. My job abroad was my first internship. Since then, I have successfully completed three more internships. After my graduation this year, I will be a paid intern at Central College to write press releases (similar to what I did abroad). Without that internship in London, a lot of my achievements today would not have happened.
Interview with Sahara Scott, Central College Abroad alum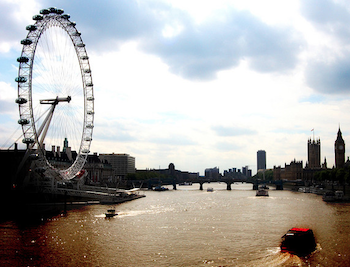 GO: Why did you decide to study abroad with CCA in London, England?
Sahara: I chose to study abroad with the Central College Abroad (CCA) London program because it offered everything I could want and ask for as a Theatre major. At first, my main goal was to pick a place based on location and language, but then I began to think about a place that offered great history and theatre. London immediately came to my mind. Even though England is an English speaking country, I knew it was only a train ride away from other countries.
London itself is filled to the brim with diversity. Walking down the street you are bound to hear at least three languages being spoken. Learning about a new culture is also why I chose to come to London. There are a lot of differences between American and British culture. From the high tea time, English breakfast, behaviorisms, and everyday life you can really get a feel for the differences. The sights are really something to see in person as well.
My advisor let me know that I would be having a firsthand experience with the British culture and I have not been disappointed. A representative from CCA came to my University before I officially submitted my application and she actually went on the London program. Hearing her stories only made me more excited to start my own.
GO: What has made this study abroad experience unique and special?
Sahara: There are so many moments that have made this study abroad experience unique and special. I guess the things that stick out furthest in my mind are the many festivals and people I have met. I say the festivals because there have been many to attend right in Central London.
I remember going to one with a friend in the program and doing an African-Caribbean dance workshop. While there we met some people from all over the world who were enjoying themselves. Our choreographer was energetic and fun. After we were done with that we walked outside and discovered a food festival with a wide variety of tasty treats.
While abroad, I have taken risk and gone to more social events that I see on posters than I would normally. This has proven to be an excellent way of meeting people. I have gotten the opportunity to meet British natives that are open to questions you have. They are also more than willing to sit down and have a chat about the differences you notice.
I am a poet as well as a student so one of the highlights of my time here in London was the National Day of Poetry where I got to meet other poets and hear their spoken word. I was amazed that this event was open to all people of all ages.
GO: How has this experience impacted your future?
Sahara: This experience has made me want to travel all over the world. I now want to see more, do more, and experience more. I feel that it is great to experience different cultures and people. I have gained a better sense of direction as well as responsibility for the things that happen in my life. I am gaining courage in conversing with people in professional settings. There is something about being away from everything you know that helps you gain independence. I look forward to experiences like this one in the future.
Further Info
About Central College Abroad
Central College Abroad is a study abroad provider that focuses on opportunities for undergraduate students from colleges and universities throughout the United States. CCA has programs in 8 different locations around the world for summer, semester and academic year terms. Their high quality study abroad programs revolve around an appreciation for cross-cultural immersion and foreign language development. In addition, students of a CCA program can compliment their experience with service-learning or a professional internship placement. CCA operates out of Central College in Pella, Iowa.
All of Their Programs