You can spend a semester or academic year studying abroad at Kingston University with GlobaLinks Learning Abroad (formerly EuroLearn). Located in the heart of London, Kingston University is widely recognized for its academic strength and quality of instruction. The student body is currently comprised of 21,000 students, including 3,000 international students from over 40 countries. This cultural diversity is an important reason why studying abroad at Kingston University is so popular.
Kingston University offers a wide selection of courses to choose from, but some of its more highly regarded programs include Art Design and Architecture, Social Sciences, Business and Law, Engineering, and Health Care Sciences. The faculty at Kingston University are considered some of the best in England.
Want to learn more about studying abroad at Kingston University? Then visit the GlobaLinks Learning Abroad website to complete an online application and begin the journey of a lifetime!
Reviews
Alumni Interviews
Meet Ashley Jean, GlobaLinks London alum
GO: Why did you decide to study abroad with GlobaLinks?
Ashley: I chose GlobaLinks because my Study Abroad Advisor recommended the program. The program offered great weekend excursions to Scotland, Ireland, Paris, and Brighton, giving us the chance to travel as much as we wanted during our time abroad. Kingston University offered great classes and it was a program that I was overall very impressed by.
GO: What made this study abroad experience unique and special?
Ashley: This Study Abroad experience was so unique because we weren't right in the heart of central London. London has many suburbs, and we were in the suburb of Surbiton, taking classes in the suburb of Kingston. It was the perfect place to live because we got to see the everyday life of our British neighbors while also being able to conveniently travel into central London by train. I feel like that made me so good at navigating the Underground and train system of London, which is something that the city is so proud of. Surbiton is an adorable town, and it is somewhere I will visit during all future visits to England!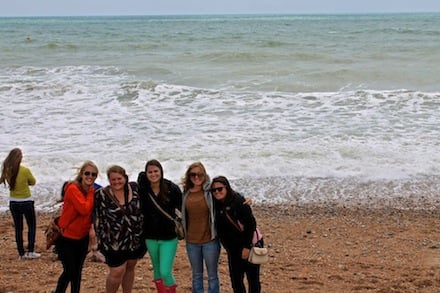 GO: Describe an example when GlobaLinks went above and beyond the call of duty to ensure you had a great experience abroad.
Ashley: GlobaLinks was an amazing program to work with. We were given one coordinator to work with directly, and I felt like I was really taken care of. Katiana, my coordinator, was extremely quick to respond to every email I sent her, making sure to thoroughly answer any question I asked her. They also made a Facebook page that we were allowed to join with other students going on the program so we were able to make connections before we got there and see how others were preparing for the trip. During my weekend in Paris, there was a shooting in Colorado. Within hours, GlobaLinks sent an email informing us that everyone from the program was safe and giving us more information on the topic. It helped me to feel a connection to the US and was a reassurance to us all. GlobaLinks is an amazing program and I would absolutely pick them if I did it all over again!
GO: How has this experience impacted your future?
Ashley: This experience has impacted many of my future decisions. I now know that I have a passion for traveling, and it has made me want to see the world! After studying abroad, I am so much more mature and independent. I have a true since of responsibility and I now feel that I can do anything! This experience also looks incredible on my resume, and gives me so much to talk about to people that I meet.
Interview with Sierra Keltner, GlobaLinks alumna in England
GO: Why did you decide to study abroad with GlobaLinks at Kingston University?
Sierra: I was an Exercise and Sports Science major and always knew I wanted to study abroad. I did not have a lot of room in my curriculum to study a language so I focused my search to English-speaking countries. British culture is something that has always interested me and London is a great central location to make side trips all over Europe.
Kingston stood out to me because of their Sports Science program and how well it fit into my degree plan. The advisors at Kingston and the counselors at EuroLearn were so helpful with making my decision and helping me plan my trip.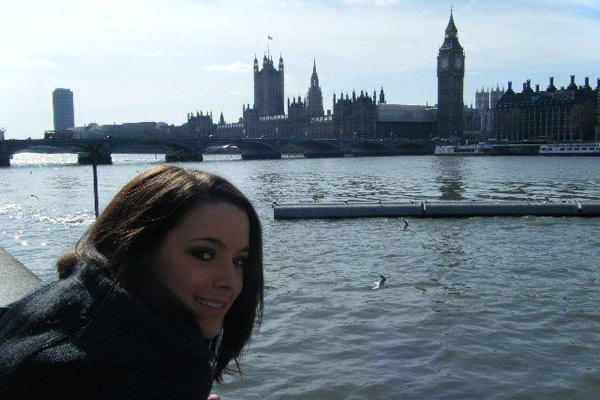 GO: What made your study abroad experience unique and special?
Sierra: My study abroad experience was unique, in my opinion, because of the people I met. It is impossible to study abroad and not meet people that will change your life forever. I traveled to several places in England and around Europe with people I met at Kingston and have remained close friends with them.
I also had the opportunity to study my field of interest from a new point of view, which has continued to benefit me as I pursue my career. My memories and experiences from studying abroad are special to me and remain my favorite part of college.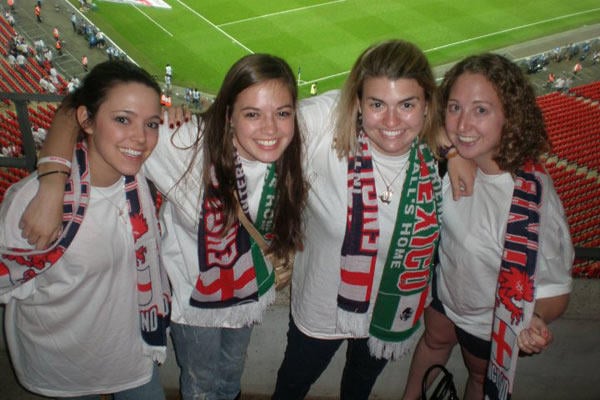 GO: How has this experience impacted your future?
Sierra: The unique experience that I gained from my time in London helped me get accepted to Physical Therapy school because cultural competence and open-mindedness is such an important topic in health care today. I was able to complete my degree on time, thanks to the support of my university's advisors as well as the EuroLearn staff, who helped me choose courses that would transfer as required classes at my home university.
I am continuously looking for opportunities to go abroad again to continue learning about people and cultures. Studying abroad solidified my love of traveling and I am excited about tailoring my future to involve more new experiences, places, and people.
Further Info
About GlobaLinks
GlobaLinks Learning Abroad, originally titled AustraLearn, was created by Cynthia Banks in direct response to requests from an Australian university to assist U.S. students who wanted to study abroad in Australia. They have been in operation since 1987. Since then, AustraLearn became the largest provider of study abroad programs to more than 25 universities in Australia and added new partner institutions in New Zealand and Fiji.
In 2008, AustraLearn expanded its reach to more regions of the world. EuroLearn and AsiaLearn were created as additional programs of GlobaLinks Learning Abroad to accommodate an increasing demand from students and advisors for structured, well supported, and affordable programs in destinations worldwide.
All of Their Programs