IES Abroad offers a variety of study abroad programs in London, including direct university enrollment, internships, theater studies, arts programs, and various other options. Through IES Abroad in London, students have the opportunity to live in a centrally located international residence hall or a homestay. You will gain a meaningful cultural experience and a deeper knowledge of what it means to be a citizen of the world.
Reviews
Alumni Interviews
Meet Christine Moran
Christine is from the Chicago suburbs and graduated from Elmhurst College in June of 2013. She majored in marketing and international business with minors in Spanish and Intercultural studies.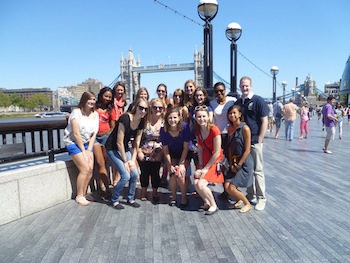 Why did you decide to study abroad with IES?
Christine: I chose IES because not many study abroad programs allow students to have the opportunity to have an internship abroad. The program I chose, fit my schedule well since I am a collegiate athlete and have various leadership roles within the organizations I am a part of as well. The IES staff was also extremely helpful in getting me ready for my departure and the London IES staff was also helpful once there. The program was phenomenal and I would recommend IES to anyone wanting to study abroad.
What was the best place you visited outside London?
Christine: I really enjoyed going to Edinburgh, Scotland and Cambridge.
What is one piece of advice you'd give future IES-London students?
Christine: I would make sure you pack accordingly to the weather. Summer is colder than you think and yes, it is true, it rains quite often. Making a bucket list of things you want to do during your time abroad is also a good idea. I guarantee that people from your program will want to do some of the same things you want to do and you should also be open to their ideas as well.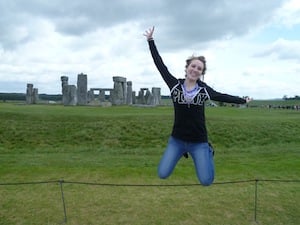 Describe your program socially and academically.
Christine: Academically, I attend one class one Fridays at the IES Centre about leadership. We learned about interacting with different cultures at the workplace and discussed our experiences at our internships as well. The other four days of the week, I went to my internship at the Royal Academy of Arts. My workplace was very diverse and I enjoyed everyone I worked with and felt that the experience I got there will carry over into my future career. Outside of work and class, I hung out with the 16 other people in my program. We all became as close as a family within a week. Even our professors were shocked at how close we were by our first class. I still talk to most of the people in my program quite often. We traveled around Europe together and even just within the city of London itself. There was always someone to hangout with and always something to do somewhere within London.
Favorite souvenir?
Christine: I think my favorite souvenir is the mini Olympic Torch I purchased. The reason for this is because not only were the Olympics happening around the time I was there, but when I went to Cambridge, I had a chance to hold one of the actual Olympic Torches.
Meet Laura Douglass Marion
Laura is from Rock Hill, South Carolina and studied literature in London, England in the spring of 2012. She is currently a senior studying English at Wofford College in South Carolina and enjoys reading, hiking, and exploring new places.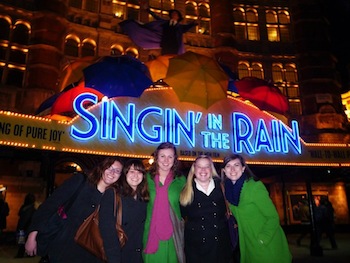 What was a highlight of your trip?
Laura: There were so many great things about studying abroad in London that it's hard to choose one highlight. Academically, the highlight of my trip was visiting the British Library and seeing many original manuscripts of my favorite British classics like Pride and Prejudice by Jane Austen, or Through the Looking Glass by Lewis Carroll. As an English major, that was a really special experience. Overall, the highlight of my study abroad experience would have to be the IES field trip to Scotland. My family is originally from Scotland, so it was really special for me to be able to experience my heritage first hand and visit the towns that my clan is from! We traveled all over the country and visited Edinburgh, Inverness, and many other small towns in Scotland. We took a boat trip on Loch Ness, hiked in the highlands, and played with reindeer in the Cairngorm Mountains. It was truly a once in a lifetime experience that I will never forget.
Describe your typical morning.
Laura: My typical morning when I was at IES London usually included classes, a different one each day that lasted two and a half hours. On those days, I started off my morning by grabbing a cup of coffee or hot tea and a croissant from my favorite bakery across the street from my residence hall, then taking the Tube or the bus from Chelsea to the IES Centre. The rest of my morning was filled with lively class discussion and interesting lectures. Depending on the day, I might be watching adaptations of Shakespeare works, learning about London's medieval history, or discussing today's most renowned British authors. On the mornings that I didn't have class, I usually spent my time catching up on my reading in Hyde Park or going on runs with my roommate around our neighborhood.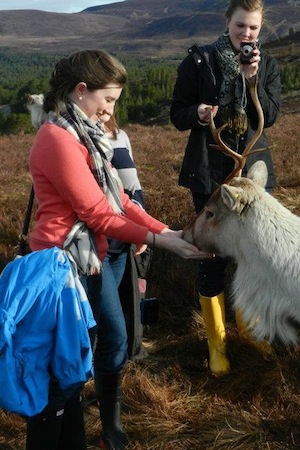 What about your afternoons?
Laura: My afternoons were similar to my mornings most days. I spent three of five afternoons in class, most of which included fun field trips to the many museums and historic sites around London. I ate lunch with my classmates in the lounge of the IES Centre, and then we would meet up with our professors in Central London to tour sites like the Museum of London, The British Library, and the National Portrait Gallery. In my architecture class, we spent many afternoons taking guided walks through the boroughs of London and putting our knowledge into practice with impromptu quizzes about the types of architecture we saw. On the afternoons that I didn't have class, I spent time visiting museums, shopping, and exploring parts of London recommended by our professors.
And evenings?
Laura: My typical evening included going to the grocery store, making dinner with my roommate, and finishing my homework assignments. Many nights, I had the opportunity to experience the theatre in London, seeing many famous musicals like Wicked, Jersey Boys, Singin' in the Rain, and Ghost the Musical. My classmates and I would often go to one of the pubs around our residence hall and listen to some live music. We would also hang out the University of London Union, called ULU, and mingle with some local British students. London is a beautiful city to explore at all times of the day, but it looks magical when all of the buildings light up at sunset. Exploring the Westminster and Whitehall area of London after sunset is also something fun that my friends and I did.
Meet Jaclyn Bennett
Jaclyn is from Stamford, Connecticut and currently lives in London, England. She enjoys British culture, Harry Potter, and anything to do with Disney and/or Pixar.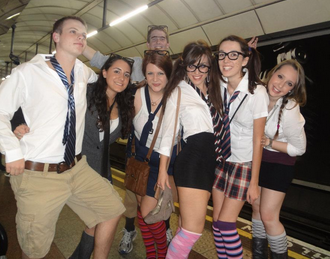 What was the highlight of your trip?
Jaclyn: Becoming a part of the life in London was the best part of my trip. I made an effort to get to know British students rather than just the Americans on my programme -- and that made all the difference. I truly felt like an undergraduate at a London university. (The whole having an American accent that people here think is so fascinating was just a bonus). Getting to know the people and the culture was the highlight for me.
Describe your typical morning?
Jaclyn: A typical morning would start with a shower in the en suite before making breakfast in the shared kitchen in halls. I would catch up on some reading or coursework. I would then head over to City - a 5 to 10 minute walk. Then I would attend my first lecture of the day, typically a large lecture taking about two hours. I would grab lunch with some friends at either the canteen on campus or a local cafe or pub.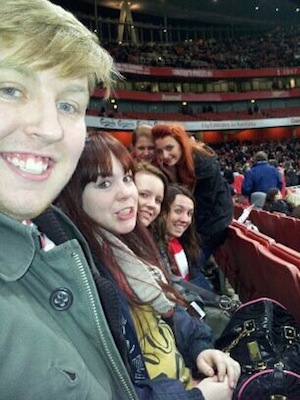 What about your afternoons?
Jaclyn: After lunch I would attend my second lecture of the day. This was usually a smaller discussion group split off from the morning lecture where we would break down the material and focus on smaller assignments. This was where I was able to get to know people better, as the classes were 15-20 people rather than the 150-200 that were in the larger lecture.
And evenings?
Chelsea: After dropping off my work at home, I would get ready for the evening. After making dinner (and sometimes pregaming) in the shared kitchen, my friends and I would head out to either a pub or a club for the night. As the tube closes at 1am, we would try to make it sort of early. If that failed, navigating the night buses was always fun.
Meet Alex Katz
Alex Katz is a Virginia native living in Chicago, IL. He recently graduated from Columbia College Chicago with a BA in Arts, Entertainment and Media Management. Alex's passion is music. He works as a musician, concert promoter, and even a freelance writer, reviewing albums and concerts.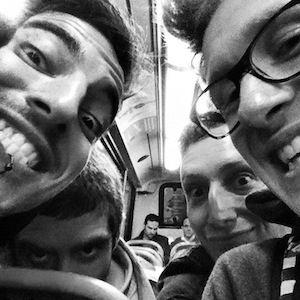 Why did you decide to study abroad with IES?
Alex: There are a lot of options to choose from when researching study abroad. In my case, IES seemed like the best fit. First off, their six week program was one of the longest offered for a summer semester. London is an amazing city with so much to offer. Also, as an English speaker, London is a very easy place to assimilate to. I knew that the longer I could stay, the better.
Secondly, their courses really stood out to me. Rather than offering standard courses that I could take at my school in the U.S., IES's courses actually helped to enrich the travel experience. I took Medieval London, which helped to give me a historical perspective on the city, and British Youth Culture, which focused on the music and art scenes in London from the 1950s to present day. These two courses, in conjunction with one another taught me a great deal about London's past and present. Other notable courses focused on London's architecture and its theatre.
Third, the living arrangements were spectacular. Nido Spitalfields, where I stayed, was nicer than any other dorm that I've seen. It had a full kitchen and rooms that weren't too small. Most importantly, it was in a great location. We were right next to Liverpool Street Station, which can take you just about anywhere in the city. It was also in between Brick Lane and Shoreditch, which are two very hip neighborhoods that cater to young people.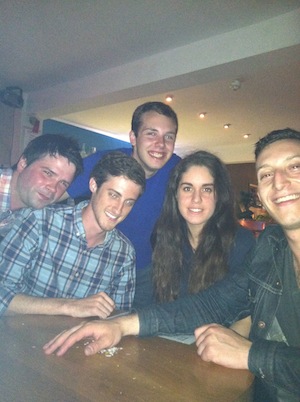 What made this study abroad experience unique and special?
Alex: This experience was special in many ways. The courses were some of the best that I've had throughout college. My professors, Richard Weight and Julian Putkowski were so passionate about the subjects that they taught that their excitement was infectious. They were available to chat outside of the classroom, and made a point to suggest things to do in our free time.
Speaking of free time, we had a lot of it. Most days, I went to markets, explored new neighborhoods, and sampled different food and drinks. The nightlife was amazing. On any given night, I could go to a pub, bar, or club, catch on live band, or go see a DJ.
How has this experience impacted your future?
Alex: This experience really opened my eyes to the world beyond my city. It's given me a serious desire to travel and explore. It taught me that I can go anywhere and be myself.
Meet Donias Doko
Donias is originally from Albania but has been living in Hartford, CT since 2001. He is currently attending University of Rochester in Rochester, NY as a Neuroscience and History major. He enjoys Mediterranean cuisine, drama movies, and very story driven TV shows.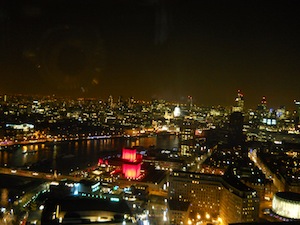 What was the highlight of your trip?
Donias: My highlight would certainly have to be the amount of information I absorbed in my classes as I was really interested in learning more about the history of American-British relations and more about Shakespeare and Chaucer. The level of analysis available and the talks I had one-on-one with the teachers were amazing and the teachers were very welcoming. I also loved their library. It was stunning to look at and had unlimited resourced.
Outside of academics, my highlight of the trip was exploring the different historical parts of London and visiting Shakespeare's Globe Theater. I did a tour of the Globe and learned a lot about Shakespeare's time. Another one of my highlights was being so close to continental Europe that I was able to explore 7 other countries (Scotland, Turkey, France, Belgium, Albania, Poland, and Sweden) within the span of 5 weeks. I love to travel and explore new countries and I must say that they were all incredible as they each had their own identities and joys to offer. I especially enjoyed Turkey, France, and Belgium and cannot wait to return to them.
What was your typical morning like?
Donias: A typical morning in London involved me waking up, grabbing a bagel and walking (about 10min) to UCL and attending my classes which I found very entertaining and educational. (Yes even the one that met at 9am!) All the classes were taught by amazing teachers who were easy to approach and knew way more than I thought possible about history and English. I usually had about an hour break between classes so I stayed on campus, either in the dining halls with some friends, or the library, or the student union (a building where students could go and just hang out). On the weekends I tended to wake up a little later and cook myself an omelette or make toast.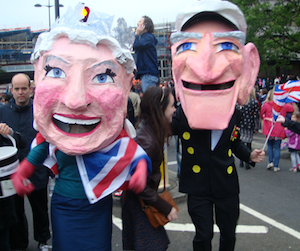 How about your afternoons?
Donias: After walking back from school I would group a quick lunch and then either meet up with my friends to go exploring London or simply walk around on my own. London is so much fun to walk around as there are always new places to discover. My favorite thing to do was walk by the Thames or through Regent Park or Hyde Park. It was very relaxing and beautiful scenery. During the weekend I also tended to go exploring further away and try to find markets. There was one right next to us and then my favorite was Borough Market. It is simply amazing and a must for anyone who is in London. It provides food from all over the world and great desserts. I loved the exotic meat section where I got a kangaroo burger. There was also an authentic gelato shop near Borough that was amazing!
And your evenings?
Donias: In the evening time, after walking around, we tended to be tired and need to eat so we cooked together as a group in our kitchen. This made eating much more affordable and it created a great sense of community in our flat. We go to know each other and spend a lot of time together trying each other's dishes. After cooking and eating we would hang around and talk some more and afterward we would go out to local student bars where we met many interesting and local people who were very inviting. I also tried to attend some shows in the theater district and I must say Les Mis is phenomenal!
Meet Victoria Hui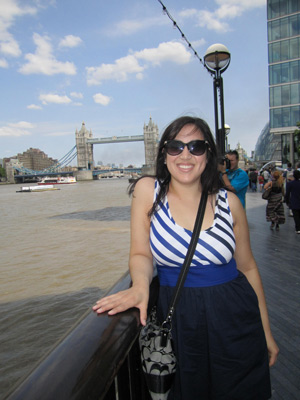 Why did you decide to study abroad with IES Abroad in London?
Victoria: I knew I wanted to not only study abroad in London, but also do an internship. The summer was my preferred time period, so I began looking at various programs. IES fit my wants perfectly. It was an 8 week internship in the summer. It also offered a class component, in addition to the internship. I loved the excursions offered and the housing accommodations.
What made your study abroad experience unique and special?
Victoria: IES made everything so easy. I was able to contact them, prior to leaving, with any questions or concerns. Once over there, they were still in constant contact with us and offered support along the way. My experience was unique in that I was able to work within the vibrant culture of London. My work was about an hour commute from where I stayed, but I'm thankful for that. I was able to commute like a true Londoner and see parts of the city I never would have ventured otherwise. I was with a great group of students and able to experience a fantastic city! London is a city with a rich history and something to discover at every turn.
How has this experience impacted your future?
Victoria: My internship added an invaluable aspect to my resume. Not only that, but I learned how businesses operate abroad. I was given new leadership roles and learned to grow into those. I was lucky to work in a small organization, where I was able to be a part of many projects and tasks. I took these skills back to America and they have helped me in the jobs I have held here.
This experience made me want to go abroad again and work there for a longer period of time. I learned a lot about myself abroad. It was the first time I was truly by myself (in the sense that I knew no one prior to traveling) and learned how to deal with that. I learned to operate London's transportation system and streets. I learned I actually enjoyed being on my own! It's a new kind of freedom to be able to take the Underground and just explore a vast city on your own.
Meet Stephen Briles
Why did you decide to study abroad with IES Abroad?
Stephen: I made the decision to study abroad in order to gain a better perspective of the world, learn British politics and history, and to have some fun at the sametime. I wanted an experience that would let me be free to make my own decisions and encounter life outside of the United States. I also wanted an organization that would allow me to be independent, but still provide the support I would need while being abroad.
I found that IES Abroad was the ideal organization to study abroad with because it had connections with my home university, it created a program that allowed me to study exactly what I wanted, and it provided just enough information and guidance without stifling my freedom and independence. IES was exactly what I wanted in a study abroad organization, and without a doubt I would use IES over and over again.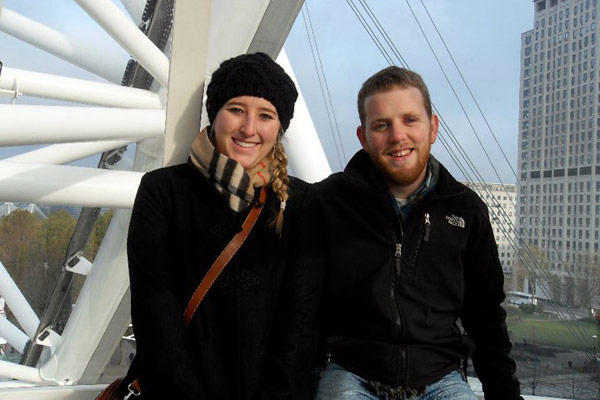 Why did you decide to study abroad in London, England
Stephen: Part of my reason for choosing London was because I had been there before with my family and I fell in love with the city. I honestly believe that London is the greatest city in the world, and I knew that I wanted to go back for an extended period of time. London is truly a melting pot city with a different culture at every other Tube stop. The great thing about London is that you are not only learning about British culture, but also so many other cultures.
I also chose to study in London because there is so much history everywhere. My professor joked that the building I had class in was older than the United States. I am fascinated by the history of London and the United Kingdom, and I wholeheartedly believe the best way to learn about a specific area or city is to be immersed in the culture and history of that city. Most of all, I wanted to study abroad in order to broaden my horizons and simply get a view of the world from outside of the United States.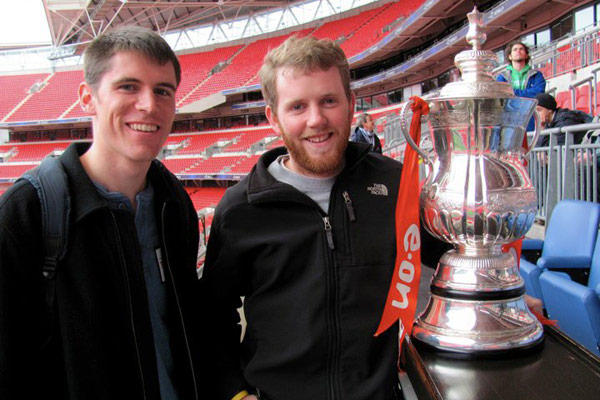 Tell us about a particular highlight from your time abroad.
Stephen: While I love London, one of the greatest moments of my study abroad experience happened in Edinburgh, Scotland. In Edinburgh there is a group of hills in Holyrood Park on the outskirts of town, and the tallest peak is called Arthur's Seat. From this peak I had the privilege of watching the sunrise over Edinburgh. My friends and I got up really early (earlier than 5AM) and climbed this hill to stand on Arthur's Seat and watch the beauty of the sunrise over a mildly foggy Edinburgh.
While standing on Arthur's Seat you can turn and see Edinburgh, but by turning the other way you can see the North Sea in the distance. This experience was honestly one of the most awe-inspiring moments in my life. Hiking up to Arthur's Seat was incredibly beautiful, I was able to do it with some amazing friends, and the sight of seeing the sun rise over the North Sea and hit the city of Edinburgh is something I will remember for the rest of my life.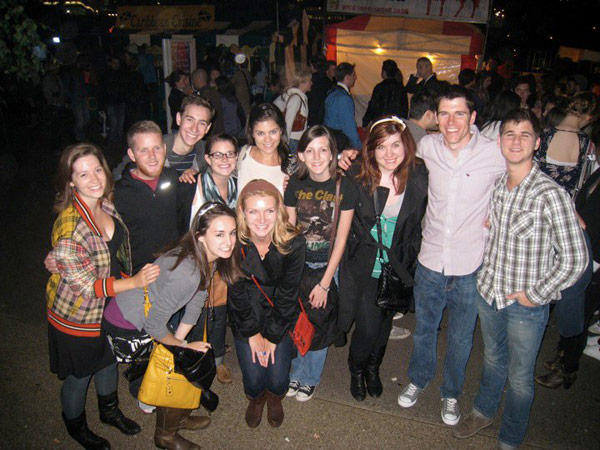 How did this experience challenge you personally and academically?
Stephen:For those who know me, they would say I am an incredibly shy individual, especially when meeting new people. Part of my decision to study abroad was to shatter this particular characteristic of mine. As soon as my airplane landed at Heathrow, the realization that I was alone in London, three thousand miles away from a single person who knew who I was, was a pretty scary thought. But this was a motivation of mine in studying abroad.
I was forced out of my comfortzone, and because of this I branched out and made some incredible friends that I absolutely cherish. I succeeded in my personal challenge to put myself out there and meet as many new people as possible, and in the process I made some great friends. I credit my time abroad with IES for providing the opportunity to accomplish a personal challenge of mine.
Studying abroad is about having a great time exploring different cultures, cities, and simply soaking it all in. But it is also about learning about the world we live and in particular the city in which people choose to spend the next severalmonths. IES Abroad has some incredible faculty who truly know what they are talking about.
I had the pleasure of learning from some accomplished historians and political scientists that challenged me, and forever left an impact on my life. Not only do IES professors provide their students with incredible knowledge, but also they make it fun and personable, which was amazing for me coming from a large university. I came away from my study abroad experiencewith more knowledge than I had anticipated, and for that I am very grateful.
Further Info
About IES Abroad
Their Roots: IES Abroad was co-founded by Paul Koutny, an Austrian student who had moved to the US on a Fulbright scholarship in 1950. While there, he envisioned a future built on a peace that grew from the lessons learned while studying abroad. He rallied 21 other friends and the crew hopped on the SS Volendam headed for a year of studies in Vienna. Feeling inspired by their own experience in Austria, IES Abroad alums Clarence and Alberta Giese immediately began helping send future groups of students abroad. Before they knew it, 60 years had passed, and IES Abroad remains a longstanding and exemplary study abroad option for students today.
Their Quest: "IES Abroad strives to provide premier study abroad programs for U.S. students that deliver the highest quality education while simultaneously promoting development of intercultural competence."
All of Their Programs