Study abroad in Paris with API at the Institut Catholique de Paris. This program allows students with advanced level of French to take classes alongside French students in a wide range of courses, including history, education, literature, philosophy, social sciences, and religious studies. Courses are available in French and English.
Each year the ILCF welcomes more than 2,000 foreign students from more than 60 different nationalities. This diverse environment allows students to explore their understanding of different cultures and achieve a new level of maturity and independence. API is proud to be able to offer these opportunities to students during an important step in their academic development.
Reviews
Alumni Interviews

Interview with Lauren Trani, API student in Paris, France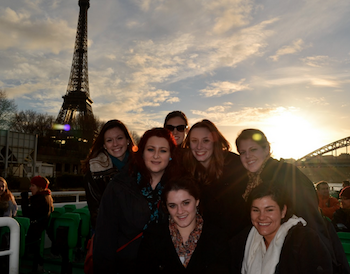 GO: Why did you decide to study abroad with API in France?
Lauren: I decided to study with API because it was the best "bang for my buck." It was relatively less expensive than other Paris programs I looked at, and it included MUCH more (i.e. a meal card, metro pass, a numerous excursions). The course options also fit perfectly into my plan of study. While abroad with API, I was able to complete my French minor as well as take two Political Science courses towards my International Affairs major! It was like I was taking classes from my home university abroad--so simple!
GO: What do you think made studying in France unique and special?
Lauren: I have wanted to study abroad in France since I first visited Paris in the fourth grade. It is an indescribable feeling to know that you are living in the cultural capital of the world. From the people, to the food, to the fashion, everything about France (and Paris specifically) is not only unique to Europe, but to the rest of the world.
To be able to walk down the street to your local boulangerie (bakery) and have the owner greet you by name as your order your croissant for the morning metro ride to school was, in my opinion, one of the most special parts of studying abroad in France. It is that sense that you belong and blend into the culture that truly makes the experience worthwhile.
GO: How did this experience impact your academic development?
Lauren: During my semester in Paris I participating in the teaching internship offered by API. I become so invested in teaching English to students for various backgrounds that I now seek to do so upon graduation. I am currently in the process of applying to the Peace Corps, as well as World Teach, where I hope to use my background in French language to teach children across the globe.
Personally, I gained an insurmountable of confidence in myself during my stay in France. In any study abroad opportunity, you have to take risks, and often you will fail. It is these failures that teach you lessons about yourself that you could never learn sitting in a classroom in the U.S. You have to put yourself out there and take chances, and that is the most valuable lesson I will take from my time abroad.
Further Info
About API
Academic Programs International, API, is an educational organization dedicated to providing challenging and enriching study abroad programs for our students. The experience of living, interacting and learning in an international environment presents invaluable opportunities for each student's academic and personal development.
All of their academic and extracurricular offerings are selected with the goal of helping students to become more self-aware and culturally sensitive. API envisions each student evolving from a tourist, to a resident, to a global citizen; API is dedicated to supporting this lifelong process.
API strives to provide the best comprehensive study abroad experience possible with personal attention available to all students throughout his or her program. API works closely with home universities to offer support before, during and after students' education abroad experience.
All of Their Programs