Spend your next semester or academic year in the French Riviera at the SKEMA: Euro American Institute. CEA Global Education has chosen an amazing destination for you to study abroad. With places like Monaco, the Alps, and Provence close by (not to mention Italy), you can explore more than you could ever ask for without much effort.
Continue your studies with one of the following programs offered at SKEMA: Science & Engineering, Business & Communication, or Liberal Arts & Social Sciences. All programs have classes taught in both English and French. Don't hesitate any further, and make this dream a reality! Sign up with CEA today!
Reviews
Alumni Interviews

Interview with Cailyn Katsev, world famous CEA alum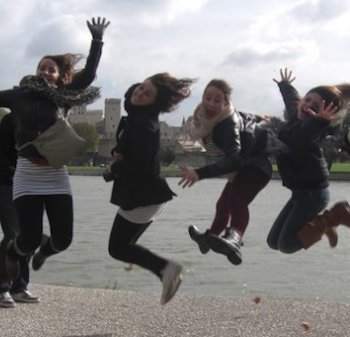 GO: Why did you decide to study abroad with CEA in France?
Cailyn: I have been taking French for three years (even though you did not need to speak French to go on this program, it just was more convenient) and decided I wanted to go to a French speaking country and I preferred to be in Europe. I was not ready to go to a huge city and since I am from Southern California so I wanted to be able to spend five months on the beach. Once I saw that we could study abroad in the French Riviera, a destination spot for millions I was sold. And it was perfect. Also the staff on the French Riviera were spectacular.
GO: What made studying in France a unique and special experience?
Cailyn: I had to take science classes and this school, Skema, not only offered science courses but also the labs. Therefore, I did not get behind in graduating with my major and my science courses. I am also a big runner and was able to run the Nice International half marathon with my friend from abroad. I spent my days rollerblading and floating on my beach raft.
GO: How did this experience impact your academic development?
Cailyn: This experience has made me more independent, confident, and simply more excited about traveling and life. I made some of my best friends that I hope to stay in contact with forever. We spent so much time traveling across Europe and Africa that we became so close. I am more confident speaking french and I much more accustomed to their culture.
Further Info
About CEA
CEA Global Education (formerly Cultural Experiences Abroad), was founded by Brian Boubek (CEO & Chairman) after a life-changing study abroad experience in Dijon, France. He felt that his time in France was so empowering and insightful that he wanted to provide the same opportunity to everyone. Since then, it has continued to grow. In 2010, CEA enrolled 4,000 U.S. university students in more than 100 academic programs! They've been around since 1997 and their headquarters can be found in Tempe, AZ. CEA strives to create and facilitate opportunities for academic achievement, global competence and personal growth through quality international education.
All of Their Programs