Come study abroad this semester with CUPA in Paris, France! CUPA organizes direct matriculation opportunities into French institutions in Paris. Students must have a handle on oral and written French, and must be ready to speak and take classes in French.
During the program, students have the option to live in a French home stay or figure out housing independent of the program. Course lists are generally hard to come by for each school, but CUPA keeps a list of courses taken in the past by exchange students, which can be viewed on their website.
See all of the details on the opportunities awaiting you in Paris by consulting the CUPA website today!
Study abroad at one of these Parisian universities:
Universite de Paris 3 - Sorbonne-Nouvelle
Universite de Paris 4 - Sorbonne
Universite de Paris 8 - Saint-Denis
Universite de Paris Ouest Nanterre - La Defense (former Paris X)
Universite de Paris - Dauphine
Institut Catholique
Universite Pierre et Marie Curie
EHESS
ENS
Reviews
Alumni Interviews

Interview with Barbara Noyes, CUPA alum
GO: Why did you decide to study abroad with CUPA in Paris, France?
Barbara: The music program at Willamette is very demanding so it was imperative that I find a program where I could seriously study music abroad and earn the credits I needed to graduate on time. I had heard about the CUPA program through the Willamette French department and learned CUPA has the widest variety of course options available to students (among the programs I was considering).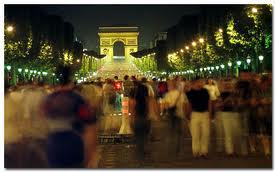 CUPA students can study at almost every French university in Paris, and if they can't find courses that interest them in the universities, they are encouraged to look at masters courses and specialty schools to find whatever fits their needs. I felt secure with CUPA that I would find great courses that would be worth credit according to the Willamette music department's high demands.
CUPA is also unique in its support system for students. When researching study abroad programs, I felt like you could have one end of the spectrum or the other- a program that watches your every move and has strict course offerings and required trips, or one that give you total independence and expects you to figure out everything on your own.
CUPA, uniquely has an excellent combination of both independence and support. Students are expected to do a certain amount of independent research in order to satisfy their needs, but the CUPA staff is always there to help. Tutors are there almost every day of the week if you need a little extra help in one area, student interns offer rereadings of your essays before you turn them into your French professors, and the CUPA staff is always available for any administrative or personal needs. It truly was a perfect balance.
GO: What made your study abroad experience unique and special?
Barbara: I found my fellow CUPA students to be very unique among the rest of the study abroad students I met in Paris. In the CUPA office, we were not allowed (unless absolutely necessary) to speak in English at all, at that was something we all accepted in stride. I will never forget my first day in Paris after the first day of Orientation when a group of us walked over to the Jardin de Luxembourg to hang out and get to know each other better... and we did it all in French!
We all wanted to help each other speak better French and discover all of the hidden treasures the city had to offer without looking like a tourist. I think that really helped us not to form a study abroad bubble of American students. Everyone was so friendly and advanced so quickly in their French, that soon French students were coming to our little get-togethers too! I felt like a real French student at a French university and never like a temporary visitor.
GO: How has this experience impacted your future?
Barbara: Studying abroad certainly opened my eyes to all of the possibilities out there. Before I left for France, I had it set in my mind that I wanted to work in Hollywood, but now I can see working in the French film industry. I don't feel the same language barrier I felt before, and I know now that if you make a concerted effort to the learn the language and culture of a foreign country, you will be welcomed with open arms and native speakers will want to help you improve!
I have come so far in just the few months I spent there and I know that when I go back (for there is no question in my mind anymore), I will continue to grow. There is no equivalent to just going to a new country and being forced to use the language every day that will improve your speaking and comprehension of a language.
Additionally, I've been granted a whole new perspective on life after my semester abroad. After two years of college, I felt extremely burnt out... and I was only halfway through! Going some place new was great, but I think the most valuable skill I brought back was to learning to let things go.
I had to accept that I wasn't always going to pronounce things correctly, that I occasionally I was going to step on someone's toes or be least eloquent person in the room, and that was okay. Fear holds us back from stepping out of our individual comfort zones, but we have to realize that mistakes are how we learn and there's no better time to make mistakes than right now as we are in the process of becoming who we are.
Further Info
About CUPA
CUPA, or the Center for University Programs Abroad, was founded in New York in 1963. Originally the Center for Overseas Undergraduate Programs, CUPA is an independent organization that focuses on studying abroad in Paris. CUPA's offices can be found close to the Luxembourg Gardens on the Left Bank in Montparnasse. The study abroad programs are held entirely in French alongside French counterparts, and students are directly matriculated with a variety of Parisian activities at their fingertips. To see a list of available academic opportunities at a number of French Universities, click here.
All of Their Programs