This unique study abroad program in Nantes, France was founded in 1965. If you're interested in studying abroad in France, but would prefer a more off the beaten path destination, this program may be perfect for you. With rigorous academic courses and IES Abroad sponsored field trips to beautiful areas of France surrounding France, this program has it all.
While studying abroad in Nantes, IES Abroad will arrange a homestay with a local family. Homestays give students the opportunity to improve their French language ability while immersing them in the local culture. If you are searching for a study abroad program in France outside of a major city, we would encourage you to seriously consider this program. Why wait? Apply to study abroad in Nantes today!
Reviews
Alumni Interviews
Meet Kristin Stevenson, IES - France alum
Kristin is from Flint Michigan, USA and studies French and International Relations at Hope College in Michigan. She enjoys singing in the Gospel Choir at her school, loves a good dinner party and hopes to travel as much as possible in her life. Kristin plans on attending graduate school and attaining her doctorate to become a professor of International affairs at a liberal arts college or university. Speaking French is something she plans to keep as a key part of her life for the rest of it no matter where her occupation takes her.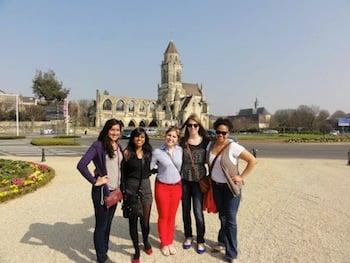 GO: What was the highlight of your trip?
Kristin: My time in Nantes was one of the most life enhancing experiences I've had thus far. I really enjoyed the opportunity to take a class at the University of Nantes. I enjoy learning new things and studying in a French University gave me a great chance to see a different culture, completely different from my own, in action.
My host family was also one of the most enjoyable pieces of my time in Nantes. They were extremely welcoming and I really enjoyed my time spent with them, I would not change it for the world. They were very accepting and interested, as was I and we got along very well. It was a blessing.
GO: Describe your typical morning?
Kristin: A morning in Nantes for me consisted of waking up around 7 or 8AM eating breakfast with my host siblings or not depending on their schedules and then getting ready for my day. Depending on the weather, I would then walk to the IES Abroad Nantes building in the centre ville. The walk took me about 30 minutes (give or take) and if it was too cold or raining, there was always the bus available.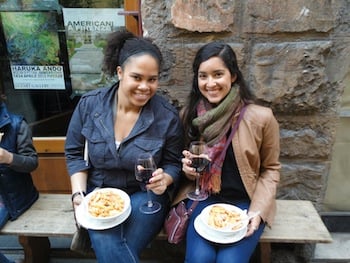 GO: What about your afternoons?
Kristin: In the afternoons, upon arrival to the IES center, I would usually check my mail box and then get ready for which ever class I had that day. Some days I had my teaching internship so I would have to travel from the IES center to the school where I taught between classes at times. Thankfully, it was about a 7 minute walk.
GO: And evenings?
Kristin: After a day of classes, I would return home around 5 or 6 (sometimes earlier depending on the day) and spend some quality time with my host family. We would talk and bond and have dinner together every night. Evenings were, many times, the best part of my day.
Meet Renee Bishai, IES - France alum
Renee is from Cleveland, Ohio and graduated from The Ohio State University in December 2012 with a degree in International Relations and Diplomacy and French. She currently works at the OSU Office of International Affairs planning events and programs for international students. She enjoys farmer's markets, collecting recipes, and thinks it should be Christmas all year round.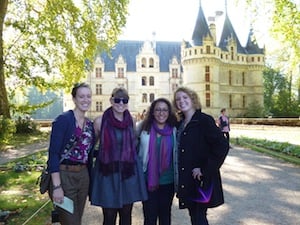 GO: What was the highlight of your trip?
Renee: What I appreciated most about the IES program was the mix of IES classes and classes at the Universite de Nantes. The IES classes were great because they allowed me to focus on improving my French language skills while still benefitting from the French classroom style and a French professor. My classes at the university were a bit more challenging than the IES classes but it was a wonderful opportunity to get a true French university student experience. It provided a great insight to French culture and it allowed me to interact with French students where the IES classes were just with other IES students.
I am so happy with my decision to study in Nantes. People from Nantes always say they love it because it's not too big and it's not too small and that couldn't be more true. You really do feel like you're in a city but it's not overwhelming. Nantes is easy to navigate so after a few weeks, I really did feel comfortable and at home in the city. Still, after a semester, I never ran out of new things to do. People in Nantes are very welcoming and patient with non-native French speakers so I felt safe speaking French and making mistakes. By the end of the semester, I was so confident in my abilities. I think achieving that level of confidence in a city like Paris would have been much more difficult but when I visited Paris after a few months in Nantes, I felt so comfortable speaking French and I had a great experience.
GO: Describe your typical morning?
Renee: In the morning, I would wake up and get ready for class. I helped myself to breakfast at my host family's house - typically cereal or yogurt. Depending on the day, I walked about ten minutes to the IES Center if I had classes there, or the nearest tram stop if I was heading to the university. On a good day, I would get ready a few minutes early and stop at my favorite bakery, Boulangerie d'Antan, to get a baguette for lunch that day and treat myself to a warm croissant before class.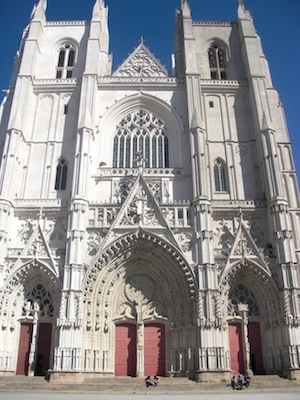 GO: What about your afternoons?
Renee: In the afternoon, my friends and I would walk to the closest grocery store, Carrefour, to get food for lunch. We would usually go on Monday and get groceries for the week which we could keep in the kitchen at the IES center. Some days, we walked to a bakery and bought sandwiches and pastries to take back and eat at the center or, on a sunny day, at a park nearby the IES center or by le Chateau des ducs de Bretagne. In the late afternoon after class, I would go to a nearby cafe with friends and have a cup of coffee and do some homework before evening classes.
GO: And evenings?
Renee: On a typical evening, I would come home after class and do some homework until dinner with my host family around 8 or 9. Some nights, I would go out after dinner and meet my friends for a drink in the centre-ville. Once a week, we had a conversation club with French students at the IES center and we would often go out for dinner or drinks after conversation club. If we had late evening classes, sometimes my friends and I would try a restaurant for dinner on our way home from class. My host family was very flexible about which nights I ate dinner at the house. On the weekends, if I wasn't traveling, I would try and visit different parts of the city like l'Ile de Nantes, le marche de Talensac, or le Parc de Proce. Nantes is great because there is always something new to try but there is also always time to return to your favorite spots.
Meet Jose Ramon Campos, IES - France alum
Jose is from San Antonio, Texas and recently graduated from Southern Methodist University (SMU) with degrees in Political Science and Economics with Finance. He enjoys Mexican food, traveling, Couch Surfing, skydiving, and spending time with friends and family.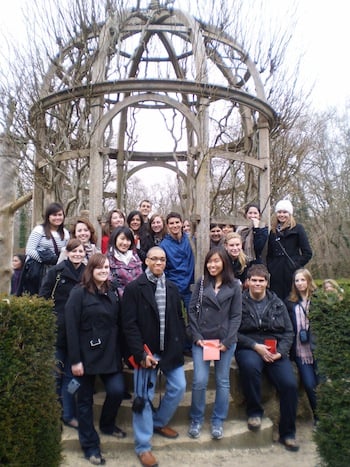 GO: Why did you decide to study abroad with IES?
Jose: My decision to study abroad did not come easy. I analyzed various programs all over the world as well as in France. Multiple majors along with a strict graduation deadline of 4 years meant I needed a program that focused on what I wanted, learning French, but at the same time gave me the flexibility to continue coursework on my majors away from SMU. I was seeking an all-out immersion experience into French culture, way of life, people, language, and food. I chose IES Nantes because it was the ideal fit; it provided me with the necessary opportunities to allow my language skills to develop. This was made possible by living with a host family, the French-language only rule at the IES center, along with all classes taught by French professors in French, and the fact that Nantes is a small city that doesn't attract the attention of swarms of English-speaking tourists like Paris.
GO: What made this study abroad experience unique and special?
Jose: My Nantes study abroad experience was so unique and special in large part thanks to my host family, the IES administration, professors, and faculty, the city and atmosphere of Nantes, and the life-long friends I made there. The fact that I really gave it my all and worked on my French through out my 4-month stay made all the difference. I decided to speak only in French and I even gave up English for Lent. As President of my class, I had the opportunity to work alongside the administration, implementing plans, holding weekly meetings, and managing a budget for special events. I also met my girlfriend of 2 years on the second day of orientation in Tours. It was an overall surreal and wonderful experience.
GO: How has this experience impacted your future?
Jose: My experience has without a doubt changed my life and significantly impacted my future. After IES Nantes, I could speak French fluidly and with ease; I also then embarked on a month long backpacking trip (as this was my first time in Europe) with a close friend, visiting 9 countries and staying with locals through out our travels. My study abroad experience produced an earnest desire to travel and explore other countries and cultures. I subsequently lived in Amman, Jordan for a month, working through the U.S. Embassy as a trainer to Iraqi refugee girls, and I began picking up and studying Arabic. After returning to the U.S. to finish up my senior year, I applied to the Teaching Assistantship Program in France (TAPIF) in order to work abroad. Thus, I am currently living in Grenoble, France teaching English to elementary kids while finding the time to travel; I am also now fluent in French. For me, this long journey started back in the spring of 2011 in Nantes.
Meet Katie Warnecke, IES - France alum
Katie is a senior at Northwestern University and spent a semester in Nantes, France in 2011. She discovered a love for daily cheese and fresh-baked baguettes which will never subside, as well as an appreciation for exploring new places all over Europe!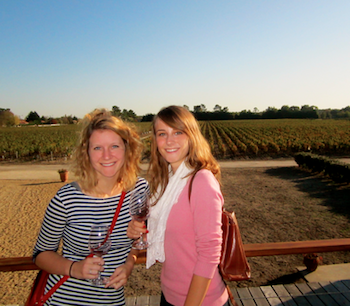 GO: Why did you decide to study abroad with IES?
Katie: I chose IES because they offered a program where I could completely immerse myself in France. I lived with a host family, and Nantes is small enough that I was never immediately mistaken for a tourist! Speaking French and experiencing authentic French culture every day was exactly what I was looking for, and IES helped my dream come true with this program.
Also, IES seemed like a well-established institution with a good balance of academic rigor, familial friendliness, and panoramic perspective on what constitutes a rich experience abroad. I could not be happier with my choice. IES Abroad (especially the Granada program) could not have been more organized, caring, and effective in its operations. The staff is deeply committed to the health, happiness, and growth of its students, and it shines through in the stellar attitudes and the high-quality work that the personnel do.
GO: What made this study abroad experience unique and special?
Katie: I think that my host family made my stay so much better than it would have been otherwise. They talked with me every day to help strengthen my vocabulary and grammar, and I always felt like a part of the family instead of just a guest. Having a family while I was so far away from my parents really helped with homesickness too; because they included me in everything, I didn't feel alone. I still talk with my host sisters on Facebook - we keep each other updated on the latest music across the globe. That's definitely not something you can learn in a textbook!
GO: How has this experience impacted your future?
Katie: I am absolutely a more confident person because of my study abroad experience. Everyone that I talk with is impressed with my language skills, and the fact that I am more responsible and independent is evident in all work that I do. Because I had to adapt quickly to new situations, I can apply that skill to new projects and environments back home. I can appreciate other cultures and customs more, which makes me valuable for companies who have international business. Studying abroad definitely makes me stand out from other students.
Meet Sam Krueger, IES - France alum
Sam Krueger is from Glenview, Illinois and graduated from Illinois Wesleyan University in 2012. She studied abroad in Nantes, France during the spring of 2010 and is currently an English Teaching Assistant in Chalon-sur-Saone, France. She enjoys taking pictures, cooking, swimming, and trying new things.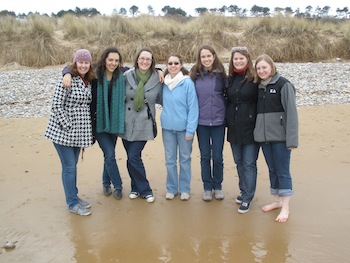 GO: Why did you decide to study abroad with IES?
Sam: I knew from high school that I wanted to study abroad in France. One thing I decided early on was that I did not want to study in Paris. I thought that a smaller city would give me a better experience in terms of culture and a better language emersion. The representative at our study abroad fair got me interested in IES Nantes, and many of my friends had studied abroad with IES and enjoyed it, so I chose to do the program.
GO: What made this study abroad experience unique and special?
Sam: One of the things that made this experience unique for me was that it was my first time leaving the country. I was thrown into a culture that, despite also being first-world, was completely different from my own and which I had to figure out. I got to travel, both with my program and casually with friends, and experience things I'd only read about in magazines, such as walking barefoot along the sandy beaches of Normandy, or wandering through the narrow markets of Camden Town. Another unique aspect of IES Nantes was my teaching internship where I worked in a primary school for 4 hours a week. I got to see the French school system from the inside and became close with some of the teachers there. Plus, there is no better way to improve French comprehension than trying to communicate with a five-year-old!
GO: How has this experience impacted your future?
Sam: My experience in Nantes has definitely made me more confident and capable as a person, as well as making me aware of cultures and customs outside of my own. I met some great friends and had a host family I will remain in contact with for the rest of my life. I loved France so much that I decided I wanted to return and came back as a language assistant. Not only did it improve my French and teach me about myself, but it sparked my desire to travel and apply for other opportunities abroad such as the Peace Corps and Fulbright programs. There is no doubt in my mind that this experience in France made me the curious and inspired person I am today.
Meet Elyse Rozina, IES - France alum
Elyse is a 21 year old student from Waukesha Wisconsin. She is studying French, Italian, and Business Management at the University of Minnesota Twin Cities. She loves languages, cafe au lait, and all things French.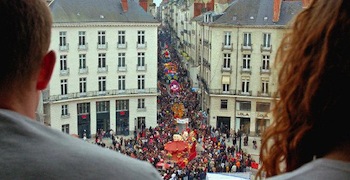 GO: Why did you decide to study abroad with IES?
Elyse: I chose IES Abroad because it was a full immersion program with a home stay and I wanted to improve my French as much as possible. Living with a host family provided a great support system and helped me to better understand French culture. IES Nantes has a great staff that really takes care of their students. The program is a great value. Included are multiple field trips to places like the D-Day beaches and Mount Saint Michel plus other activities around Nantes that are free to IES students like a visit to the famous Machines de L'Ile.
GO: What made this study abroad experience unique and special?
Elyse: My abroad experience was very special. Nantes is not a very touristy place so you don't encounter English very often. As far as I know IES is the only American study abroad program in Nantes. I visited Florence over my Spring Break that semester and it felt like we heard more English than Italian. Everywhere you looked there was an American student. I wanted my semester abroad to be completely different from life at home so I could experience a different life. That isn't to say that I never spoke English. I definitely did with my American friends but if I had studied somewhere like Paris I wouldn't have learned nearly as much as I did in Nantes.
GO: How has this experience impacted your future?
Elyse: My semester in Nantes helped me to better figure out what I want to do with my life. I met some of the greatest people I have ever known and now have friends from all over the US and all over the world. Study abroad gave me an appreciation for how other people live and for travel. I have been all over Europe including Barcelona, London, Venice, Nice, Slovenia, Austria, and many other places and the list of places I want to see gets longer everyday. My semester in Nantes showed me that I am capable of traveling on my own and of problem solving even in a language I don't know. It gave me a lot of confidence and really helped me grow up and change in ways that I wouldn't have been able to do in Minneapolis.
Further Info
About IES Abroad
Their Roots: IES Abroad was co-founded by Paul Koutny, an Austrian student who had moved to the US on a Fulbright scholarship in 1950. While there, he envisioned a future built on a peace that grew from the lessons learned while studying abroad. He rallied 21 other friends and the crew hopped on the SS Volendam headed for a year of studies in Vienna. Feeling inspired by their own experience in Austria, IES Abroad alums Clarence and Alberta Giese immediately began helping send future groups of students abroad. Before they knew it, 60 years had passed, and IES Abroad remains a longstanding and exemplary study abroad option for students today.
Their Quest: "IES Abroad strives to provide premier study abroad programs for U.S. students that deliver the highest quality education while simultaneously promoting development of intercultural competence."
All of Their Programs