IES Abroad offers semester long study abroad programs in Freiburg, Germany. The Freiburg study abroad center offers two different programs: A Language and Area Studies Program and an Environmental Studies Program. Both programs also have a focus on German language study, with full German immersion classes taught by local faculty.
Located less than an hour away from major cities in Europe, France and Switzerland, Freiburg is ideally located for travel to other destinations. The IES Abroad program offers students the opportunity for internships, volunteer events and more. For students interested in learning German and immersing themselves in the local culture, studying abroad in Freiburg with IES Abroad is an ideal choice. Why wait? Apply to study abroad in Germany with IES Abroad today.
Reviews
Alumni Interviews

Meet Molly Kettell, IES Abroad Alum
GO: Why did you decide to study abroad with IES Abroad at Freiburg University?
Molly: At the university I attended while I was making study abroad decisions, my options, as I was seeking a German speaking country, were between Vienna, Austria; Berlin, Germany; and Freiburg, Germany. I originally thought I would want to study in a larger, more well-known city because I had assumed that would just be more beneficial. The more I researched my options and thought about each possibility, I realized that I actually wanted something a bit smaller. In my opinion, it would be easier to feel at home in a less overwhelming atmosphere, and it would be a more genuine experience to distance myself from as many tourists as possible.
Luckily, Freiburg had all of this and more- it's a small(ish) city, yet at the same time, there is ALWAYS something to do and somewhere to go; it caters to city lovers as well as nature lovers because of its ideal location; it's rich in history and German culture; and it's a fantastic university town. In addition, the program concentrated on German language and studies, which was hugely important to me, and although I was nervous at the idea of speaking German all the time, I quickly realized upon my arrival that the IES staff was not there to freak its students out; rather, they were there to help us improve our German and have the best experience possible. Plus, not even every student there was even a German major or minor!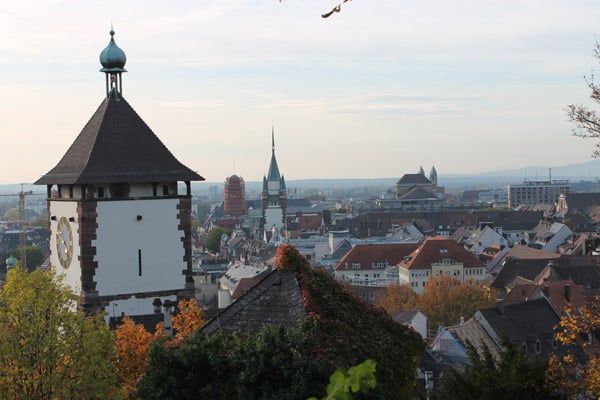 GO: What made your study abroad experience unique and special?
Molly: Being abroad really opened my eyes to a lot of, in my opinion, important things about the world in relation to culture and language and a general understanding. There are things you notice that you miss and love about home, but then there are also a lot of things you really appreciate about your new home abroad. For me, each day was a different challenge, and even though it was sometimes nerve-wrecking and scary, it was incredibly helpful to my growth as a German speaker and as a person.
I learned so much about what I am capable of and how I can succeed, and it gave me so much confidence to know that if I could do something in a foreign language, I could certainly do it in my native language! I really wanted to get as much out of my experience as I could, and with the housing, courses and other aspects of IES, I feel like I was given so many opportunities to embrace the German language and culture. My time abroad helped reawaken the reasons why I love studying a foreign language and how important it is for people to immerse themselves in another culture. And to be surrounded by other students who are equally as passionate is so reassuring and wonderful in every way.
GO: How has this experience impacted your future?
Molly: As I mentioned a bit above, my study abroad experience really solidified my thoughts and opinions on foreign language, culture, a global community, etc. It has reinstated my beliefs that yes, I am pursuing my passion and MUST find a way to incorporate it into my future career. Although I have not concretely decided what this will be, I at least know in which direction I want to look. And if nothing else, I know that I will always have a home in Germany and hope to one day return.
Further Info
About IES Abroad
Their Roots: IES Abroad was co-founded by Paul Koutny, an Austrian student who had moved to the US on a Fulbright scholarship in 1950. While there, he envisioned a future built on a peace that grew from the lessons learned while studying abroad. He rallied 21 other friends and the crew hopped on the SS Volendam headed for a year of studies in Vienna. Feeling inspired by their own experience in Austria, IES Abroad alums Clarence and Alberta Giese immediately began helping send future groups of students abroad. Before they knew it, 60 years had passed, and IES Abroad remains a longstanding and exemplary study abroad option for students today.
Their Quest: "IES Abroad strives to provide premier study abroad programs for U.S. students that deliver the highest quality education while simultaneously promoting development of intercultural competence."
All of Their Programs