Maximo Nivel offers our unique Native Spanish Program for intensive Spanish language training. Situated in beautiful Guatemala, Maximo Nivel is not a typical Spanish School. We are an executive language center offering the most intensive and effective Spanish courses in Latin America. We employ only the most experienced native Spanish instructors, all of them actual teachers--either certified in teaching Spanish as a foreign language or with their Bachelors and/or Masters in Education.
Please visit our website to learn more about our Native Spanish Program in Guatemala, and to apply directly online.
Reviews
Alumni Interviews

Meet James Apostolidis, Maximo Nivel-Guatemala alum
James Apostolidis is a 24 year old Australian currently living in the United States. He has a degree in civil engineering from the University of Queensland and has worked professionally in both Australia and the United Kingdom. He volunteered with Maximo Nivel and As Green As It Gets in Guatemala with his partner Kayla Dill from October 2012 to February 2013, and enjoys hiking, travelling, Japanese food, playing guitar and rock climbing.
GO: Why did you decide to volunteer with Maximo Nivel in Guatemala?
James: We were set up with Maximo Nivel in Guatemala through another volunteering agency called IVHQ. My partner and I are in the process of moving from the UK to Australia, and we have a 5 month wait for her visa to Australia to be approved, and so we were taking a break from work and living temporarily in the US in between the move. Its all a bit confusing really, but the gist of it is that we had some time off and wanted to do something useful with that time. We did some research, and the volunteer program in Guatemala sounded great and didn't break the bank.
GO: Describe your day to day activities as a volunteer.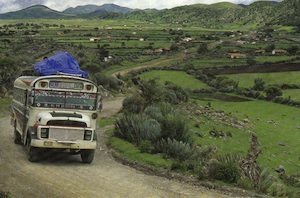 James: Our day to day life volunteering in Guatemala usually consisted of waking up early and eating breakfast with our host family, then catching a chicken bus from Antigua to San Miguel Escobar where the As Green As It Gets office is. By 8am we either hike up with the farmers to help harvest or tend to their crops, or hitch a ride in the back of a pickup to one of the construction projects on Volcan Agua. We usually then work doing manual labour until 12:30 - 1:00pm, and get back to Antigua for a quick lunch and our Spanish lessons in the Maximo offices at 3pm.
After that, we get back to our host family for dinner at around 6pm, and from there on the night is ours. Depending on how tired we were / what our local friends were up to, we might spend the night taking salsa lessons, meeting people at a bar, seeing one of the many fiestas constantly going on or just relaxing with a book or a movie. This is our Monday-Friday routine, with the weekends usually set aside for travel to other parts of the country.
GO: What made this experience unique and special?
James: Our volunteering experience was really made special by getting to spend so much time with local farmers and workers - developing genuine friendships with them and getting to share in some genuine cultural experiences. Volunteering for as long as we did, we also got very close with the NGO that Maximo set us up with, and really felt like part of the As Green As It Gets family. We were travelling to fun locations on weekends with the people from AGAIG, as well as taking part in week-long stints in remote areas of Guatemala and helping in the design and implementation of various projects that we feel most shorter-term volunteers may not get the opportunity be involved in.
GO: How has this experience impacted your future?
James: The experience has really impacted the way I view the aid/volunteer industry. There is a seedier side that exists that I hadn't really considered - we were lucky being with great and legitimate organisations such as Maximo Nivel and As Green As It Gets, but spend enough time in the volunteer circuit and you'll also see some less encouraging organisations at work - particularly those centred around working with children. It also makes you realise that attitude is everything - and arriving with a sense of entitlement about volunteering your "free labour" may actually hinder the people that you have arrived to help.
You will also be exposed to a variety of social and economic issues which you may not have considered before - which is generally valuable to experience and broaden your world view. We did so much manual labour and learned a lot of practical construction skills, which will come in very handy when we eventually want to renovate our own house. Additionally, my partner and I are both engineers - so being able to see the difference between design and implementation of various projects was very valuable from a professional standpoint - you really see the value in community involvement. It really is useless to just give a community some new infrastructure without involving them completely - if you want a project to work you need to have the locals understand exactly why they need something, as well as how it works - else it will fall into disuse or disrepair.
Further Info
About Maximo Nivel
Maximo Nivel (Maximum Level)--The Intercultural Center of Latin America
Maximo Nivel is a family-owned, social enterprise founded in 2003. Our three intercultural centers are locally-based organizations focused on international education and cross-cultural experiences. Our programs include: Volunteer Abroad, International Internships, TEFL Certification, and Spanish Language Immersion in three countries -- Costa Rica, Guatemala, and Peru.
Our programs are internationally accredited and are recognized worldwide. Our success is based on our commitment to quality and the highest level of client service. We have an excellent, professional staff and great home-base facilities to ensure your overall experience with us is nothing short of excellent!
All of Their Programs