How Studying Abroad Changed My Life
Published 01/26/2011 by Kristin Nehls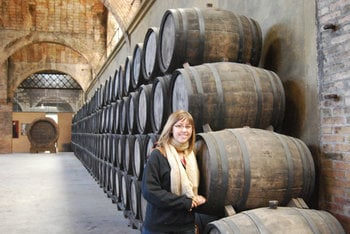 Barcelona changed everything.
And when I say it changed everything, I mean everything: my worldview, sense of confidence, direction in life, major in college, choice of social circles, language abilities, educational drive. It's as though my plane landed back down in Chicago and my friends and family experienced the twilight zone-ified version of Kristin.
When I came back from Barcelona, I immediately changed my spring semester class list and enrolled in as many international journalism classes as I possibly could. I picked up a Spanish minor, dumped my college boyfriend (he was uninterested in the world outside of the U.S. - he just didn't get it), joined Spanish club and started cooking (hey, I may have left my host mom, but she'd never fully leave me - her recipes live on eternally in my kitchen).
The New Me
Saturdays on campus were no longer spent recovering in bed all day from crazy Friday nights; remembering the Saturdays I dedicated to exploration each week in Barcelona, I applied this same mindset to my college town. I was baffled at how many facets of Athens, OH I had overlooked for years; without the motivation that Spain gave me to get active about exploring, those things would have forever been out of my radar.
You could say that Spain literally opened my eyes to the world - both directly surrounding me and oceans away.
There are other changes, however - harder changes - that aren't so visible. I suddenly felt very out place on my campus. Even others who had studied abroad could not really understand the change that had enveloped me or the transformation that I went through. There were periods of isolation and periods of boredom and, quite frankly, periods of loneliness. I am not lying when I say that "reverse culture shock" is real... and it is hard.
But those times are what perpetuated the biggest change of all, one that has taken a few years and plenty of reflection for me to even realize took place at all: My ability to acclimate to new states of mind and allow that acclimation to elicit growth.
Life Is A Constant Adventure
Rather than continually accepting stagnancy in my life, study abroad ignited in me the desire for constant adventure. Now when I would go hiking and biking, I noticed what surrounded me and how it was affecting my mood, my physical well-being, and my life. Now when I overheard someone with an accent I felt invigorated to talk to them and learn of their their purpose for traveling to my home country; once you catch the adventure bug, it's as though you need to know how others surrounding you have caught it, too.
Finally, there is the nostalgia. Before Spain, I never knew what it meant to miss a place as intensely as I now miss Spain. I daydream constantly about finding ways to go back: grad school, volunteer programs, starting a new life! Spain showed me a way of living and a version of humanity to which I was otherwise ignorant; now I realize I am all the better for my understanding, and feel that more time spent there could only positively increase my understanding.