The Irish city of Limerick will have you singing its praise in just a few days. Don't believe it? Study abroad in Ireland with AIFS and see for yourself. A popular tourist destination for Americans and Europeans, the third largest city in Ireland is full of vast greenery and friendly, pleasant people. Using your including flight voucher, you may also visit Dublin, London, and another European city!
The University of Limerick offers courses in marketing, engineering, equine science, public administration, and more, so there is never a lack of learning to be had. Open to all college undergraduates, this program requires a 2.9 minimum GPA. Scholarships are available, so apply early. Take this wonderful opportunity to study in Ireland for a semester or even a year!
Reviews
Alumni Interviews
Interview with Caroline Turner, AIFS alumna in Limerick
GO: Why did you decide to study abroad with AIFS at the University of Limerick?
Caroline: Ireland has always been a fascination to me. I wanted to know about the people, their lifestyles and why they had so much pride to be Irish. I had heard that my ancestors were Irish and came over to Ellis Island. I could not think of a better place to study Irish folklore, Irish Literature, because I am an English major, and my heritage. AIFS offered all the classes I wanted and an opportunity to live on campus and feel what it is like to be a student at the University of Limerick. I had always wanted to study abroad and I think affiliate programs connected to your college are great ways to get involved and meet new people.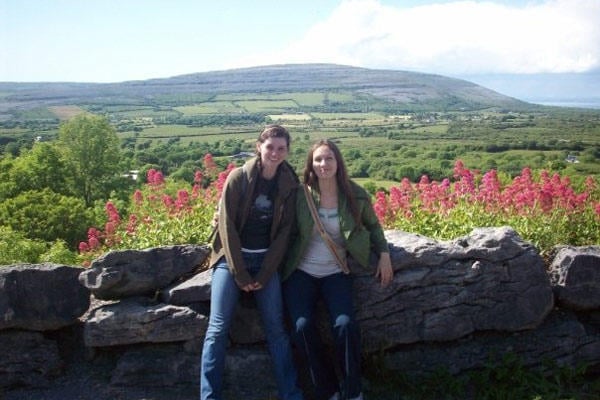 GO: What made your study abroad experience unique and special?
Caroline: My experience was unique and I think anyone who goes to Ireland will have their own unique adventures. Within my group I met three people from Texas and two Irish students and we all quickly became friends. Someone even asked me if we had known each other from before! Everyday my new friends and I would walk to classes and then explore Limerick and other cities in Ireland.
We travelled to the Cliffs of Moher, Tralee, Bunratty, Dublin, Galway, the Burren, Lahinch and many other breathtaking places. I remember learning two Irish dances, but playing soccer with my friends on campus is what sticks to mind the most. It was interesting to experience the town of Limerick and see its shopping malls, movie theaters and restaurants and how they compare to the United States. I would not change a thing about my experience because I made lifelong friends that I am still in close contact with and found out about myself in the process.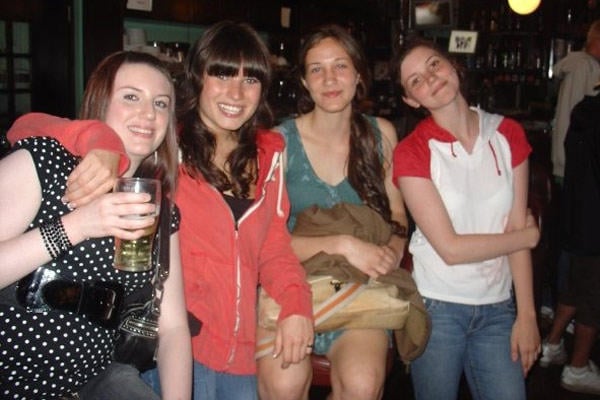 GO: How has this experience impacted your future?
Caroline: This short three week summer trip impacted my future greatly. I am hoping to pursue a degree in Irish folklore, Education and Irish language at a graduate school in the Republic of Ireland. I am traveling back to Ireland this summer to look at schools and I've never been so excited to return somewhere in my life. I've kept up contacts with my friends that live in Limerick and we are planning to see each other again after three years. This trip helped me learn that I can travel places by myself and this gave me a lot of confidence. If I had not experienced this trip with AIFS my life would be very different.
Interview with Angela Case, AIFS alum in Ireland
GO: Why did you decide to study abroad with AIFS at the University of Limerick?
Angela: I knew I wanted to study abroad in Ireland from the beginning. So I just had to narrow it down to where. I chose AIFS because in reading through the packet I liked the idea of having a group there that would meet and travel together. I loved that AIFS handled the housing too. (I had too many horror stories of people having issues with housing). AIFS also allowed the option of including the plane ticket which, although I didn't use, it was nice to know what day others would be arriving.
GO: What made your study abroad experience unique and special?
Angela: The People. Everyone's experience is going to be different, but the people you meet is what makes it special. The landscape was also amazing. I live in Oklahoma, a landscape that consists of plains and more plains. It was so nice to see a change in scenery. Here [in Oklahoma], public transportation is kind of non existent, so it was nice to be able to just hop on a bus and be at a castle, in another city, or just along the countryside whenever I wanted.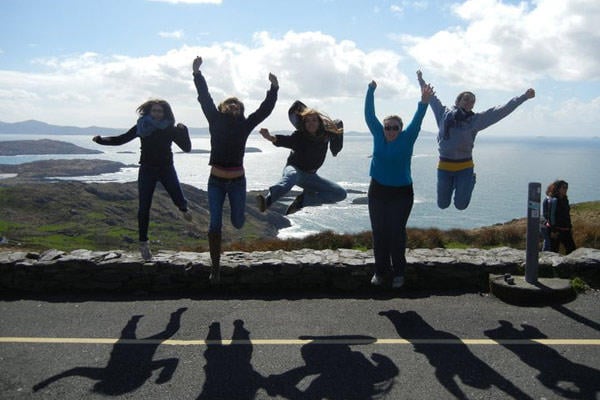 GO: How has this experience impacted your future?
Angela: After spending a semester abroad, I can now see myself living abroad after graduation. My limits have expanded immensely. On a more personal level I am now much more open to new things. I also find myself immensely less judgmental. Studying abroad definitely changed me, but it changed me in a good way.
Further Info
About AIFS Study Abroad
Founded in 1964, AIFS prides itself as an industry leader in providing summer, semester, and academic year study abroad programs. AIFS sends nearly 5,000 undergraduates every month to study abroad in one of 23 AIFS international campuses.
Programs are available in Argentina, Australia, Austria, Botswana, Brazil, Chile, China, Costa Rica, Cuba, Czech Republic, England, France, Germany, Greece, India, Ireland, Italy, New Zealand, Peru, Russia, South Africa, Spain, Turkey, as well as multi-country programs. AIFS offers Gap Year programs, along with internships and volunteer opportunities abroad. With locations throughout the world, AIFS College Study Abroad is able to offers high-quality, college-level courses in subject areas as diverse as Islamic Studies, French Cinema, business and engineering.
All of Their Programs