Study abroad in Japan at the International University of Japan's post-graduate studies program. International University of Japan (IUJ) offers 5 Master of Arts Degrees in Public Management, International Development Program, Economics, International Relations, and International Peace Studies, as well as MBA and Masters degrees in E-Business Management.
Check the IUJ website for more information on applying and the individual programs offered. Go study abroad at the International University of Japan!
Reviews
Alumni Interviews

Interview with Annabee Tiangson, world famous IUJ alum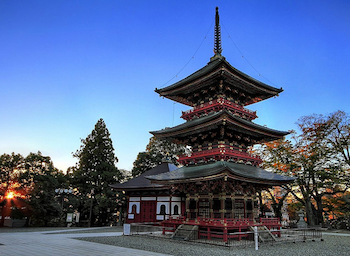 GO: Why did you decide to study abroad at IUJ in Japan?
Annabee: It was 2007 then, I was reading a Newsweek magazine when I stumbled upon the section where it features various schools offering Post-graduate studies abroad. From the very beginning, I have been fascinated by the Japanese language, it's history and culture, and at the same time I was looking for something more too for my personal and professional growth.
I wrote to the school administration to ask for information and got a letter reply that the SY 2007-2008 had already drawn to a close but they had given me enough information through its school brochure, and since I am from a Developing Country, I became interested in its International Development Program. A year later, I received a letter from IUJ together with its school brochure and an application for admission for SY 2008-2009; by then I decided to comply with the requirements and apply.
What is also best with IUJ is they help students to find the necessary Scholarship funding for its 2 year Masters Program including a stipend, living expenses and tuition fees, and I mainly can not afford to spend for my education. The grants I received made it possible for me to come and live in Japan and receive my MA Degree.
GO: What made studying in Japan a unique and special experience?
Annabee: For someone who came from a tropical country, the first time to travel outside home is truly an amazing experience. Maybe it is one of the significant reasons why I still am a dreamer to travel the world.
The most memorable for me is to experience the four seasons. I am in love with the colors of Autumn, the vivid memories of feather like Snow falling from the sky, the warm sky and humid breeze of Summer, and the fresh smell of grass, leaves and the beautiful Sakura (Cherry Blossoms) in Spring.
Since IUJ is in a rural area with Mount Hakkaisan as its backdrop, it is conducive to learning. Apart from the training and classroom knowledge I received, the school's facilities, helpful personnel and equally amazing professors had truly given my life as a student memorable. The local community had also helped most of the students through various programs that introduced us to Japanese culture.
And the BEST of all, I have met wonderful people from all corners of the world that ultimately helped reshape and inspire me, build everlasting friendships, and widen my network. IUJ and Japan will always be my 2nd home: my home away from home.
GO: How has this experience impacted your future?
Annabee: Living abroad and learning to embrace a different culture has given me a wider perspective for myself and it has allowed me to be a better independent and open-minded person. Having met people from different countries has taught me an invaluable lesson of friendships and respect.
The training, coursework and lessons I had gained in and outside the classroom better equipped me with new knowledge and had given me enough room for a better career when I came back to my home country. Two years after my graduation, the memories are still vivid and I am thankful for the opportunities that took me on this amazing journey.
Further Info
About International University of Japan
If you are thinking about studying abroad in Japan, then consider the International University of Japan (IUJ)! IUJ offers international students the chance to take both undergraduate and graduate programs in a number of fields. To see some more specifics, click on the program below or check out IUJ's website today!
All of Their Programs