Come to Auckland, New Zealand for an amazing study abroad semester or academic year with GlobaLinks Learning Abroad (formerly known as AustraLearn). Ranked in the top 100 Universities in the world, and number 1 in New Zealand, studying abroad at the University of Auckland is a great addition to anyone's resume, not to mention memories that will be remembered for a lifetime.
An extensive list of course offerings ensures that students will not lose any time in their current course of study. Stay in a variety of housing options, including an on campus student residency or a shared or independent flat. Check out the GlobaLinks website today to get all of the details on this awesome opportunity!
Reviews
Alumni Interviews
Interview with Lauren Flinn, AustraLearn Student in NZ
GO: Why did you decide to study abroad with AustraLearn in New Zealand?
Lauren: I decided to study abroad in New Zealand because I knew that it could potentially be a once in a lifetime opportunity and I wanted to go as far away as possible (I'd say an 18 hour time change is pretty far away!). I was actually born in Scotland and most of my family is in the UK or Europe so I wanted to chance to see a place I had never been and had heard little about. I always want to do things that few people can say they've done so the adventure elements of New Zealand intrigued me as well. I liked the fact that English is their primary language also.
I decided to study at the University of Auckland in the North Island of New Zealand. I chose Auckland because it offered the city life and was also a great hub for travel and getting to other places. Although Auckland has a bad reputation by native kiwis, I thought it was a great city for young people, easy to live in and offered a lot of things to do close by. The University of Auckland also offered diverse course subjects and was larger than most universities in New Zealand.
I chose AustraLearn because they specialize in studying abroad in the South Pacific. Although it was more expensive than some of the other programs I looked in to, they helped me take care of everything prior to and after my trip. They also required that each study abroad student participate in a three day orientation which I really enjoyed. During the orientation we not only got to know other students going to our university but we also got to know friends who were studying throughout New Zealand so we had places to stay during our time abroad. Although the orientation reviewed safety elements and need to know items about our time abroad, we also got to do a lot of fun activities such as caving and zorbing that got us started early on many of the adventures we would have while abroad.
GO: What made your study abroad experience unique and special?
Lauren: There were so many things that made my study abroad experience unique. I would say that the relationships I built while I was abroad and the people I spent the most time with made my experience the most special. Not only did I live with four American girls but I got to know so many great people from so many different states and countries. We travelled together, went out together, studied together, celebrated together and generally just hung out together. Many of them are still my best friends three years later.
I think another thing that made my experience unique were the places I got to experience. During my time in New Zealand I spent a LARGE amount of time traveling. New Zealand is a country in which you can literally experience four seasons and every different landscape in one day. I got to see the spot where the Tasman meets the Pacific Ocean, I got to bungee jump and skydive in the same 24 hours in Taupo, I got to fly in a small plane over mountains and glaciers to end up in Milford Sound which was one of the most beautiful places in the world, I travelled to Samoa and slept in a beach hut in a town that no longer exists because it was wiped out by a tsunami and I travelled to Australia twice to climb the Sydney Harbor Bridge, hold a koala, feed Kangaroos and sunbathe on the Gold Coast. Those were just a FEW of my experiences.
Lastly, I think it was the time spent that made it unique. There are so few opportunities in life where you can drop everything you are doing and travel abroad for six months with very few worries.
GO: How has this experience impacted your future?
Lauren: Studying abroad impacted my future in so many ways. Personally I think I came back a more laid-back, independent, daring and cultured person. I did so many things I thought I would never do, learned so many new things about myself and others and lived in another side of the world on my own. I think I also came back more focused. Now that I am in the professional world, I have no what ifs or regrets. I even got a kiwi bird tattooed on my foot to remember my time abroad.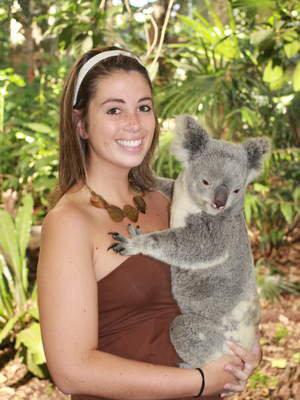 Academically, study abroad helped me complete basic credits such as history, anthropology and politics that I needed to complete my major. Taking these classes abroad was much easier than taking them at home as I got a pass/fail credit and I was also interested in what we were learning because it was all new information to me. It was also interesting to experience school abroad as class style was very different. In New Zealand, lectures are not mandatory however smaller discussion classes are required. There were very few check-ins or tests along the way and instead essays were completed and turned in independently from class. Personally, I found the coursework much easier and was able to pass all of my classes with minimal effort and lots of fun in between.
Professionally, study abroad impacted me more than I thought. When I returned, I applied to work in our study abroad office and ended up taking on a brand new role as PR coordinator. I worked part time and helped market study abroad, feature study abroad students and programs in the university news paper, volunteered at study abroad fairs and built and maintained digital accounts for study abroad. Prior to graduation I was sure I wanted to go in to study abroad recruiting. Although I did pursue careers in that realm for a while, I ended up getting a job in Public Relations but still apply many of the skills study abroad taught me to my communication efforts.
Interview with Aaron Jawson, AustraLearn alum
GO: Why did you decide to study abroad with AustraLearn in New Zealand?
Aaron: I decided to study abroad in New Zealand because I have an affinity for nature and New Zealand culture is focused on the outdoors. I also wanted to experience a new educational system in an exciting setting, so Auckland looked like a perfect place. Australearn had a program that looked just right for me. The application process was straightforward and my Australearn coordinator was excellent in answering all of my questions along the way. Before I knew it, I was in Auckland walking around the beautiful campus. The students and staff were very friendly, as most Kiwis are.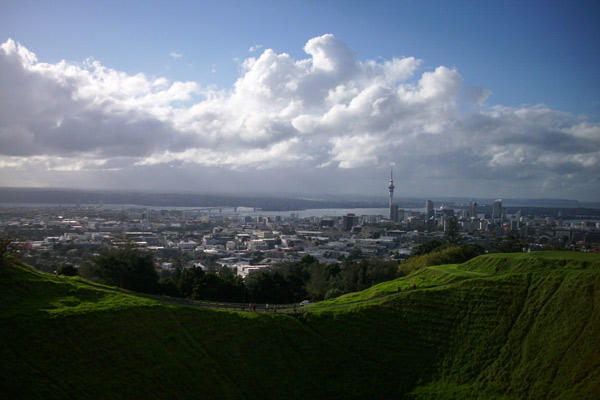 GO: What made your study abroad experience unique and special?
Aaron: I was able to find adventure nearly every day whether it was in the city of Auckland our out in the bush; there was never a dull moment in NZ. I met people that I will be close with for the rest of my life. I experienced nature on an incredible level by going to black sand beaches, hiking volcanoes, exploring caves, traveling fiords, and much more. I connected with and learned so much about the country's culture, from hanging out with locals to visiting museums. The Maori relationship with nature acted as a true inspiration for me. The people, the places, and the experiences were a dream come true.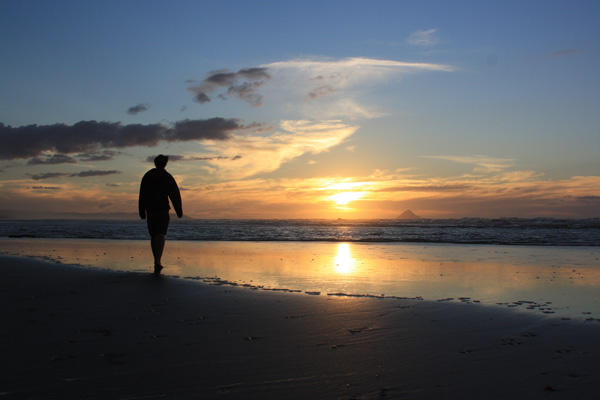 GO: How has this experience impacted your future?
Aaron: As an aspiring teacher, gaining a new perspective on the educational system was eye-opening and helped me develop as an educator. It also allowed me to reflect on what I like about the American system and what I do not like, as I had something more tangible to compare it to. I was also able to expand my network worldwide. Specifically, if I pursue working in New Zealand, I have people I can call. I learnt more about myself and independence. I am more confident in my ability to adapt to any situation I find myself in. I think any career can benefit in similar ways.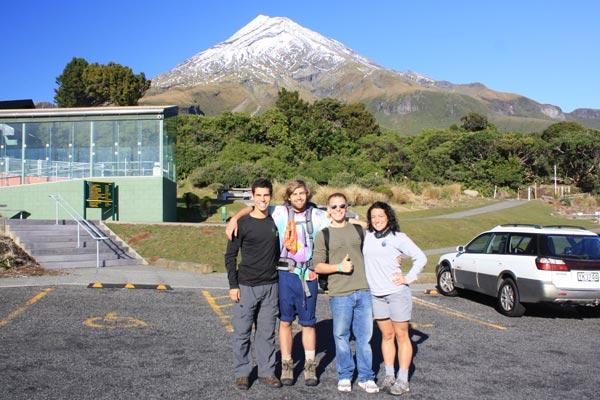 Kristina Polk Interview, GlobaLinks alumna in Auckland
GO: Why did you study abroad with AustraLearn at the University of Auckland?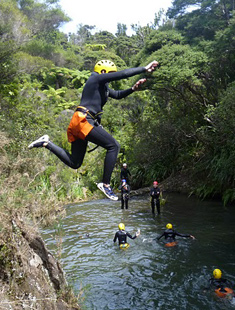 Kristina: As a declared History major, I had taken several courses studying American, Latin American, and Asian cultures. When considering the different options of where to go abroad, I had to think about what I wanted to gain from the experience. Would I want to expand my knowledge of a region I was already familiar with through study or previous travel? Or should I learn something new? An English speaking location or should I become bilingual through immersion? What kinds of activities are available in that region that I likely would not find in America? All these questions led me to the opposite side of the globe: New Zealand.
At the time of deciding where to study, I knew the anxieties of language barrier would likely take away from my personal experience, especially when I had such a short amount of time. The South Pacific was an entire region of the world that I had never encountered in my studies. From being at a liberal arts college, I had grown to appreciate gaining a well-rounded world view in the sense of sampling all the elements an academic focus has to offer. Albion College had several programs approved through AustraLearn. I decided not to go to Australia because I felt I was somewhat more familiar with that culture than Kiwi culture. Prior to researching NZ, I had only heard of Maoris briefly. The more research I did, the more I realized how little I knew. I chose Auckland because it seemed like a central location in the country. I had also never lived in a city before and felt it would be beneficial.
GO: What made your study abroad experience unique and special?
Kristina: An undying love and appreciation for New Zealand grew in me by the end of this experience. I also developed an appreciation for my hometown and a drive to better understand American culture. After studying New Zealand's history and culture, I wanted to better understand my own nationality and identity.
Partaking in numerous outdoor activities (hiking, camping, rafting, kayaking, canyoning, etc.) was a whole new experience for me, as I had never hiked before and only been camping once. I now treasure nature in a whole new way and now try to pursue outdoor activities whenever possible. I expected to enjoy the scenery, but of course it far surpassed what any book or website could describe.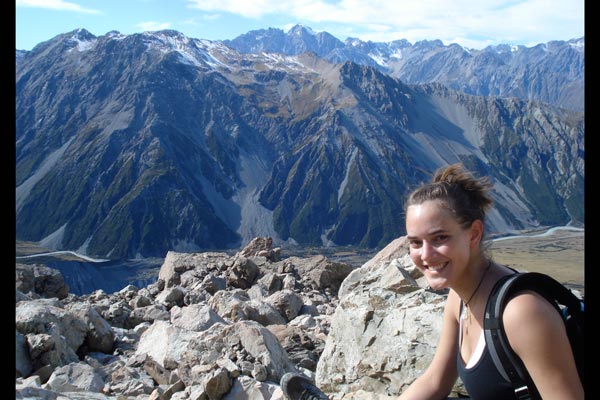 One thing that I did not expect to be a unique experience was my encounter with music. Never before had I heard of "busking." I had heard of street performing, but those playing on Queen Street seemed to have a different drive. They were not just performing; they were also enjoying their music. Several Americans and Kiwis I encountered would often meet just to jam and I loved listening to their artistic talents mix together to constantly create something new. I had been involved in music since childhood, playing the flute in school bands and orchestras. Never before had I appreciated the art of jamming. Taking the time to stop and talk to Kiwis busking downtown gained me a couple local friends and an insight into their culture.
GO: How has this experience impacted your future?
Kristina: Professionally and academically, this experience helped to solidify what I truly want to do in the future. At the time of going abroad, I had worked as a Resident Assistant (RA) for three semesters. I knew I wanted a future in a Students Affairs office, but did not know which one. After having several international students as residents, planning and going abroad, and talking with other students, I realized I wanted to work in a campus office of study abroad and/or international student recruitment and advising.
Study abroad is the most comprehensive experience any individual can take part in and it would be a dream for me to assist those future students. In a classroom setting, students abroad have the common goal of academic success with students in their host country. Studying new skills and topics through analytical discussions and assignments create a better understanding of that region. This fall, I will be moving to Boston (from Michigan) to attend Northeastern University and study College Student Development and Counseling. I am seeking graduate assistantships in Multicultural offices around the Boston area to make my dream a reality.
Personally, I learned a great deal about the importance of relationships with other people. Making friends and communicating with family was always something I had taken for granted and given little thought to. This was a lesson I was unprepared for as friendships were formed much faster than I had previously experienced and we were all in an unnatural environment. Not only did I learn a lot about people while abroad, but my return home also taught me a lot about friends and learning about each other.
The reverse culture shock of coming home was in interacting with people. It seemed that they were unaware of the past semester and what I had been through. They seemed unchanged while simultaneously alien to me. From being abroad, I quickly learned how to adapt back to home life, but was much more aware of my role in various relationships. For the future, my personal life has been greatly affected as I lost and gained important friendships.
While abroad, I met my current boyfriend (an American who studied with the Arcadia program). It has been a phenomenal relationship and as we approach our one-year anniversary (the end of April), I am constantly reflecting on how much we have grown and changed, during and since NZ. During the fall 2011 semester, he actually choreographed part of a dance using styles he learned in a Kapa Haka class at Auckland Uni. I attended the performance at his university and was instantly filled with so many happy memories.
Further Info
About GlobaLinks
GlobaLinks Learning Abroad, originally titled AustraLearn, was created by Cynthia Banks in direct response to requests from an Australian university to assist U.S. students who wanted to study abroad in Australia. They have been in operation since 1987. Since then, AustraLearn became the largest provider of study abroad programs to more than 25 universities in Australia and added new partner institutions in New Zealand and Fiji.
In 2008, AustraLearn expanded its reach to more regions of the world. EuroLearn and AsiaLearn were created as additional programs of GlobaLinks Learning Abroad to accommodate an increasing demand from students and advisors for structured, well supported, and affordable programs in destinations worldwide.
All of Their Programs