Come study in Stellenbosch, South Africa with this AIFS program! Students can spend a summer, semester or academic year taking classes in English at Stellenbosch University in a variety of subject areas. Accommodations are in student residencies in single or double rooms that share bathrooms, kitchens and living rooms with other students.
Learn about the difficulties that South Africa faces during the Service Learning summer program where students partner up with a service organization for a community service placement. Every part of these programs is taken into consideration and rolled into one lump sum, although program cost may vary if you decide to make travel arrangements through AIFS. Check out the AIFS website today for more information!
Reviews
Alumni Interviews
Meet Emily Sweeney, AIFS - South Africa alum
Emily is from Ventnor, New Jersey. After graduating from Boston University, she worked as an au pair in Germany. Emily received a master's degree in Global and International Education through Drexel University. She has been the Admissions Officer for the Italy programs at AIFS since 2009 and most recently has taken on the role of Regional Director of University Relations for the mid-Atlantic states. She also runs Study Abroad Spotlight, a nifty website for study abroad alum and education abroad professionals to share their stories with the world!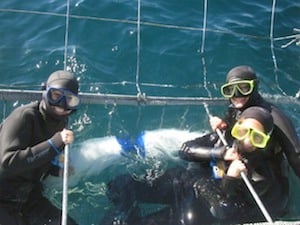 GO: What was the highlight of your trip?
Emily: There were so many highlights of my trip it is hard to name just one so I will have to name a few.
Our program took us on a Garden Route trip along the coast which was a fantastic way to start the semester. I rode an ostrich (which I would never do again!) and fed an elephant (who knew they had hair?)/li>
My parents and uncle came for my spring break and we fulfilled a lifelong dream of going on a safari in the Kgalagadi Park that straddles South Africa and Botswana. We ventured through the park for almost a week with a guide, taking in all the incredible animals in their natural habitat. We stayed inside the park at campsites where at night the sky was pitch black and full of stars. It was truly remarkable being awoken one morning at 5am by our guide to see a big herd of giraffe at a watering hole right behind our site only to be scared away a few minutes later by a hyena. It was like right out of a NatGeo special!
My two best friends, Megan and Michelle, whom I have known since first grade also came to visit me at the end of my program and we went shark cage diving and skydiving, which were thrilling experiences!
I had to learn how to drive on the opposite side of the road (which was an adventure), and the street names are painted on the curbs down there!
Volunteering in Kayamandi (local township) was one of my favorite parts of my study abroad experience. I helped with arts and crafts and sports each week with elementary school students. There was a language barrier as most students spoke Xhosa and did not know much English, but they were so welcoming and full of love and it was fascinating to see how they lived. They had a very humble school, not many resources, and sometimes not enough desks for all of the students. It was an eye-opening experience that I will never forget.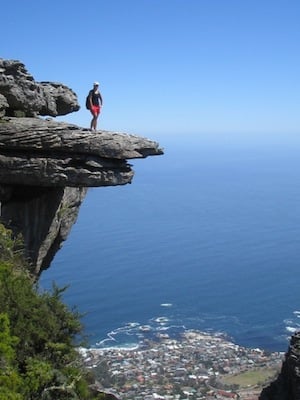 GO: What was a typical morning like?
Emily: I studied abroad at Stellenbosch University and lived on campus in apartment-style housing with other international students. In the morning I would wake up and have some breakfast while listening to the loud music coming from my neighbors next door who were from Malawi. :) I'd take a quick shower, hop on my bike with my backpack and ride to class as I took in my beautiful surroundings. I'd try to take new routes to class each day to explore different streets in Stellenbosch.
My classes were great. I took South African History, Politics and Cultural Change in Contemporary South Africa, South African Music, and an Afrikaans language class for beginners. Though I loved my history class, I think Afrikaans and Music were my favorites. Afrikaans is one of the 11 official languages of South Africa, a mix between Dutch and German. My Afrikaans teacher was amazing, each class was very different and always engaging. We sang songs, played games, sat in circles, role played and always had a break for some tea.
My music class was also very interesting because I learned about lots of different South African musicians and how music shaped the culture of the country. I also rediscovered my love for Paul Simon who collaborated with the South African group Ladysmith Black Mambazo on Graceland during apartheid - which caused a lot of controversy! Taking this music class piqued my interest in listening to the radio a lot more while I was there and in turn I discovered a few South African groups that I love (DNA Strings and Freshlyground, check them out!). The AIFS program even took us to a DNA Strings concert which was amazing! I also went to a Jazzfest in Cape Town during my spring break with my parents and uncle which was a blast! Finally, I took a wine class for a certificate which was really fun because we got to try all different kinds of wine!
GO: What about a typical afternoon?
Emily: I would usually meet friends for lunch either in the Neelsie (student center), somewhere in town or head home to grab a quick bite to eat. In the afternoon if I didn't have class I would take a nap and/or hang out on the grass in our courtyard in the sunshine doing my readings for class or other homework. During my time in South Africa, there were also daily power outages for months (due to ESKOM strikes) so this made life a little bit more challenging. If we went grocery shopping we'd have to eat our food quickly so it wouldn't go bad or buy non-perishable items. At first it was a huge inconvenience, but after awhile it was kind of fun figuring out ways to entertain ourselves without power.
GO: And a typical evening?
Emily: At night, we'd have to light candles in our flats to read/do homework. No power meant no internet so we'd make sure our computers were charged so we could watch movies at night, lots of talking with friends, and random dance parties in our flat. It certainly made my study abroad experience very unique, and I learned to not take electricity for granted! I also decided not to get a cell phone while I was there so I was more disconnected than most which at the time I loved. It was liberating. I still emailed and Skyped with friends and family back home. I studied abroad before Twitter and Instagram and Facebook was still fairly new back then so I was on there a bit, but it was good for me to not be connected all the time. Some nights we would go out to dinner and then hit up the local bars for drinks, dancing and live music. Bohemia and Mystic were favorites or we would go to house parties with international and local students.
Amanda Thorne Interview, AIFS alumna in South Africa
GO: Why did you decide to study abroad with AIFS at Stellenbosch University?
Amanda: As an Early Childhood Education major and a student with an interest in service work, I was drawn in by the Learning for Sustainable Community Engagement (LSCE) through Stellenbosch University. This program involves working in a nearby school and developing an arts and culture unit. It is tied to a weekly lecture at the school with a highly regarded professor who is knowledgeable, passionate, and engaging. I thought that this would be a perfect opportunity to both gain teaching practice and broaden my volunteer experience. Furthermore, it would provide me with an opportunity to see life outside of Stellenbosch and meet children who could provide unparalled perspectives on life in South Africa.
GO: What made your study abroad experience unique and special?
Amanda: One of the unique things about the AIFS program in Stellenbosch is that the advisor, Hestea de Wet, or Mama H as her American students call her, is there from the moment you get off the plane to when you return to the airport to come back to the States. She is the stabilizing force in a time when and place where it is easy to get overwhelmed. Whether someone had a plane ticket to the wrong destination, had their bank account broken into, or broke their foot, she was able to fix the situation without a problem. You also get an opportunity to embark on some incredible excursions as a group. You get to experience some amazing things and develop close friendships with other American and international students. Everyone in our AIFS group went bungee jumping together and I don't think it's an experience any of us will soon forget.
GO: How has this experience impacted your future?
Amanda: Regardless of where you study abroad, you will be forced to develop some sort of independence. However, I think not only going to South Africa, but exploring the world outside of Stellenbosch helped break though several stereotypes that I wasn't even aware I was holding. The laid-back atmosphere of South Africa and the general good-naturedness of most of the South Africans I met helped me to better understand the impact that one person can have on others. Personally, although it's difficult sometimes, this experience has allowed me to embrace life with an open-mind and treat others I meet with respect and kindness.
Academically and professionally, the time I spent in the LSCE program allowed me to see that there are many ways in which I can intertwine my passions and skills. I don't have to choose one career path and stick with it, but rather explore the many opportunities that will hopefully fall in my path. The portfolio that you develop in the course is great for interviews and the professor is more than willing to write recommendations for you.
Interview with Cara Sherry, AIFS alumna in South Africa
GO: Why did you decide to study abroad with AIFS at Stellenbosch University?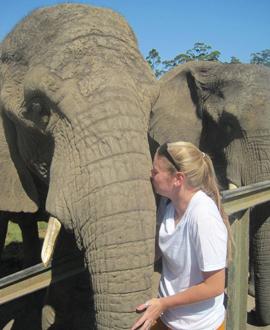 Cara: I decided to study abroad in SA because I had always dreamed of going to Africa since I was little (to tell you the truth, I think the wildlife had a lot to do with it when I was younger!). When I was trying to decide where to go, one of my best friends suggested that I look into SA because she had just returned from there and absolutely loved it, so I decided to look into it a bit more.
After looking at a few programs, I decided that Africa was some place completely new and different. I felt that it would be much easier for me to visit Europe in the future, where all of my other friends went abroad, than to ever have the opportunity to visit Africa. Therefore, it ultimately came down to that I had always had an interest in Africa, and I thought that this would be my one opportunity to go there and truly experience the culture.
GO: What made your study abroad experience unique and special?
Cara: First of all, I think that the location definitely made it unique and special; not many people study abroad in South Africa. I think that I was lucky because I lived in an apartment complex, so my immediate roommates were in AIFS, but my neighbors were from France. We had a lot of international as well as South African students in my building where I lived, so I got to meet people from all over the world.
I think that AIFS was the best program to go through because they were there for me whenever I needed it. I had, had wrist surgery right before I left for abroad and by the time I got to Stellenbosch, I already had an appointment with a physical therapist, thanks to Mama H. I also think that it was special because we lived a college town. I liked living in a college town because we got to meet locals, and there was always something going on.
GO: How has this experience impacted your future?
Cara: I think that this experience has definitely impacted me, in every way possible--personally, professionally, emotionally etc. I know that it sounds corny, but I think that I have a new outlook on life; this experience taught me that there is SO much more out there in the world, when I tended to be "stuck" in my college's bubble previous to this experience. I was able expand my horizons and develop a lot of independence while I was abroad.
I had to be able to learn my new surroundings, make my own decisions about everything, and even plan a whole trip by myself! By being in SA, I showed myself that I am capable of anything that I put my mind to. I also was able to volunteer a nearby township once a week with seventh graders in an after school program. I fell in love with the kids and the work I was doing. I am currently trying to pursue a career having to do with children in a school setting, or as a study abroad counselor in a college setting.
Interview with Chelsi Colleton, AIFS alumna
GO: Why did you decide to study abroad with AIFS at Stellenbosch University?
Chelsi: I found AIFS through a directory at my college's International Office and was instantly excited to learn about their program at Stellenbosch. I've known that I wanted to study abroad since middle school, and I was looking for a destination that was less traditional and would really offer a once in a lifetime opportunity. The Stellenbosch program through AIFS was really affordable and offered a lot of value, especially compared to other programs. AIFS made the whole process extremely easy from applying for a Visa, arranging flights, and the transition into living at the University. An added bonus was the trips that were arranged by AIFS. Already included in the tuition price were day trips to places like Robben Island and Cape Point, as well as a 6 day tour of the Garden Route.
GO: What made your study abroad experience unique and special?
Chelsi: Studying abroad in Stellenbosch was unique because it was so different from what I am used to at my own college. My college is small with only about 1,500 students but Stellenbosch University has almost 27,00 with a large portion being international students. I was able to meet students from around the world and have discussions in my courses that related all of our backgrounds to the subject matter. For example, in a course about the history of South Africa, our teacher talked to us about how each of the countries represented in the class impacted South Africa in some way.
Studying at Stellenbosch was also unique because it pushed me out of my comfort zone and challenged me, which allowed me to learn about myself and grow from the experience. I was extremely far away from my family and friends, which was scary to think about sometimes, but it also made me feel a lot more independent and helped me gain confidence in my ability to things on my own.
GO: How has this experience impacted your future?
Chelsi: As a Hospitality major I would like to develop a career in the travel/tourism industry. Studying abroad in South Africa has definitely given me an advantage for my career path because I had the opportunity to learn first hand about a number of different cultures. I also had the opportunity to travel throughout South Africa, Zimbabwe, and Botswana which has helped me to better understand the tourism industries in different countries. Also, being able to tell prospective employers that I lived in South Africa for five months has definitely given me an advantage because it shows that I am well-rounded, adventurous, and willing to step beyond my comfort zone and face challenges head on.
Further Info
About AIFS Study Abroad
Founded in 1964, AIFS prides itself as an industry leader in providing summer, semester, and academic year study abroad programs. AIFS sends nearly 5,000 undergraduates every month to study abroad in one of 23 AIFS international campuses.
Programs are available in Argentina, Australia, Austria, Botswana, Brazil, Chile, China, Costa Rica, Cuba, Czech Republic, England, France, Germany, Greece, India, Ireland, Italy, New Zealand, Peru, Russia, South Africa, Spain, Turkey, as well as multi-country programs. AIFS offers Gap Year programs, along with internships and volunteer opportunities abroad. With locations throughout the world, AIFS College Study Abroad is able to offers high-quality, college-level courses in subject areas as diverse as Islamic Studies, French Cinema, business and engineering.
All of Their Programs