The University of Cadiz traditionally belonged to the University of Western Andalusia, centralized within the Rectorado of Seville. It gained its independence and became the University of Cadiz in the early 1980s. The University has been welcoming international students for almost 50 years.
The foreign language department continues to expand and attract more and more international students each year. The main branch of the three-campus university system is located in Cadiz. Students can enjoy the feel of this modern campus, which still retains the old world charm of this fascinating city.
Reviews
Alumni Interviews

Interview with Alicia Kennedy, API Student in Cadiz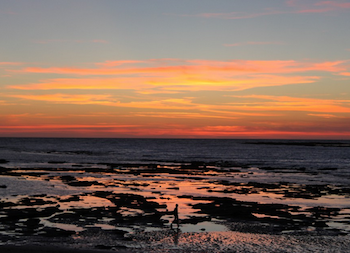 GO: Why did you decide to study abroad with API in Cadiz?
Alicia: I had known since high school that I wanted to study abroad at some point during my college career. I was fortunate enough to find a degree program at a university that was a good fit for me and included a semester abroad as a graduation requirement. I had been studying Spanish since the third grade and always had a fascination with Spain. The decision to study abroad there was a given for me.
When I began the search to find a program, I knew that I wanted a full immersion experience. I wanted a program that combined a strong emphasis on language development and acquisition with the opportunity to enroll directly in courses with Spanish students. I also preferred a smaller city with few American students. API offered everything I was looking for - and more - through the program in Cadiz. API's enthusiasm for international education and the unwavering guidance and support that they provided throughout the process was incredible.
GO: What do you think made this experience unique and special?
Alicia: The overall intimacy of the API program in Cadiz made this experience truly unique and special for me. The program was small -only 3 students, including myself. The other girls and I took classes and traveled together which allowed us to form this incredibly strong bond. It also allowed us to develop a strong friendship with our resident program director, who we very much consider to be family. I didn't feel lost in the shuffle of a bigger group and it was easier to assimilate into the student body at la Universidad de Cadiz. The city of Cadiz itself also has a very intimate feel. It's small, very close knit and has a warm, relaxed atmosphere. The people of Cadiz, gaditanos, truly made me feel welcome and at home - and for that, I am forever grateful.
GO: How has this experience impacted your academic development?
Alicia: I believe that anyone who studies abroad can attest to the profound impact that the experience has on their life. For me personally, it was a time of self-discovery and self-awareness. I am more confident in myself and my ability to travel and do things on my own. My cultural awareness rose to a whole new level and I have a deeper appreciation for the "little" things that make each culture unique. Furthermore, I am more aware of my own cultural views and biases and I have a more global mindset.
On a professional level, I have developed a strong foundation of skills that are transferable to the workplace. Study abroad teaches you to be adaptable. You have to be independent and capable of thinking critically. I personally learned how to communicate better - both verbally and non-verbally. All of those day-to-day challenges that I faced while in Spain have impacted how I make decisions and handle situations in the workplace. Employers also love to hear that you were willing to step up to the challenge and go abroad for an extended period of time. So many companies are looking for individuals who are eager to go abroad for short assignments.
Finally, my study abroad experience reaffirmed my desire to pursue fluency in the Spanish language. It also re-enforced my belief that foreign language acquisition needs to start at an earlier age and is such an important asset to anyone and everyone - as the world we live in becomes more interconnected.
Further Info
About API
Academic Programs International, API, is an educational organization dedicated to providing challenging and enriching study abroad programs for our students. The experience of living, interacting and learning in an international environment presents invaluable opportunities for each student's academic and personal development.
All of their academic and extracurricular offerings are selected with the goal of helping students to become more self-aware and culturally sensitive. API envisions each student evolving from a tourist, to a resident, to a global citizen; API is dedicated to supporting this lifelong process.
API strives to provide the best comprehensive study abroad experience possible with personal attention available to all students throughout his or her program. API works closely with home universities to offer support before, during and after students' education abroad experience.
All of Their Programs