What You Almost Forgot to Pack for Your Semester Abroad
Published 11/29/2011 by Kaitlyn Nolan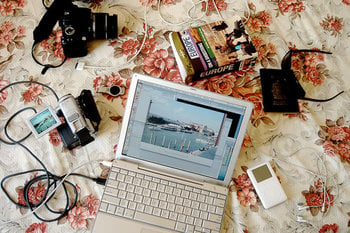 It's so close that you can't stand it. You watched your countdown go from triple digits, to double digits, and now your departure date next month is almost here. You've tackled program applications, visa appointments, and the horrifying passport picture. And while all of the abroad preparations have been taxing, the worst is yet to come: packing.
I laughed in disbelief when I realized I could only bring two bags for my five month journey. I'm the college student that shows up with two carloads of material goods to pack into my tiny dorm room. How was I going to consolidate my life into these couple of bags?
Packing for my semester abroad was a lesson in downsizing and patience. These handy items contributed greatly in maintaining my sanity:
Rolling Duffel Bag
When I was 15, my grandparents bought me a collapsible, rolling duffel bag to bring on our upcoming trip to Ireland. At the time, I thought it was the worst birthday present ever, but as I grew up, I found it was one of my favorites, as it was practical and durable. You don't have to worry about allocating part of that precious 50 lb weight limit with these bags. I was also able to pack mine to the brim which would not have been possible with a true suitcase.
Space Bags
Again, my grandmother gifted me what I thought was the worst Christmas gift of all time: Space Bags. However, as my semester progressed, I found that these were sent from the heavens. I was able to shove all of my clothes into these bags and in turn, shove the bags into my backpack. Therefore, I was able to pack for 10 days in a mere school bag thanks to these unassuming Ziploc bags.
Converter
I knew I was supposed to buy a converter, but had no idea what one looked like. Therefore, I ended up with an 8lb monster that plugged into the wall and then I plugged my chargers into. Imagine my surprise when all of my friends had little dainty converters that resembled an Apple charger. Needless to say, I wish I had done a little more research and procured my own dainty converter.
Neck pillow
I always thought these were horribly cheesy. But I soon found out that sleep is precious and that one must sleep on all forms of transportation. Leaning your head on the seat in front of you, against the window, or in some really awkward yoga position gets old after a while. I would have saved myself many neck aches if I simply gave in and bought one of these pillows.
Pocket dictionary
Pride aside, these small, pocket-sized treasures will not fail you in those (hopefully rare) instances where a word escapes your memory or someone just cannot understand your thick, foreign accent.
An empty bag
An empty bag, you say? Why yes! You are bound to have a collection of keepsake items and special trinkets that will grow over the course of your study abroad experience (not to mention an abundance of souvenirs!) Where else would you plan to put all of these wonderful gifts but in that empty bag you so wisely packed.
Packing does not have to be something worth stressing out about. Put on some of your favorite tunes and entertain thoughts over the adventures to come. Give yourself plenty of time to pack and as the old travel adage goes, take only half of what you think you need. It may seem crazy now, but you'll thank yourself later!