WorldTeach is currently accepting applications for our Colombia Year TEFL program that has upcoming departure this July and January 2014. This is a great opportunity for those interested in international development and education to get their feet wet in the field. Here are some quick facts about the program:
Volunteer Placements:
WorldTeach volunteers in Colombia teach English as a Foreign Language at a variety of placements, including elementary schools, high schools, universities and adult education centers. This is done in coordination with the Colombian Ministry of Education and the Colombian NGO, Volunteers Colombia. Volunteers are placed in both cities and rural towns.
Departs: Summer, early July 2013. Winter, January 2014.
Application deadline: Summer departure - June 1st. Winter departure - October 15th
Program duration: 11 months
Volunteer commitment:
First 10 confirmed volunteers for summer 2013 departure cost: $2,000
Winter departure cost: $2,500
Costs include: flight, visa, teacher training, language and cultural training, housing and stipend

Requirements:

Fluent English speaker
At least 18 years of age
Have a bachelor's degree by time of program's departure
Reviews
Alumni Interviews
Meet Lauren Doll
Lauren Doll was a volunteer in Colombia from January to December of 2010. She is from Philadelphia, USA and currently studies Spanish and works in international development. She enjoys cooking, wine and cheese, and spending too much money in local markets.
Why did you decide to volunteer with WorldTeach in Colombia?
Lauren: I was looking for a volunteer program for at least a year that was reasonably priced, as I didn't have a lot of money after graduating college or time to fundraise. Also, I was hoping to find a program in a country that was a little off the beaten path and away from other foreigners.
Describe your day to day activities as a volunteer.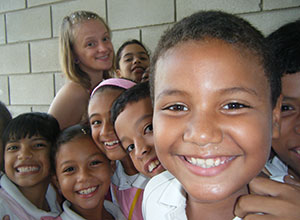 Lauren: I worked in a local primary school. So I woke up early during the week and taught 4 hours of class a day between 7 and 1 with a Colombian co-teacher. I ate lunch at the school with my students and fellow teachers, and then walked home. I lived in a pension in the poor neighborhood where I worked, which I loved. In the afternoons, I had free time to plan my classes, grade papers, or participate in other activities in the school (I taught extra classes for the community). Then in the evenings I would relax or head into the city for dance classes, sports practices, meeting friends, or visiting the mall.
What made this experience unique and special?
Lauren: For me, my experience was unique because I lived in a city where there were hardly any other foreigners. For most people I met, I was the first American they had ever seen. In this way, I really became part of of the community and had lots of opportunity to practice my Spanish. Also, I worked in a school with a significant need and while teaching English is certainly a process and I didn't perform magic and leave my students fluent, I did feel that I accomplished a lot in the short year that I had. It was exactly what I had hoped for.
How has this experience impacted your future?
Lauren: The experience completely changed my life. I fell in love with the country and its people and ended up staying 2 more years, after my volunteer commitment ended. It also convinced me that I wanted to work in international development and continue to seek opportunities to improve education and the quality of life in developing countries. My experiences in Colombia inspire me in my life and career every day.
Meet Vanessa Walker
Vanessa Walker is from Denver, Colorado and is currently working in Real Estate. She graduated from the University of Colorado, Boulder in Spanish and Portuguese Language and Literature. She will be moving to Brussels, Belgium next month to study French and be a part-time au pair. She enjoys learning new languages, teaching, traveling, food, wine, sports and making new friends around the world. She would consider herself a sports fanatic as well as open-minded free spirit. She volunteered for WorldTeach Colombia from January 2012-July 2012 and went back to visit for another 3 weeks in October 2012.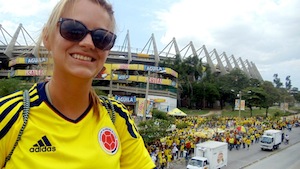 Why did you decide to volunteer with WorldTeach in Columbia?
Vanessa: The initial decision to apply to volunteer abroad in Colombia for WorldTeach was from a referral of a friend who previously volunteered in Ecuador. One of my life goals has always been to live abroad and volunteer for at least 6 months in the same country. After looking through the website, the reviews, and the organization as whole I knew it was a great decision. The prices, length and the programs differ from each country so there is something for everyone. This program was especially appealing since WorldTeach has so many different countries to choose from. The program in Colombia seemed to be a perfect fit for me since I would be able to utilize my Spanish and the program description stated that other volunteers would be nearby.
Describe your day to day activities as a volunteer.
Vanessa: This experience was very unique because so many people have the wrong idea of Colombia as a country. I was able to explore other volunteers' schools and also many cities throughout this amazing country.The people are so friendly and open and their culture is amazing. I was living in Barranquilla which is a coastal city about an hour and a half away from the well-known Cartagena. Barranquilla has the 2nd biggest Carnaval celebration in the world which was one of the most fun, crazy and culturally diverse events of my life. It was also really amazing to see how much the students appreciated and really loved that they had native English speakers in their school and in their city.
What made this experience unique and special?
Vanessa: Another reason this experience was unique is directly attributed to WorldTeach Colombia as a program. We started the program with a 2.5 week orientation in a small town outside of Bogota. This gave us a chance to get to know the other volunteers, learn some of the cultural things about the country and also prepare for our jobs at teachers. My program director and assistant director were absolutely amazing. They were available for any questions whether it was a good place to visit on the weekends, what their favorite restaurant was, how to take the bus from point A to point B or even just as a shoulder to lean on when missing home. I could not have survived without these two ladies as well as the rest of the 36 volunteers.
How has this experience impacted your future?
Vanessa: This experience impacted my future immensely; both personally and professionally. I went down to Colombia wondering if teaching and volunteering were really something I wanted to pursue as a career. The students, the program directors, the fellow volunteers and the friends I made in this country will never leave my heart or my mind. This experience has led me to a new adventure which will be living in Brussels, Belgium for a year as a part-time au pair as well as a French student for a year. Without the great experience from WorldTeach, I would have never considered or been qualified for this job. Also, I recently took the GRE exam and will be applying to Graduate programs once I return to continue my passion of ESL teaching and hope to be able to head my own program in the next few years.
Meet Brighid Carey
A passionate aficionado for all things Latin America, Brighid has been living and traveling abroad for several years now. A Connecticut, USA native, she currently lives in Barranquilla, Colombia and thinks you should visit no matter what you've heard about it, or just read the truth on her blog, Gypsy-ish.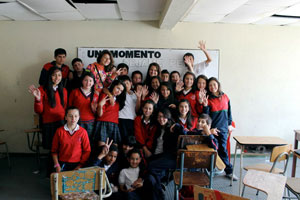 Why did you decide to teach abroad with WorldTeach in Colombia?
Brighid: I knew I wanted to get to Latin America for an extended period of time, and thought teaching would be a great way to develop skills, be productive and assist the local population. I had heard excellent things about other WorldTeach programs through word of mouth, and Colombia jumped out at me for its certain novelty and mystery - I really didn't know much about it.
What made this teach abroad experience unique and special?
Brighid: Above all, my students. I wasn't just their teacher - I was a friend, confidant, giver of advice and someone to share their country (and snacks!) with. Every day I was learning so much more than I was teaching, whether language, culture, geography or sports. I could not have asked for more loving, charismatic kids in my classrooms all year! Now I know a ton of Colombian/Bogota slang, popular music and TV shows, current events and the best places to visit all over the country.
How has this experience impacted your future?
Brighid: Teaching English for ten months honed and developed so many skills that I'm just realizing now - public speaking, organization, thinking and planning on-the-fly, even things as simple as memorizing names quickly. My communication in Spanish as well as English improved immensely, and learning to navigate, live and work in a totally foreign environment will prove extremely valuable in the future. I had to adapt to a very laid-back working culture so different from the states that going back to a rigid working schedule might be difficult! Most importantly, my year as a WT volunteer led to my present job - Assistant Field Director of the 2013 volunteers here in Colombia.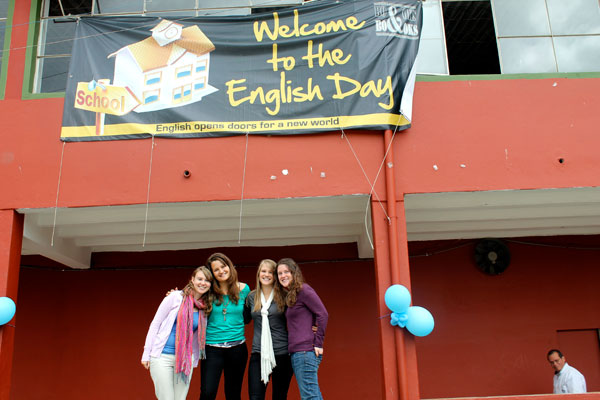 Further Info
About WorldTeach
WorldTeach partners with Ministries of Education and well-established NGOs in countries around the world to provide volunteer teachers with opportunities to teach in developing countries. Established by a group of Harvard students, WorldTeach has placed thousands of teachers overseas since its inception in 1986.