GeoVisions invites native English speakers to come teach abroad in the March region of Italy! The Conversation Partner program calls for the participant (tutor) to stay with a carefully screened host-family and to help local teachers improve their English through conversations in English. Tutors meet with local teachers and their students for a maximum of 20 hours each week in exchange for their accommodations and two meals each day. This leaves the rest of the time to explore Italy or to brush up on Italian language skills through classes or reciprocating conversations in Italian. For more information, consult the GeoVisions website today!
Reviews
Alumni Interviews

Meet Brodi Jewell, Geovisions-Italy Alum
Brodi Jewell recently volunteered as a teach in Italy with Geovisions. The experience taught her valuable lessons about patience. She feels that she has undergone tremendous personal growth, gaining a more positive outlook on life.
GO: What originally inspired you to teach in Italy with GeoVisions?
Brodi: I had been looking to volunteer abroad for the past year and I decided to start looking seriously. I contacted a friend who had volunteered recently and asked her what organization she went through. She told me Geovisions. So I immediately went to the website and started looking at all the different opportunities they had. I came across the conversation corps program and was immediately excited. The idea of being able to live with a family and learn their culture etc, as well as getting to interact and teach my native language sounded great. I began looking more into the places I could visit, and saw Italy was an option. Needless to say it took no time to decide where I was going!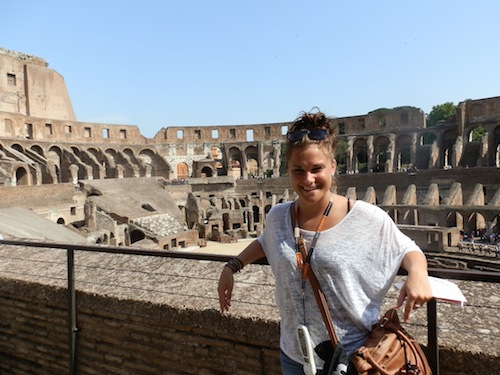 GO: Describe your day to day activities as a teacher in Italy.
Brodi: During 8-5:30 I had free time to explore the city where I stayed, as well as the surrounding areas. When I arrived home at 5:30, my family would also arrive home with the child I was teaching. From 5:30/6pm until 8pm I would use flash cards, play sports, card games, and more. At 8pm we would eat, and then at 9 before his bed time I would play one more low-key game and then the child would go to bed. I made sure to not only speak English to the child during the games, but also in normal conversation with the rest of the family. I always pointed out different colours or objects and made him repeat what I said.
GO: How has this experience impacted your future?
Brodi: I feel as though I grew as a person from all the different experiences I had while in Italy. Whether it was learning how to live with a new family, learning a new culture, teaching a child (as I am not a teacher), travelling on my own, learning a new language, or meeting people from all over the world, all these things impacted my future. I am now more independent, self reliant, patient and I feel as though I have a more overall positive look in life, and am more apt to "roll with the punches" that life throws at you. This experience was priceless.
Further Info
About GeoVisions
GEOVISIONS WORKS WITH YOU TO HELP YOU MEET YOUR PERSONAL GOALS
GeoVisions ... We're small enough to pay close attention to our students and our employers, and large enough to give you the support and resources you need to be assured of a rewarding international experience.
Founded in 2001, GeoVisions' Co-Founders bring over 70 years of experience in international education and exchange. We're young enough to know what's needed in the twenty-first century, and old enough to have learned what's not needed.
GeoVisions carefully screens partners around the globe to help prepare participants for living in their host country.
We know the importance of international education and exchange, and we understand the value these experiences bring to your life.