Reach To Teach is an official partner of the EPIK program (English Program in Korea). EPIK is a program that is run by the Korean government that offers qualified ESL teachers a great opportunity to teach English in Korea. The EPIK program in Korea offers a unique experience to gain valuable ESL teaching experience in public schools across Korea.
EPIK stands for English Program in Korea, a program sponsored by the Korean Ministry of Education. The EPIK Program was established in 1995 with the mandate to improve the English speaking abilities of students and teachers in Korea and to develop cultural exchanges. Through the EPIK Program over 1000 teachers are placed in ESL teaching jobs every year. Reach To Teach works with the Korean Ministry of Education to place English Language Instructors (ELIs) in Korean public schools throughout the country.
Reviews
Alumni Interviews

Meet Whitney Zahar, Reach to Teach-Korea alum
GO: What originally inspired you to teach in Korea with Reach to Teach?
Whitney: The original source that inspired me to leave the United States to teach in Korea was my desire to change my life to something meaningful. I dreamed of a life where I could have a cool job and experience the world. Through my research I saw that Korea seemed to be full of opportunities for new teachers, as well as being a country with great history and culture, modern conveniences, and safety.
When I looked for recruiters, I looked for honesty, knowledge, experience, enthusiasm, and compassion. I also wanted recruiters who wouldn't complicate an already difficult process of getting a work visa. Reach to Teach did have everything I was looking for. The interview process was easy; it truly felt like I was having a conversation. Their business was reputable and honest. Reach to Teach is staffed by former or current TEFL teachers, so they truly understand the whole process, from interviews to visas to arrival in a new country and beyond.
Even if you don't have teaching experience, Reach to Teach does take into account that their teachers come from many different backgrounds and interests, and they embrace those qualities to find the right school for you. My Reach to Teach recruiter was always there when I had questions, especially during the visa process!
Avalon was the first school my Reach to Teach recruiter presented to me. Common sense states that I should wait and see what other opportunities came up and choose then. Sometimes, yes, that is a good idea, especially when you are about to take such a big step. However, after looking at the information that was sent to me about Avalon, I decided to just go for it. What I wanted was a school where there were some foreign teachers to help me adjust to the culture better, a school with a good reputation and solid curriculum foundation, and a medium-sized student body. Avalon had all those things.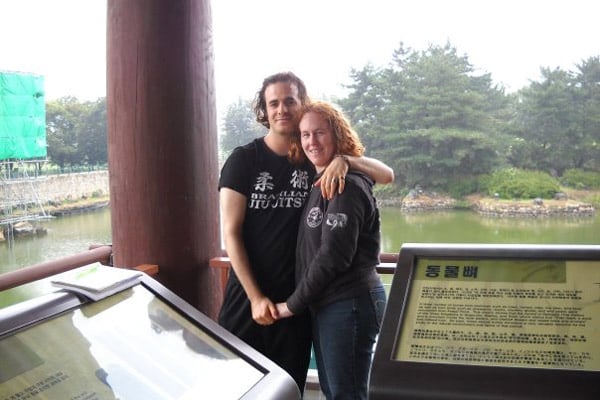 Even though teaching test prep can be a bit of a drag, I was able to find creative supplements for my lessons that enabled my students to see real-life examples of English. Avalon's benefits were great; I loved my apartment, I got paid on time, and the support staff were wonderful people. They helped me set up my bank account, my ARC (Alien Resident Card), health insurance, and even how to retrieve my tax benefits when my contract concluded. I was lucky to be with a fun-loving bunch of Western and Korean teachers, many of them close to my age. I was one of the older teachers on the campus, so it was great to find other teachers that weren't as much into the partying scene.
I also appreciated how my co-workers were professional when they needed to be, and casual when it was appropriate. One special colleague became my husband. My students were also terrific. These were friendly, intelligent kids who wanted to work hard. My students were the ones who really made my experience. I am so happy I had my first real teaching experience in a school with so many great colleagues and students.
In conclusion, I wanted my first experience abroad to be comfortable and solid at its foundation, so I could have room to branch out and explore, with a safe base to return to if I needed anything. Avalon and Reach to Teach made that happen!
GO: Describe your day to day activities as a teacher?
Whitney: My school day would usually start at around 2:00 in the afternoon, so my mornings would either be spent on the hiking trail near my apartment or attending jiu-jitsu class in Seoul with my fiance/later husband. I never felt rushed, and I enjoyed having my leisurely breakfast in the morning.
I always endeavored to come early to school. We always had lots of essays to edit, and I also liked to have more time to prep for my classes. It was also easy to ask questions and converse with my colleagues while we worked. During regular semesters, I could have any where from 1 to 4 classes a day, so on those busy days, the extra prep time came in handy.
Like the other Western teachers, I was responsible for teaching Speaking and Writing to my students. As stated earlier, teaching test prep could be a bit monotonous, but I liked to add my own spin to the lessons by using drama exercises, role-plays, interviews, videos, literature, student presentations, and realia and objects.
My day ended around 10:00 in the evening. My husband taught on the elementary level, so he would be finished an hour before me, so he would be waiting for me at a place where we would feast on soups or kimbap. We talked about our day, read, or write.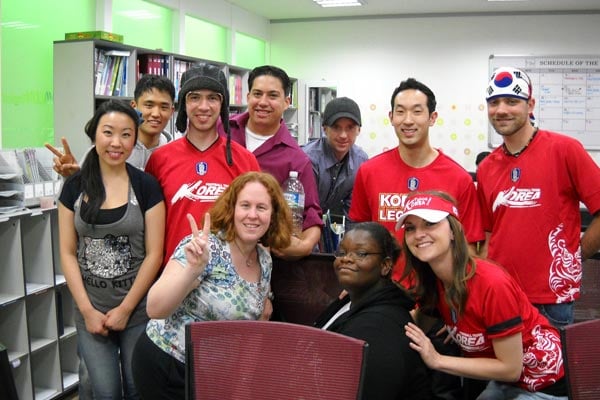 GO: How has this experience impacted your future?
Whitney: This is such a great question because I feel that any opportunity someone gets to travel or live abroad, it will leave a big impression on their life. I went abroad in 2009, and I have never really stopped traveling since. I think this experience has shown me more than ever that you never stop growing or learning.
I learned so much about my strengths as a teacher and as a person: enthusiasm, passion, drive for knowledge, organization. I learned that I am actually good at teaching, and that I can make a real difference. I learned more about when to be a team player, and when to stand on my own.
My students taught me about patience and how to always seek knowledge. They also taught me to remember what it was like to be a teenager, which helped me to treat them with compassion and respect.
Believe it or not, this whole experience taught me about love. Love travels, especially through Skype, email and social networks. I really missed my mother, especially since she was alone back in the States, but because of great communication technology, she was right there beside me. She even was able to step out of her comfort zone and visit me in Korea! I fell in love; my husband and I met through Avalon, tied the knot in Seoul, and we are going on three years of marriage. I also learned to love myself. By stepping out into the unknown, I got to see all my courage, my spirit, my faith in myself, and my independence.
As a teacher, I am a leader. I had never viewed myself as either leader or follower, but being a teacher, I realized how much students and a community look at me as a force for knowledge, respect, and morality. Becoming a teacher helped me break out of being a bystander and standing up.
I created some of my own classes at Avalon (United States History and Interview), which empowered me to continue creating, not just lessons, but also writing stories and speeches. I love passing that creative spirit to my students! I also think being a teacher has helped me become a better parent. My son was born in Taiwan, my current home, and he now has these fantastic opportunities to learn new languages and spend time in another culture. The ability my students have given me to be patient and open has helped me with understanding my son's development.
I could fill pages in a book about how this experience has affected me. All I know is that right now, I am exactly where I am supposed to be, and doing what I am supposed to be doing.
Further Info
About Reach To Teach
As any ESL Teacher can tell you, finding a good teaching job abroad can be difficult. Similarly, a lot of ESL schools feel that finding a good teacher is equally difficult. This is where we at Reach To Teach come in. Our motto is matching great teachers with great schools.
There are a lot of ESL jobs available abroad, however it can be difficult to find one which matches your wants and needs. Reach To Teach is here to help. We carefully screen all our schools to ensure our teachers know as much as possible about their school and the contract they will be signing. You can feel comfortable and confident moving overseas knowing what your job will be like.