Volunteers are needed in Cambodia to volunteer in a range of highly affordable projects, including community development, orphanage volunteering, teaching, computer support and training, human rights projects, and much more! IVHQ offers volunteer programs in Phnom Penh, Siem Reap and the Cambodian provinces of Kampong Speu and Pursat, giving you the opportunity to join one of many impactful volunteer projects. All IVHQ programs are affordable and volunteers work with local NGOs to make a noticeable impact in the communities they support.
Current Volunteer Programs in Cambodia:
Teaching
Orphanage Work
Working with NGOs: IVHQ has partnered with dozens of organizations throughout Cambodia to tackle issues of rural development, women's empowerment, and many other issues.
Computer Support Program: Volunteers will assist NGOs in technical computer training.
Highlights:
Volunteer anywhere from 2 weeks to 6 months
Programs in Cambodia start on the 1st and 3rd Monday of each month
At any given time, IVHQ has about 30-60 volunteers serving in Cambodia. Last year, IVHQ sent 400 volunteers to Cambodia.
Volunteers will either stay with a host-family or a volunteer house depending on placement.
IVHQ occasionally organizes extra-curricular activities for volunteers to enjoy during their free time.
Learn more about IVHQ programs by reading the great reviews and interviews IVHQ alumni have left about their incredible experiences in Cambodia
Reviews
Alumni Interviews
Meet Tegan Simmonds, IVHQ-Cambodia alum
GO: Why did you decide to volunteer abroad with IVHQ in Cambodia?
Tegan: Ever since I was young, I have wanted to volunteer in a Third World country helping underprivileged children. I think the desire came from an episode of Australian Story I saw when I was about 13-years-old. Ever since then I spent countless hours researching the millions of volunteer organisations and programs over the internet. I researched countries and for some reason was always taken back to Cambodia. I think because it was less touristy than other countries in SE Asia, such as Thailand or Vietnam.
It was only the past few years I decided to put my thoughts into action. I am a full time university student and after searching for affordable volunteer programs I came to decide that I really couldn't afford it! I wanted to spend a decent amount of time in the country where I was volunteering and in most of the volunteer organisations I viewed the maximum I could possibly afford was about 2 weeks. Eventually I stumbled upon the IVHQ website. I was shocked initially when I saw the volunteer fees and thought there must have been hidden costs. I emailed the IVHQ staff and they answered all of my questions, so I decided to apply for a 6 week volunteer stint in Phnom Penh, Cambodia. Basically, after wanting to do this for so long, it all came down to finding a recognised and trustworthy volunteer organisation that was affordable for my full time student budget. I still can't believe how little money I spent for the most amazing 6 weeks of my life!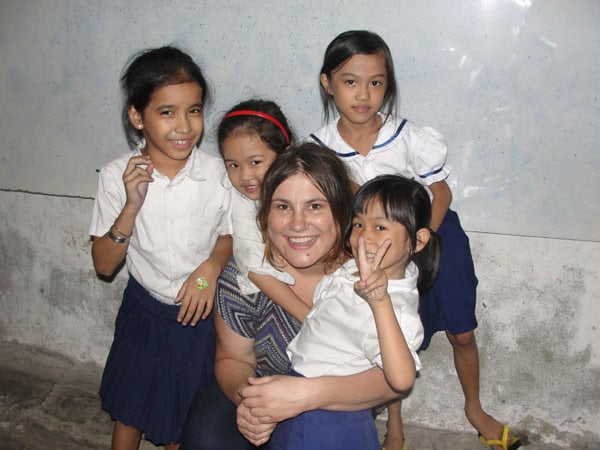 GO: Describe your day to day activities as a volunteer in Cambodia.
Tegan: Each day began at approximately 7am when breakfast was served at a huge table with all of the other volunteers. Each day breakfast consisted of toast and delicious fresh fruit and on occasions we were lucky to receive some cooked treats! After showering, I'd get ready for my day at the school, always dressing in floaty, loose fitting clothing made of very light material to survive the heat (my school had tiny rooms, no windows and no fans or air con, so was very hot). About 7:30am I'd jump on my scooter and drive to my placement. I ended up hiring my own scooter for the 30 minute drive as it worked out a lot cheaper and a little quicker than a tuk tuk. Although the insurance is pretty insane and most travel insurance providers won't pay out for driving vehicles without a license, I decided I was confident in my abilities and would drive slow!
After getting to my placement I'd walk into the kindy room for the morning. Every day I would be greeted by the children standing up and singing a "welcome teacher" song. After the song, the children would swamp me with questions about me, my life and my family back in Australia. Yes, this happened every single day for my whole 6 week placement... they had an endless list of questions. After I had answered most of their questions we would start on our English school work. I was given a 'workbook' and 'studybook' by the Khmer teachers which outlined the content of the children's study. Basically, the work consisted of the children practising their English reading, writing and speaking. Most of the work was dictation which, as a future teacher, seemed quite boring a lot of the time. I would usually mix it up by adding in a few word games, drawing games, etc, which the kids loved!
After three hours of teaching kindy, at 11am the school closes for a two hour lunch break so I would have that time for lunch. Some days I would stay in the relative area of my placement as it was about a 30min drive each way from the volunteer house. There were plenty of places to buy food and drinks around the school. Other days I would drive back to the volunteer house where the volunteer organisation staff would have prepared a delicious lunch for us! Lunch always consisted of either rice or noodles (but mostly rice) with different delicious Asian dishes.
After lunch, if I had time for a quick nap I would make the most of it before heading back to my placement, to start teaching at 1pm. For the three hour afternoon shift I taught the grade 2's. Once again I would be greeted with the sweet "welcome teacher" song. Teaching was basically the same as the kindy class, just at a higher level. The afternoon consisted of more dictation, word games, drawing games and anything that could help the children with their English. If the children had done their work at the end of the lesson, they would be rewarded with a fun game of their choice. They'd usually choose hangman, which is great for their English aswell! After school ends at 4pm, I'd say goodbye to all of the children with lots of hugs and high fives.
I'd be back on my scooter and heading straight back to the volunteer house. There, I'd meet with the other volunteers as they came in from their palcements. We would usually sit around discussing our days and chatting for a few hours. Each night was different; a night at home would be chilling out with the other volunteers on the roof top couches, followed by dinner served at 7, and more chatting and chilling until bed! Some nights we'd all go out for dinner as a group, occasionally inviting the volunteer organization staff to come with us, and all of the volunteers would put in a small amount of money to pay for their meals. Other nights would be spent out at night clubs or party spot, where we would make the most of the cheap cocktails and dance the night away! On school nights I usually tried to plan the activities for the following day. I didn't write anything down, I just thought it up in my head so that I had a good idea of what the day would be like, saving me thinking on the spot at school! Weekends were spent sightseeing and travelling by bus to wonderful destinations all around Cambodia!
GO: How has this experience impacted your future?
Tegan: Academically and professionally it has made a huge impact on my future. As a university student studying a Bachelor of Education, the trip reminded me that I was in my chosen field of study for many reasons. Not only did this trip remind me of my passion for educating children (which endless study sometimes makes me forget), it gave me endless ideas for my future as a qualified teacher. I plan to return to SE Asia in the future and teach English. I have already been searching the rental market and have been offered a paid position by the director of the NGO I volunteered for! So I definitely plan on taking him up on that offer in my future.
Personally, I made some amazing friends in the other volunteers, the Cambodian volunteer staff and the children and teachers I worked with at the school. I have already booked flights back to Cambodia this year to see everyone and see how the children are going with their English! I guess I have always wanted to help underprivileged people but always thought that as one Australian girl I was unable to really make a difference. This trip proved to me that there is a lot that needs to be done, but it also showed me that I can make a difference. As cliche as that statement is, it really is true. I can make a difference and I will make a difference.
Meet Hayley Williamson, IVHQ-Cambodia alum
GO: Why did you decide to volunteer abroad with IVHQ in Cambodia?
Hayley: The reason why I chose IVHQ was because personally it was the most affordable two week volunteer program in Cambodia. All the reviews on the IVHQ website were very positive which made me feel comfortable and secure.
Before my trip I did a lot of research as to which country I should travel to... Many people I talked to and many articles I read drew my attention to the friendliness of the Cambodian people, and despite it being a dangerous and poor country, it apparently had so much to offer in terms of the land and its people. I wanted to go to Cambodia to give a helping hand to a country in need that was not too far from home and to immerse myself into the culture of Cambodia, to experience its unique beauty and to escape the sweeping crowds of tourists.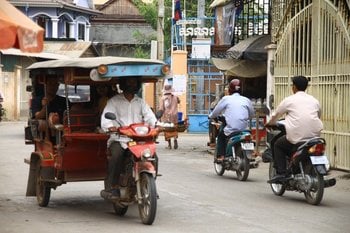 GO: Describe your day to day activities as a volunteer in Cambodia.
Hayley: During my time in Cambodia I volunteered at the orphanage SFODA (Sacrifice Families and Orphans Development Association). During my two week stay I worked from 8am-4pm weekdays teaching, caring and entertaining the children in very poor conditions with minimal facilities. I taught English to a variety of ages for 2-3hrs a day which included reading, writing and speaking basic English. The rest of the day was for playing, reading and craft (giving the coordinators and usual carers time to themselves).
GO: What was a major highlight from your time volunteering in Cambodia?
Hayley: I went to Cambodia with no expectations. I didn't go to Cambodia for a holiday or to enjoy myself but for once be selfless and give my time to the people. The entire trip was just incredible and I think the best part was just being completely immersed in the day to day life of ordinary Cambodians and young orphans. One main highlight was when I was teaching English and asked a little boy named 'Hong' a question. He took a while answering thinking he didn't know the answer, however, when he finally did respond and was correct he was so proud of himself. Just experiencing little moments like this were so rewarding. Encouragement and support can help grow self belief and confidence within a child.
GO: How has this experience impacted your future?
Hayley: This experience has definitely impacted my future. Personally, I grew a lot of self confidence and patience within myself and I've realized that I have the potential to teach children. Cambodians live out the truest form of humanity; they live off basic necessities and in doing so they live out true morals of love, selflessness and unity. None of the orphans I worked with were biologically related, however, they all lived like a family caring for one another, helping each other read and nursing one another.
The Cambodians live so simply and that's why I think they are so content. They never complain, just smile and acknowledge you. Even though my trip to Cambodia was short, it still impacted me in more ways than is easy for me to put down into words. It was definitely the most rewarding experience that I will always remember and hopefully will be able to re-experience in the future.
Meet Nadine Falloon, IVHQ-Cambodia alum
GO: Why did you decide to volunteer abroad with IVHQ in Cambodia?
Nadine: I had been thinking about volunteering in Asia for over 2 years. Then when I left my stressful Sydney IT job I decided that this was the perfect time to realise that dream. I Googled volunteering in Asia and researched many different agencies. I decided on Cambodia or Vietnam, then I found the IVHQ website and they were offering a Computer Support program in Cambodia. My mind was set, I was excited to have the chance to use the skills I have professionally whilst volunteering. I decided on a 3 week program in Phnom Penh (Siem Reap was also offered).
GO: Describe your day to day activities as a volunteer in Cambodia.
Nadine: I arrived on a Saturday night, absolutely jet lagged. But I got picked up from the airport with no hassles and tuk tuk'ed it to the volunteer house where the staff and current volunteers were very friendly. The room and bed were a good size (sharing with one other, en-suite bathroom). The house is situated in a local area of Phnom Penh (south west), great for experiencing typical Cambodian life in the city. It was about a 10 minute tuk tuk ride to the main tourist area and palace, and only 5 minutes to great shopping at the Russian Market. The food at the house was good, the lunch and dinner stable was rice (of course!) with a meat or veggie broth and dishes of other meats/seafood and vegetables. There was always plenty for everyone.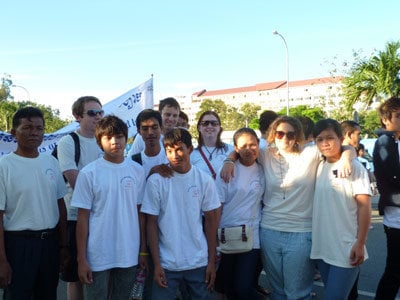 The first day was orientation for all the newbies. We went through language, culture, safety, history etc Then they organised us to go to the S21 museum with tour guide and we visited the Russian market. At night they cooked us a BBQ on the rooftop terrace to welcome us. The new group was quite large (atypical, however it had just come into summer holidays), there were 23 of us made up of the Human Rights program, Orphanage work, Teaching and Computer Support (just me!). My typical day was a bit different to the others. I was asked to create several databases for Cambodia Volunteer Foundation. They only had spreadsheets to collate the info on the staff and volunteers.
So my daily job was to work with the staff collecting the requirements and designing them a way to organise themselves effectively to keep track of staff pay, volunteer info, volunteer placement info. I still had lots of contact with the other volunteers as we had two meals a day with each other as well as nights to do as we please and weekend trips away. We also had the opportunity to join the staff in a march through the city for Human Rights Day.
After volunteering I spent the next month seeing other parts of Cambodia which I also fell in love with, including the famous Angkor temples in Siem Reap and the beautiful beaches in Sihanoukville. Then it was a sad goodbye and I left to continue my travels through Vietnam.
GO: How has this experience impacted your future?
Nadine: The experience has given me the energy and motivation professionally and personally to take a more enthusiastic approach to my life choices. I knew I was born in a lucky position, to have the freedom and the opportunities I have had in life, but to see it so blatantly everywhere I travelled was another thing entirely.
I thoroughly enjoyed the experience and was amazed at the interest all my friends and family took in what I was doing and how many were jealous! I would recommend Cambodian Volunteer Foundation to anyone.
Meet Jenny Parkes, IVHQ-Cambodia alum
GO: Why did you decide to volunteer abroad with IVHQ in Cambodia?
Jenny: I decided to volunteer with IVHQ in Cambodia as I was finishing up my uni degree and wanted to something before transitioning into full time work. I have always wanted to do some volunteer work and really wanted to do some travel in South East Asia aswell. I chose IVHQ because their fees were well priced and they had been recommended to me by a friend who had also volunteered with them in Nepal.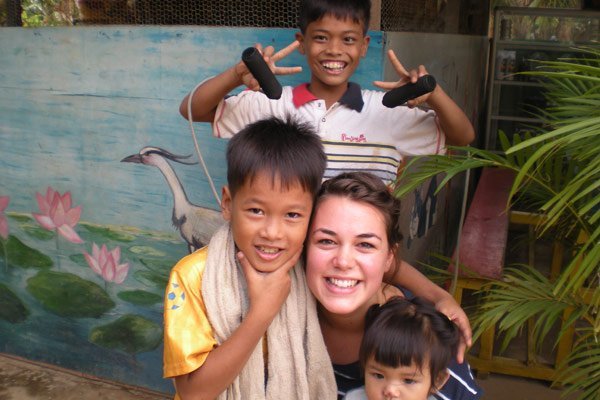 GO: Describe your day to day activities as a volunteer.
Jenny: Everyday I would travel by motorbike with another volunter to the orphanage arriving at 8.30, we would then teach a group of 6 children, aged 12 to 16, English for one hour. These children went to school in the afternoon and not the morning. After an hour of teaching we would look after the younger children ( the one to four year olds) and do activities with them such as drawing, face paintings, going for walks, and games like duck, duck goose. Then all the children will arrive home from school who had been there in the morning. The children would have lunch and so would we.
In the afternoon the children would either have a nap or we would read books with them in the library until two o'clock. At two, we taught the younger children (8 to 12 year olds) English, making sure to make it fun and exciting as they had been at school all morning and were tired. Lots of singing, games and art activities to do with numbers, letters and basic English words. Afterwards we would play games with the children until four when we caught a motorbike home. It was importnant to plan our classes well and prepare games for the children to play.
GO: How has this experience impacted your future?
Jenny: The major highlight from volunteering was just spending time with the amazing children at the orphanage, hearing them laugh and be happy, and getting to know the other volunteers in the house.
The experience has made me want to return to do more volunteering and use my degree as an occupational therapist overseas with special needs children. I will never forget my time at the orphanage with some of the most incredible, happy children I have ever met!
Further Info
About IVHQ
IVHQ (International Volunteer HQ) provides safe, unique, meaningful and extremely affordable volunteer programs in 20 developing countries around the world, with a constantly expanding base. Programs are available in Asia, Africa, and Latin America, where IVHQ works alongside local NGOs to provide meaningful volunteer opportunities. Currently, IVHQ has programs in Mexico, Guatemala, Costa Rica, Colombia, Ecuador, Peru, Brazil, Ghana, Kenya, Uganda, Tanzania, South Africa, Morocco China, Nepal, India, Cambodia, Vietnam, Thailand and Sri Lanka.
Whether you're taking a volunteer vacation, a gap year, or on a career break, IVHQ has a wide variety of programs ranging from 1 week to 6 months to fit anyone's schedule. Browse through the programs below and visit the IVHQ website for more information.
All of Their Programs