Volunteer abroad in Ecuador with Lead-Adventures, dozens of volunteer adventures are available! Experience one of most scenic destinations in South America while giving back to local communities. Lead-Adventures offers volunteer programs all over Ecuador, including the Amazon, Andes, along the Coast, and the Galapagos Islands! Whether you want to volunteer, teach, or simply have the adventure of a lifetime, Lead-Adventures has a variety of program options that can meet anyone's needs!
Current Lead-Adventures Programs:
Conservation volunteer programs
Animal welfare volunteer programs
Volunteer teaching programs
Childcare and child welfare outreach programs
Sports coaching volunteer programs
Group travel programs
Reviews
Alumni Interviews
Meet Theresa Myers, Lead Adventures - Ecuador alum
Theresa Myers taught Kindergarten in Louisiana and is currently teaching environmental science in Oregon. In her free time, she likes to travel, run, and cook. When she grows up, she's going to be a doctor.
GO: Why did you decide to volunteer with Lead Adventures in Ecuador?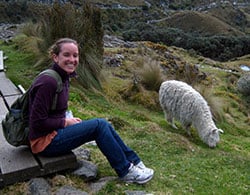 Theresa: I wanted to spend the summer volunteering abroad in a Spanish-speaking country, and spent quite a while looking at a variety of different programs. As a former teacher, I was excited about the opportunity to teach in a public school - I got to work in an area I had experience and experience the Ecuadorian education system. I also really wanted to live with a host family, both for the extended language practice and to really experience day-to-day life. Lead Adventures fit all my practical criteria (time frame, reasonable price) and offered a unique, exciting opportunity.
GO: Describe your day to day activities as a volunteer.
Theresa: I spent the mornings teaching English at a public elementary school. I taught 6 classes every day, for 30 minutes to an hour each. My students had books, but I was given a huge amount of leeway in designing lessons that I thought would be most productive. School was out at 12:30, and I'd have lunch with my host mom and other volunteers. I spend afternoons at my mom's office planning lessons for the next day, emailing my family in the US, and talking to people. My mom and I would head home together at 5, and I normally spent evenings with my host family. I spent most weekends with my family as well, traveling around the area or just running errands. I also did some traveling with friends.
GO: What made this experience unique and special?
Theresa: My host family. I stayed with a wonderful family that really embraced me. Mostly because of them, I really felt like I was living in Ecuador, not just visiting for a long time. I was lucky enough to have host siblings near my age to go out with, parents that would spend hours talking to me about history and politics, and grandparents to teach me to make empanadas. I still keep in touch with them.
GO: How has this experience impacted your future?
Theresa: My Spanish is certainly much, much better than it was before, and I hope to continue to use it in my professional life. I'm teaching English as a foreign language again, this time for adults. I still talk to my family and friends from Ecuador, and hope to go back to visit at some point.
Meet Amy Chin, Lead-Adventures volunteer alum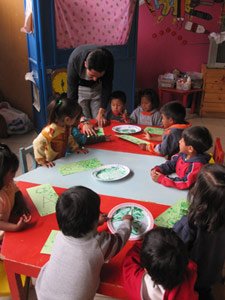 GO: Why did you decide to volunteer with Lead-Adventures in Ecuador?
Amy: I decided I wanted to volunteer in Latin America and contacted All Access Volunteers (based in Vancouver) and Lead-Adventures in Ecuador was one of the affiliates of the organization. The Quito Dump Daycare program jumped out at me! I really liked the idea of working with underprivileged children who come from supportive families. There are many programs that support orphans and I thought this program was different and focused on helping families and not just children.
GO: Describe your day to day activities as a volunteer.
Amy: Days would start around 9am, when the children start to filter in. Sometimes you would see the children and their parents at the bus loop. It was nice to see them outside of the daycare setting. The parents were friendly and seemed to really appreciate the help of volunteers. At 10am every day all the children are fed a protein drink made fresh by the cook, Kathy. I often helped with the youngest children during feeding times. After the morning milk session the children broke off into 3 groups. There was 1 teacher and 2 helpers and each would watch over one of the groups. Those under 2 years of age would play with toys. The 2-3 year olds would play with blocks, cars and dolls. The older children (aged 3 and above) were taught letters, numbers, colors, animals, etc - just like a normal kindergarten classroom.
Every day the cook would make a fresh hearty soup and rice dish for lunch. This is a time when volunteers are extremely valuable. The youngest children need help being fed and the older children generally make a delicious mess! After helping feed the kids the volunteers help clean-up. The older kids then go outside to brush their teeth. The daycare is really good about promoting good hygiene.
After lunch the younger children go down for naps and we take the older children up to the playground or they watch a movie. On Fridays they'll play music and let the kids dance around. It's the cutest thing you've ever seen!!! If the children have older siblings they'll either come pick them up around 2pm or stay at the daycare center with them.
There's a mobile medical clinic that runs every Tuesday & Friday mornings. It's run by an American couple. If you have a medical background often they'll ask for your assistance.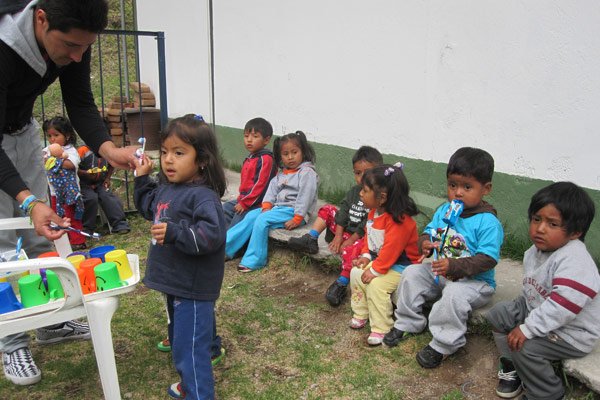 GO: How has this experience impacted your future?
Amy: I've always wanted to volunteer in South America and I think a 2-week experience at the Quito Dump Daycare was perfect for me. The staff were great and the children were beautiful. If you're comfortable around children this is an excellent placement. I'm a nurse and I found myself really interested in the services provided by the medical clinic. If you have a background in education I think you would be very interested in what the children are taught. I was told that since the Quito Daycare Dump has been in place (7 years) there's been a 100% success rate of the children moving on to Kindergarten. I think that fact shows that a tiny daycare center can make a huge impact on the lives of children. As I've become very attached to the children at the daycare I'm very curious to see what they'll be doing in 10 or 20 years' time!
Further Info
About Lead-Adventures
The people who run our 30 different volunteer programs throughout South America are passionate about Ecuador. They are specialists. LEAD Adventures does not believe agencies can offer people an authentic experience of a place unless they really know it themselves.
That is why LEAD chooses to focus all their attention on a small number of places. We do not do experiences of the world; we do experiences of South America and we do them very well.
So far we have given over 3000 people just like you an adventure in South America that they will never forget.
We can build you a custom made experience that gives you a unique opportunity to live and work in a local South American community making a real difference to people's lives and the environment. Live with like minded volunteers, quickly make new friends and experience Ecuador as it really is.
All of Their Programs