Island hop, volunteer in Galapagos and travel! All in one experience! Participants of this program will be working during their first week on Santa Cruz Island. During their second week, participants will be on San Cristobal Island. You will end your program on the fascinating island of Isabella .
One, two, and three week options are available. For the three week option, all meals, lodging, and transportation is included once you get to the islands. Roundtrip airfare and the park entrance fee is additional but can be arranged through us.
Reviews
Alumni Interviews

Meet Alex Moraitis
Alex Moraitis is from Australia, growing up in Perth and living the past few years in Darwin. Alex blends his working lifestyle by working as a Project Manager most of the time and as a SCUBA diving instructor when he hits the road and travels. Alex is a 40 year young male with a massive passion in the underwater world and mountain hiking, and he loves exploring different cultures and environments. Alex created a video after his volunteer experience with Lead Adventures: "Galapagos Archipelago Dive Adventures."
Why did you decide to volunteer abroad with Lead Adventures in Ecuador?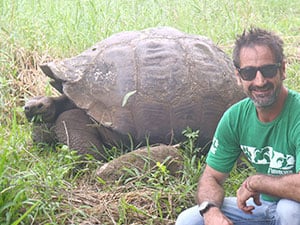 Alex: I have been wanting to go to the Galapagos Islands for some time, not just as a tourist, but as a volunteer helping to contribute to local community needs. I simply researched the organizations offering volunteer programs in the Galapagos, and Lead Adventures had a good balance between working and seeing the islands.
What advice do you have for future volunteers?
Alex: Go in with an open mind and willingness to contribute where you can. Also remember everything works different than at home so don't expect things to be the same or easy; you will challenge yourself with your comfort zones.
What made this volunteer abroad experience unique and special?
Alex: We were on the Galapagos Islands, and I was able to stay longer on my own in order to continue exploring and interacting with the unique wildlife and local culture.
How has this experience impacted your future?
Alex: This experience reminded me that these kinds of activities are what I want in my lifestyle.
Further Info
About Lead-Adventures
The people who run our 30 different volunteer programs throughout South America are passionate about Ecuador. They are specialists. LEAD Adventures does not believe agencies can offer people an authentic experience of a place unless they really know it themselves.
That is why LEAD chooses to focus all their attention on a small number of places. We do not do experiences of the world; we do experiences of South America and we do them very well.
So far we have given over 3000 people just like you an adventure in South America that they will never forget.
We can build you a custom made experience that gives you a unique opportunity to live and work in a local South American community making a real difference to people's lives and the environment. Live with like minded volunteers, quickly make new friends and experience Ecuador as it really is.
All of Their Programs