South Africa is a country full of rich cultural and political history, and also boasts some of the most stunning landscapes and coastal scenery in the world. African Impact's headquarters are based in South Africa and we offer many diverse volunteer programs including Photography and Conservation on a private game reserve, Orphan and Vulnerable children care in Cape Town's inner city, Great White Shark research and conservation, endangered whale shark preservation as well as opportunities for teaching and community development in a range of beautiful locations.
Reviews
Alumni Interviews
Meet Laura Zdrowski, African Impact in South Africa alum
Laura Zdrowski is a 23 year old from Sacramento, California. After graduating from UCLA with a degree in English, she volunteered with African Impact in St. Lucia as a Medical Outreach and HIV/AIDS Education volunteer for a month in November of 2011. She is now attending nursing school in Denver, Colorado and loves to spend her free time playing soccer, spending time with friends, and traveling.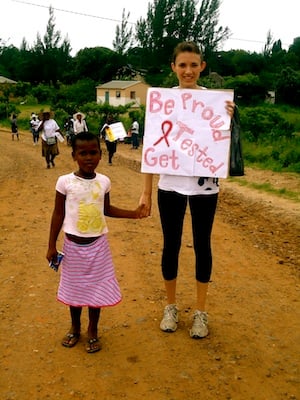 GO: Why did you decide to volunteer with African Impact in South Africa?
Laura: I decided to volunteer with African Impact in South Africa for a few different reasons: my best friend was completing her Peace Corps service in Khula Village by St Lucia, I had just graduated from undergrad and was itching for an adventure, and I was about to begin nursing school and wanted to gain experience in international healthcare. I chose African Impact because, from the looks of their website and from my friend's experience in the village, they had the most pervasive impact in the community. Not only did they participate in many meaningful projects and events, they also played a sustainable and impactful role in these South African communities.
GO: Describe your day to day activities as a volunteer.
Laura: One of the reasons why I loved African Impact so much is because I felt busy and productive each and every day. Each weekday, the volunteers would wake up and eat breakfast together and then head to project they were assigned to for that morning. The volunteers were generally split between medical volunteers, who focused on home-based care visits, clinic support, and HIV/AIDS support groups, and educational volunteers who spent most of their time in kreches (preschools) and after-school programs. Both teams also spent a great deal of time on HIV/AIDS education in primary schools and adult learners, gardening in the community garden, and "ten families" in which we visited the ten families the induna (think president of the village) deemed most in need and worked to assist them in any way we could.
Normally volunteers would work for four hours in the morning, return for lunch, and set out again for four hours of afternoon work. Because we would visit two neighboring villages, Khula and Eswenelisha, we were pretty busy! One of those afternoons would be spent planning for the following week's projects and volunteers would spend a few hours brainstorming new games or lessons for the children or new health topics to cover during HIV/AIDS support groups. After a long day of work, we would gather for delicious dinners cooked by our house cook. We would spend the rest of the evening playing games together or relaxing. Weekends were free for excursions and traveling, exploring St Lucia, or relaxing on the beach.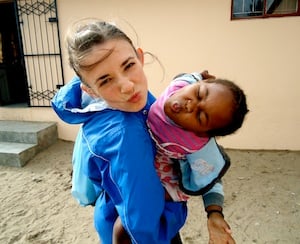 GO: What made this experience unique and special?
Laura: I loved the balance between structure and relaxation, volunteering and tourism. Because South Africa is such a diverse country, full of extreme poverty, wealth, beauty, and tragedy, I thought it was special and fitting for our experience to incorporate all of these aspects. Although at times it was difficult to wrap our heads around these dichotomies, I felt it was important to experience, and to do so as a team.
Our wonderful and passionate volunteer coordinators, Alanna and Sofie, also did an amazing job getting everyone involved and inspiring enthusiasm, oftentimes challenging us to come up with our own ideas and projects to make the experience a more personal one.They were always available to talk, answer questions, and were constantly thinking of ideas to make our time more special. I was also lucky enough to be with African Impact during World AIDS Day, and the events we participated in that week are the memories that I hold most dear to my heart -- the energy, hope, and advocacy fueled by these villages was absolutely inspiring.
GO: How has this experience impacted your future?
Laura: My experience with African Impact greatly impacted my future. Although I already had plans to go to nursing school, my experience in South Africa solidified my decision, as nursing is a profession in which you are able to help and impact others everyday. My experience also awakened in me a passion for preventative health education and advocacy, and I plan to incorporate this into my practice both in the states and abroad in my future. Although I already had interest and knowledge on the topic of HIV/AIDS, this experience truly opened my eyes to the devastating effect this epidemic has had in Africa, and more specifically in South Africa -- in the Kwazulu-Natal region, around 40% of inhabitants are infected by this deadly virus.
This realization therefore also inspired a passion for HIV/AIDS education and advocacy and I have taken clinical elective courses on caring for patients infected by HIV/AIDS since beginning nursing school in the states. Finally, my experience showed me the beauty of a continent I once feared as too exotic and unknown -- I will never forget the beauty of the song, dance, and smiles of the South Africans of Khula and Eswenelisha villages.
Meet Elsbeth Duynstee, African Impact - South Africa alum
Elsbeth Duynstee is a women of 47 years, living in Holland, who worked the last eight years for Human Resources. She is also a teacher for the nursery and primary school. She is divorced and loves to travel around the world. She was in St. Lucia was eight weeks (from January 2012 till Februrary 2012)
GO: Why did you decide to volunteer with African Impact in South Africa?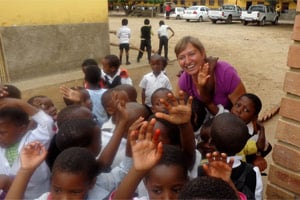 Elsbeth: Eight years ago I made a trip trough South Africa and I fell in love with that country. From that time I decided to be a volunteer one day. But like the most lives, it is not easy to get away for two months when you have a job. When I heard that my job would be over from the first of October, I decided to follow my dream and went to South Africa to be a volunteer. I booked with Activity International and they worked together with African Impact. The reason that I booked with African Impact is because of the different projects that they have so that I could see all the different aspects in the Zulu community.
GO: Describe your day to day activities as a volunteer.
Elsbeth: I lived in a volunteer's house together with about ten other volunteers from different countries. It was a great time. There were volunteers who worked with the children in the creches in Khula and in Ezwenelisha and other volunteers who worked in the clinic in Khula or visited sick people at home. In the morning we worked from 8.30 till 12.30 and then we had lunch at the volunteers house. After lunch we worked from 13.30 till 16.30. In the afternoon there were different projects for the community, like garbage picking, painting the church, working in the garden, reading books with children in the Reading club, planning activities with orphans at the afterschool club, giving HIV/Aids education for adults and for children at the Primary School, making bricks for a new building, joining the support group where people can talk about their problems etc. Because of all the different activities you have a good picture how the Zulu people are living. Although the people are poor they always laugh and are very happy when you come. This gives you a great feeling! During the evenings and in the weekend you had free time and African Impact always gives you different options for booking excursions, like a visit to Hluhluwe Umfolozi Park, visiting Isimangaliso Wetland Park, an trip to Kosi Bay or Swaziland, an Zulu night, horse-back riding, an elephant interaction at Thanda Game Reserve, an game drive at Bayete Zulu Game Reserve or a Hippo and Crocodile tour. So you will never had a dull moment.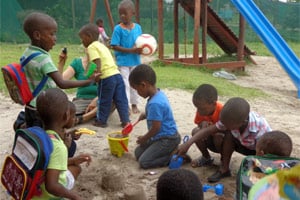 GO: What made this experience unique and special?
Elsbeth: For me, personally it was a experience for life. Anyone who has the chance to be a volunteer must do it! You meet other people, another culture and you reflected this at your own life. Elsbeth never had a better feeling about a job than being a volunteer. The respect and appreciation what you receive from this people is amazing. You won't forget!
GO: How has this experience impacted your future?
Elsbeth: So, this experience of being a volunteer was so intense that I decided to find a job abroad! You can't change Africa, but Africa can change you!
Meet Claire Thomson, African Impact - South Africa alum
Claire Thomson is a 19 year old student from Dunfermline, Scotland. She attends Edinburgh University where she is a primary education student. She was an African Impact volunteer in St.Lucia, South Africa on the community project from July 16th until July 30th. She enjoys playing drums, traveling, football and photography.
GO: Why did you decide to volunteer with African Impact in South Africa?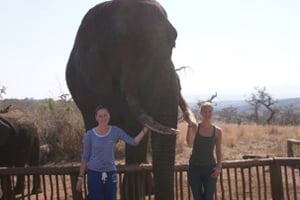 Claire: I had always wanted to do a volunteer abroad program and Africa had always been my first choice. I had a little time in the summer that year so I decided to research online and see if I could find anything. African Impact came up and I visited the website. There were also great reviews and I had a look at the facebook page. I found the St. Lucia project and it really appealed to me. The idea that the projects aimed to be sustainable and the overall aim of the company really connected with me. I got in contact via the website and within hours I received a phone call. They were so quick at responding and so easy to talk to that I couldn't refuse. I kept in touch by email and everything went through quickly and easily. I would recommend them to anyone interested in volunteering and will probably use them again.
GO: What made this experience unique and special?
Claire: The whole experience was like a dream. It was everything I thought it would be and more. I made so many incredible friends and South Africa really did find a special place in my heart. The staff were so friendly and easy to talk to. They made the whole experience that bit more personal and made you really feel like you were making a difference.
The people of the communities were so welcoming and loving and were such an inspiration. You got the opportunity to do different projects so every day was unique. As well as volunteering, I had the chance to see some of the country, the culture, food and wildlife. I built so many bonds, especially with the children as you got to know them so well. I was surprised at how little the language barrier got in the way. The children spoke with their smiles, hugs and laughter. It was magical!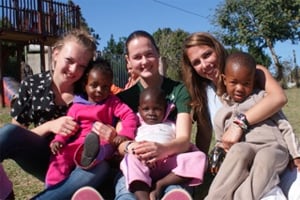 GO: How has this experience impacted your future?
Claire: The time I spent there will never be forgotten. It has made me so much more grateful for what I have and the opportunities I have been given. I think twice now before I moan or complain. It has made me realise what is truly important and that life is precious and short.
Traveling has always been an interest for me but now I want to see more, do more and make more of my life. I have realised that although my studies are important, they are not everything and life shouldn't be planned and strict but should be a daring adventure full of twists and turns.The trip was so important to me, I actually had Zulu words tattooed on my side a few weeks later. It was a life changing experience. Jump right in and get involved!
Meet Jessica O'Connell, African Impact - South Africa alum
Jessica O'Connell is a 20 year old student in Calgary, Alberta, Canada. She is currently in her 3rd year of a Political Science bachelors degree at the University of Calgary. It had always been a dream of hers to work with children, and she has always wanted to volunteer in Africa. She loves doing anything artsy and has officially caught the travel bug. She was on the St. Lucia Community project for four weeks, from July 16th to August 13th.
GO: Why did you decide to volunteer with African Impact in South Africa?
Jessica: Research, really is the only answer. I've always wanted to volunteer in Africa, and it was just a matter of finding a suitable organization. African Impact has such a wide variety of projects in many countries, making it easy to find something for you! They aim for sustainable development, which was a huge factor to me. African Impact seeks to aid in the development of African countries, but does so in a way that gives the people the tools to maintain and flourish their projects.
GO: Describe your day to day activities as a volunteer.
Jessica: On the St. Lucia Community and Orphan Care project, our mornings consisted of teaching, playing, feeding and cleaning at creches (like a preschool or daycare). We would create lesson plans on weekly themes. Our repertoire would include ABC's, 123's, colors, shapes, etc, and the weekly theme, would could vary from transportation to animals. Some volunteers would also teach HIV education to primary school children, on a course created by African Impact, granting certificates to all children that passed!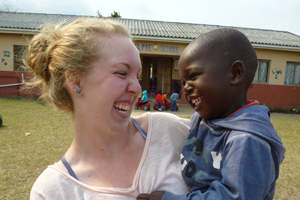 Afternoon projects generally ended around 430, and we were free to do as we please until dinner at 550. Our volunteer house was situated right n the town of St. Lucia, and we were free to go into town to get a coffee, go on the Internet, shop, and so on. If we wanted, we could sign out of any meal and enjoy some of the restaurants in town. After supper many of us would go for a drink or dessert. St. Lucia was right on an estuary, so when we went out after dinner we needed to stay in a group and bring flashlights because the hippos come out of the estuary at night! On the St. Lucia Community and Orphan Care project, our mornings consisted of teaching, playing, feeding and cleaning at creches (like a preschool or daycare). We would create lesson plans on weekly themes. Our repertoire would include ABC's, 123's, colors, shapes, etc, and the weekly theme, would could vary from transportation to animals. Some volunteers would also teach HIV education to primary school children, on a course created by African Impact, granting certificates to all children that passed!
After coming back to our volunteer house and eating our prepared lunch, both the medical and community (the project I was on) volunteers would head out together. These projects were various, and could include building beds or tire courses for some of the creches, gardening in some of the village gardens, teaching adult literacy club, children's reading club, adult HIV education or after school club. Most of these projects would run on certain days of the week, and the schedule rotated volunteers through on a weekly basis.
GO: What made this experience unique and special?
Jessica: This experience was hands down the best experience of my life. I'd go back in a second. The experience of getting to know other volunteers was something unique to me in and of itself. There were volunteers from all over the world, and it was amazing to meet and share such connections with these people. African Impact also hires local people to aid us on the projects. These women, and man, were incredibly inspirational, hilarious and informative. It was very hard to say goodbye to them! I miss them each and every day. I think it is truly a testament to the all encompassing nature of African Impact to see them employ locals. I think it shows how deeply African Impact cares about the communities they work in.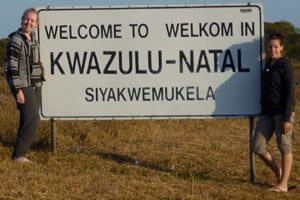 GO: How has this experience impacted your future?
Name: As cliche as it sounds, I'm going to be yet another volunteer who says volunteering abroad has greatly impacted them. I'm actually already looking into volunteering with African Impact again. Being that my degree is in Political Science, I have taken in interest in African politics, and would love to further that education. I have been considering getting a teaching degree upon completion of my current bachelors, and while that is still on the table, my passion for teaching and working with children in Africa is greater. Some days it still doesn't feel real that I'm back home, going to school and working. I miss my St. Lucia routine, I miss the children and people in the villages, I miss the culture. I've never felt as happy as I did in South Africa. My time there was rewarding to the utmost, and it was rejuvenating in a sense. You can see what your work does, and it gave me a sense of accomplishment, being able to say, 'Hey, I helped build that.' Or 'I helped teach that.' Yet there is so much more that needs to be done, and so much more that can be done. And I'd love to do more with African Impact.
Meet Lily Price, African Impact - South Africa alum
Lily Price is from Belfast, Northern Ireland and has just graduated from Queens University Belfast in Psychology. She is now moving to Manchester, England to do a research masters in animal behaviour with my research in Africa. She loves to bake and dance and has a passion for travelling. Africa feels like her second home.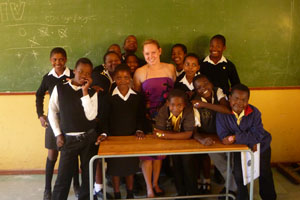 GO: Why did you decide to volunteer with African Impact in South Africa?
Lily: I had had bad experiences with volunteer projects before so wanted to find one where I was worked hard and that made a difference. I found African Impact when I searched online and noticed that for this particular medical project you did not need to be studying medicine. I was also very interested in doing some work in HIV awareness as KwaZulu-natal has a very high prevalence of it.
What made me decide to go with African Impact was that when I emailed them for more information they emailed me back promptly offering to phone me to discuss any questions I had. They were so friendly and efficient that I decided they would be a good company to volunteer for.
GO: What made this experience unique and special?
Lily: The project manager explained their vision and how the project was aiming to be sustainable. You really got to understand what they were doing and how you were helping. We were volunteering in local villages and helping in severely poor areas that really needed help. The local village people were so friendly and smiley, they were a pleasure to be around.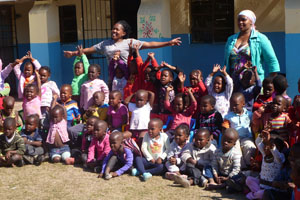 Besides from the volunteering, the project is based in iSimangaliso Wetland Park giving volunteers great opportunities for safari activities at the weekend. There was also the opportunity to go to a cheetah park, swim with dolphins in Mozambique, cruise on St.Lucia estuary to see crocodiles and hippos or if you are really brave have a go at canoeing on it. Not to be missed is the Zulu night which is run in the local village of Khula. You get to sample local food, music, dance and have a peek at their culture.
GO: How has this experience impacted your future?
Lily: I left the project with a slightly heavy heart because so much needed to be done there and the conditions the people had to live in were terrible. Nevertheless I feel like I really did contribute to something great. I keep up to date with what the project is currently doing and I really do hope I can return someday for longer.
In terms of jobs and academia, I get asked about the experience in job interviews and I always include it on my CV or when applying for university places. I got to broaden my experiences and work on my initiative. I got involved in so many different things that it can really be applied to any job application.
Meet Ben Doherty, African Impact - South Africa alum
Ben is a life-loving 19 year old from the UK. Born and bred in Bristol - South West England, he is a Graphic Designer but would love to get involved in more charity work. He loves being creative - playing guitar, taking photos and designing; as well as staying active - cycling, football, basketball, and running. Living life to the full is top of the agenda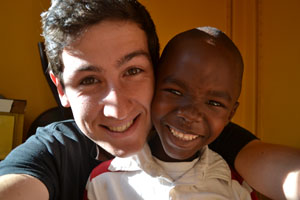 GO: Why did you decide to volunteer with African Impact in South Africa?
Ben: I found African Impact through another site - Amanzi Travel (definitely worth checking them out). The reviews of African impact's projects were all really good though, and it just looked like such a worthwhile experience.
GO: Describe your day to day activities as a volunteer.
Ben: Every morning we'd start with cereal, fruit or toast as we got ready to get on the bus for the morning project. Then we'd all get on the bus and set off on a beautiful drive along the coast to our different pre-schools for the morning - my school was luckily last stop of the trip so every morning I'd get at least 20 minutes of taking in the ocean views before a fun morning with the kids. The kids always come running to the gate to greet the volunteers and after a bit of playing, it's time for an English lesson and a snack. After a bit more fun, you help with washing the hands and lunch and then head off back on the bus which takes you back to the volunteer house for lunch.
After an always-tasty lunch and an hour or so break, we'd be off to the afternoon community project. These were really, really rewarding. One community project is a home for HIV infected and affect children, and African Impact are the only volunteer organisation allowed in to the home, so it's a great privilege to talk to these amazing kids and help them with their English and maths. Always a good laugh too, they're witty and will always keep you on your toes! Another community project is a safe house for a abused kids and parents, again a privilege to be involved with - such an eye-opener.
The food for dinner was top-notch. Always hit the spot after a long day. After this the volunteers will decide how best to use the evening. You can prepare extra activities for the next day or explore. Beaches - everywhere. Mountains - everywhere. Loads of nice evening spots for meals or drinks... there really is a lot to keep you occupied. I personally would go for a run up the hill to a beach view probably 3 nights a week, followed by a chilled evening. Also went to the cinema, watched a local talent show and went swimming in a lake. Most evenings there will be someone putting a film on or going over the road to get some food.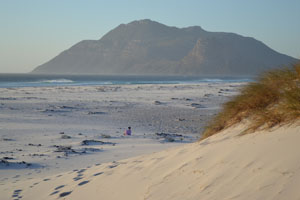 The highlight was probably skydiving. That was just an incredible experience, and Cape Town is one of the top 3 places in the world to skydive apparently. So insanely good. In terms of the actual volunteering, though... The highlight had to be the way you interact with and learn from everyone in Cape Town. The project staff, the pre-school teachers and the pre-school kids - so many life lessons to learn from them. Some inspirational adults and some amazingly happy and grateful kids - it's just awesome to be a part of.
GO: What made this experience unique and special?
Ben: So much to say. Cape Town is just an incredible place. So much life, colour, scenery, activity and contrast. Learning about their culture is a great experience - getting to know the kids there, the schools and the way of life, is really interesting. The sites - Table Mountain, Cape Point, Robben Island, those are all worthy of the hype too. The project staff were really nice from day one, and the volunteer house is such a great base. The food and the service is top-quality. The friends I made and the good times I had won't be forgotten. I got help out in the office, putting my photography and graphic design abilities to good use too - really enjoyed that. The whole volunteering experience helps you to discover a new world and grow as a person, and those are things you just can't learn from a text book.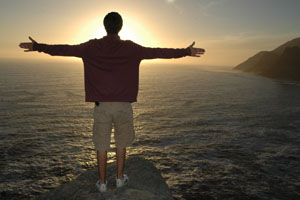 GO: How has this experience impacted your future?
Ben: The experience has helped re-enforce life lessons such as... be grateful for what you have, work hard and to the best of your ability (EARN your time to chill), be tolerant and understanding of other people's problems, and loads more. It has done wonders for my CV and helped me to realize what I want to do career-wise, long-term. Character building, for sure... When it comes to leaving home, taking risks and pushing the boundaries of my comfort zone... I'm not naturally at ease. It took a lot of will power to book this project but the second I arrived in Cape Town I knew it was the place to be. As one of my favourite songs puts it: 'If you never leave home, never let go, you'll never make it to the great unknown'. Getting out there and doing something like this can set you up for a life of exploring and experiencing. Do it.
Meet Jody Farr, African Impact volunteer alum
GO: Why did you decide to volunteer with African Impact in South Africa?
Jody: It was the Photography and Conservation project itself that drew me to African Impact. I was searching the internet for volunteer projects and came across it and it just spoke to me. After doing some research on African Impact from reviews and past volunteer feedback, I realized it was a great company and I liked what it had to offer.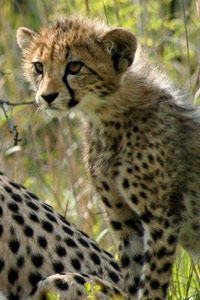 GO: Describe your day to day activities as a volunteer.
Jody: On the Photography/Conservation project our first week was a fun and intensive photography course complete with 'classroom' time and 'field' time, with several hour game drives everyday. The following 3 weeks, our time was spent evenly on game drives with lots of photo opportunities, community work, conservation work and time to edit and process our photos.
On the Orphan Daycare/HIV Education project we spent every morning at a creche spending time with the children teaching, playing, helping to feed and bath babies and just giving the children the time and attention they need. Afternoons were spent with either HIV education, Home visits, garden project or After School Club.
With both projects were were fed very well with good accommodations. There were many amazing extra activities and trips that were offered as well on both projects.
GO: How has this experience helped you grow personally and professionally?
Jody: This experience has definitely impacted my life in a positive way. I walked away with great knowledge and experience in photography and plan to continue my passion and hope to make it a career one day. It has change my views on finding happiness and joy in the simple things in life and that it doesn't take all the 'stuff' of western society to bring happiness.
Further Info
About African Impact
African Impact is an award-winning volunteer travel organization, offering meaningful interactive volunteer programs throughout Africa. We have come a long way from our humble beginnings at Antelope Park in Zimbabwe in 2004 where we started out with a single goal - to bring about positive change.
With over 8 years' experience, we are now the largest on-the-ground African specialists in volunteer tourism with operations offices in South Africa, Kenya, Tanzania, Zimbabwe and Zambia. We pride ourselves on doing things the right way, and are always seeking better, more sustainable ways to operate and offer responsible, safe volunteer experiences with long lasting positive effects on local communities and the physical environments in which we work.
We truly believe in making a difference and empowering our volunteers to do the same.
All of Their Programs