Although South Africa has recently developed as a nation, there are still many parts of Cape Town where families are living in unsafe and overcrowded conditions. Volunteering in South Africa with Cross-Cultural Solutions is an excellent way to make a contribution to these communities and help improve the quality of their lives. As a volunteer in South Africa, your are in the unique position to be working with local communities to battle HIV/AIDs, high unemployment, and the overall lack of adequate services for residents in South Africa.
You will have the option of volunteering in South Africa in one of the following fields: caregiving, teaching, healthcare, and community development. Mostly, as a volunteer, you will be helping out in daycare centers, schools, clinics, hospices, therapeutic centers, and local shelters.
Reviews
Alumni Interviews

Meet Terri Wingham, world famous CCS alum
GO: Why did you decide to volunteer with Cross-Cultural Solutions in South Africa?
Terri: In October 2009, at the age of 30, I was diagnosed with breast cancer and spent the next 18 months in treatment. After three surgeries and four rounds of chemotherapy, I faced the challenge of Picking Up The Pieces of my pre-cancer life and figuring out what I wanted my future to look like. This transition from patient into survivor is one of the hardest challenges I have ever faced. I was no longer the person I had been on October 26, 2009, but I wasn't yet sure where I wanted my life to go or who I wanted to be.
What I did know is that I wanted the most recent experience in my life to be about something OTHER than cancer. I wanted the chance to take care of other people and to give back in a meaningful way. So, on January 1st, 2011, I made a decision to volunteer in Africa before the end of the year. After much research and deliberation, I selected a volunteer program with CCS in Cape Town. I chose CCS because it provides a balance of volunteering, cultural education, and free time. I also liked their safety record and the fact that they would take care of all of the details for me. After the 18 months that I had been through, I wanted to make sure all of the details were covered and I was based in a city with access to good health care (if needed).
After I made the decision to go, I managed to fundraise almost $8,000 in just over three weeks. The incredible sense of accomplishment was a major victory after the many weeks where I had not been able to get up off the couch.
GO: Describe your day to day activities as a volunteer.
Terri: While in Cape Town with CCS, I volunteered for six weeks at an underfunded daycare in one of the Townships. On a daily basis, I helped feed a group of 20-30 toddlers breakfast and lunch, played games with them,and brought flashcards in to teach them basic english words. The support I gave to the employees of the daycare and to the children feels so minimal when compared to the joy and love that these children gave to me. After I arrived in Cape Town, it didn't take me long to Crash Into Love with the kids and when I left, I was Blindsided By The Pain of Saying Goodbye.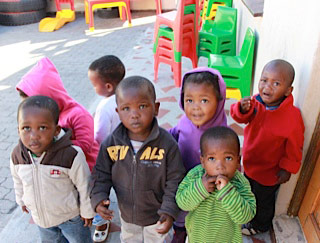 GO: How has this experience impacted your future?
Terri: My experience in Africa changed my life and helped to heal me from my experience with cancer. While there, I once again felt productive, useful, and miles away from sickness. A double mastectomy and baldness had left me feeling depressed and pessimistic about life, but my experience of volunteering in Africa filled me with hope. It also reminded me of the similarities between people of all races and cultures.
While traveling through South Africa, I saw people who had absolutely nothing, yet still found reasons to laugh. These people reminded me that connection and love is more important than money and they also made me appreciate the opportunities I have to start a fresh chapter in my life, here in North America, simply because I have access to the resources of the first world. I am now in the midst of starting a not for profit to help other cancer survivors volunteer internationally. Putting your life back together after cancer is not easy and I will always be incredibly grateful for the time I had in Africa and the perspective and hope the experience gave me.
Further Info
About Cross-Cultural Solutions
The Cross-Cultural Solutions Volunteer Abroad experience allows students and travelers to gain valuable experience overseas while working side by side with local individuals and communities to make an impact.
Since 1995, over 30,000 people have volunteered with Cross-Cultural Solutions, providing meaningful and sustainable volunteer services to international communities, and contributing responsibly to local economies.
Volunteers gain valuable experience working in areas such as education, healthcare, and social services. Visit the Cross-Cultural Solutions website to learn more about how we're changing everything.
All of Their Programs