From pristine beaches and remote mountain communities, to floating markets and bustling cities, Thailand will take your breath away. In Bangkok, you'll be able to experience the fascinating juxtaposition of centuries old Buddhist tradition and a Southeast Asian metropolis.
Over the years, many young Thai people have relocated to Bangkok in search of economic opportunity. This migration, however, has resulted in overcrowding in and around Bangkok, and has also put a serious strain on social resources. As a volunteer in Bangkok, you'll work side-by-side with local people to address these issues. For volunteers interested in child development, Thailand is of particular interest. Never having been colonized, the education system is quite unique, and will really benefit from your support.
Reviews
Alumni Interviews

Meet Perry Brissette, CCS-Thailand alum
Perry Brissette (CCS Bangkok Thailand, August-September 2011) is from Berkeley, California, and has enjoyed a decades-long career in sales for computer and Internet companies since before the web browser was patented. He hopes to do more volunteering abroad and has sights on someday starting his own business focused on teaching business professionals the skills and cultural awareness to help them conduct business overseas.
GO: Why did you decide to volunteer with CCS in Thailand?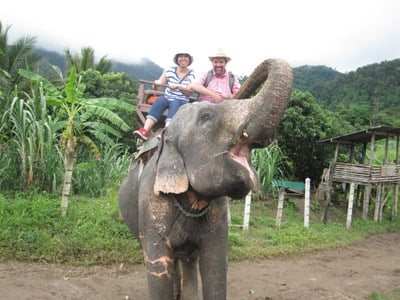 Perry: For me, as a mid-career professional, CCS offered the best fit for my needs in terms of what I was looking for from an overseas volunteer experience. CCS brought together the most resources, both in terms of my personal goals and my professional background, to fulfill everything I was looking for under own integrated overseas experience.
First and foremost, CCS offered a very strong community of alumni -- i.e. people who have gone before, have stayed and volunteered in Thailand previously -- who I could contact and network with. These alumni turned out to be very helpful to me; they served as advocates and trusted adviser who helped me plan for my own successful experience in Thailand.
Second, CCS cared about me. They listened and considered my background, my goals, the kinds of skills I could bring to the volunteer experience. They helped me get the most out of my overseas volunteer work assignment.
Third, I have experience with buddhism (having practiced and studied buddhist meditation for many years here in the U.S.), so I brought a natural affinity for the buddhist culture with me to Thailand. CCS Thailand was the perfect venue for me to expand and integrate my interests and affinity for the buddhist culture of Thailand.
Lastly, I have been a self-styled student of international relations and global affairs. My volunteer abroad trip to Thailand availed me enormously rich experience in the field with real-world people and problems. It was just what I needed to take my learning from the theoretical to the practical.
GO: Describe your day to day activities as a volunteer.
Perry: My assignment in Thailand was to work at a non-governmental organization (NGO) helping to develop an English-language website. This organization works at the grassroots level to address urgent problems faced by local people in Thailand, such as conflict resolution, migration, economic development, social justice, cultural preservation, women's issues, health, and the environment. The local organization serves as a field resource for lager international agencies such as the United Nations, the Asian Development Bank, home country ministries, and The World Bank.
Each and everyday, I'd wake up and prepare to go off to work, often commuting by tuk-tuk. Evenings and weekends, we had ample time to enjoy trips to cultural events, museums, temples and restaurants. I even got to attend a local Thai wedding.
I learned so much -- not only about issues in Thailand, but especially about what work life is like in Thailand; I got to experience the day-to-day lives of ordinary Thai people.
GO: What made this experience unique and special?
Perry: What comes to mind most the is how the volunteering and the close, intimate contact with local Thai people made for a far richer cultural learning experience for us. Being with local people -- working in their offices and schools, eating local food with them, partaking in local customs and rituals -- was so rich and valuable that I cannot image going to a country and not including some volunteerism.
GO: How has this experience impacted your future?
Perry: In so many ways, I'm a better person -- both personally and professionally-- as a result of my CCS experience in Thailand. I feel much better equipped as a global citizen of the world. I feel my cultural understanding is both deepened and heightened as a result of my experience. My CCS experience has inspired me to work as an Alumni Ambassador to help others who are considering volunteer-abroad journeys. I've been so inspired that I've actually begun to consider starting my own business to train business professionals the cultural and field experience they might need to conduct business overseas.
Further Info
About Cross-Cultural Solutions
The Cross-Cultural Solutions Volunteer Abroad experience allows students and travelers to gain valuable experience overseas while working side by side with local individuals and communities to make an impact.
Since 1995, over 30,000 people have volunteered with Cross-Cultural Solutions, providing meaningful and sustainable volunteer services to international communities, and contributing responsibly to local economies.
Volunteers gain valuable experience working in areas such as education, healthcare, and social services. Visit the Cross-Cultural Solutions website to learn more about how we're changing everything.
All of Their Programs