UBELONG offers 2-week to 6-month volunteering opportunities in Hanoi and Ho Chi Minh City (Saigon). There are over 20 projects in different fields, including: business development and microfinance, caregiving, education, health and NGO support.
Highlights
Affordable: Without compromising quality, the world's most affordable international volunteering opportunities.
Flexibility: Pick from 100+ projects across Africa, Asia and South America. Volunteer 1 week to 6 months. Start any week.
Support: Work one-on-one with a UBELONG Mentor throughout your volunteer experience.
Comfort: Housing and meals included, as well as 24/7 field support.
Network: UBELONG is based in Washington, DC, the capital of international volunteering.
Impact: UBELONG is a social venture led by international volunteers and university professors driven to make a real impact on local communities.
Trust: Every year, thousands of individuals of all ages and backgrounds, and from throughout the world, become UBELONG volunteers.
Simply, UBELONG is the world's premier short-term international volunteering program.
Reviews
Alumni Interviews
Meet Robert Enberg, UBELONG-Vietnam alum
Robert Engberg volunteered from December 15th to the 31st 2012. He is from Goodyear, Arizona and is currently in his final semester at Northern Arizona University where he is studying International Affairs and French. He enjoys riding his motorcycle, working out, trying foods from all over the world, and outdoor adventuring.
GO: Why did you decide to volunteer with UBELONG in Vietnam?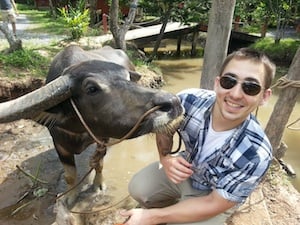 Robert: I chose UBELONG because of how affordable its immersion programs are and the fact that individuals from any background can participate in their programs. I have always wanted to do volunteer work abroad, but the cost of programs offered by other organizations always turned me off. I felt that volunteering shouldn't have to be so expensive. UBELONG makes volunteering accessible to almost anyone by offering programs that vary in cost depending on how long you want to volunteer overseas. The profiles of founders Raul Roman and Cedric Hodgeman convinced me that UBELONG was an organization truly committed to international development.
GO: Describe your day to day activities as a volunteer.
Robert: My project was at a Buddhist monastery called Chua La, where the monks provided housing for fourteen orphaned children. Only one woman cared for all fourteen children. The immense amount of work she had in caring for the children made our work as volunteers very important. We arrived at our project in the morning where we were greeted by the children that were always so happy to see us. The mornings consisted of us playing with the children and keeping them occupied on projects like coloring or singing and dancing. I would also do some renovation work on the orphanage, such as painting it and putting screens on its windows.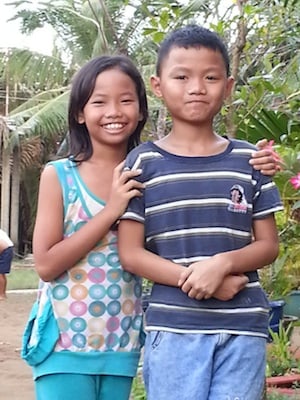 I also spent many hours in the hot sun planting a garden. Every day before noon the monks would ring a bell to indicate it was time for lunch. We would go inside the monastery and eat alongside the monks, orphans, and other guests. Afterwards we would nap for a few hours since it was the hottest time of the day. In the afternoon, we would finish whatever renovation projects we had for the day and spend more time with the kids. We left usually around 4:00PM.
GO: What made this experience unique and special?
Robert: The opportunity to travel and do work in Vietnam is one I will always remember and cherish. The most unique part about my trip was working among Buddhist monks at the orphanage. Passive monks in their saffron robes are one of the most distinctive images people imagine when they think of Southeast Asia. Working and eating with them was something I never imagined I'd be doing!
GO: How has this experience impacted your future?
Robert: Volunteering abroad tests what you are truly capable of by placing you in an environment that is completely foreign to you. My experience helped me learn more about myself and has given me more courage to step outside of my comfort zone. Career wise, my goal is to work in the field of international development, so having experience travelling and doing work in developing nations is important to my own career development.
Meet Spencer Willman, UBELONG volunteer Vietnam
GO: Why did you decide to volunteer abroad with UBELONG in Vietnam?
Spencer: My decision to go to Vietnam was made around this time last year. I was chatting with a good friend of mine, and he mentioned that he would be going to Spain to volunteer with a renewable energy company. As he started to explain it further, I became more and more intrigued. I found myself yearning for a unique summer internship experience that would match that of my good friend. I started to do a little research on the topic and found a host of great places I could go. When I was at a crossroads of companies to go abroad with, the name UBELONG came up. I looked into them more and more and their projects in Hanoi started to look extremely attractive. They offered a project that suited my needs and Hanoi seemed to offer a host of great entertainment. After weighting all the pros and cons of Hanoi, I was certain that this was the city I would be traveling to. I emailed UBELONG's founder and he extinguished any trepidation that I had up to that point. He was thorough in all his explanations of what I would be doing and what to expect when I arrived. This was very reassuring for I knew very little about the city further than what I read on the internet. His commitment to my enjoyment of my experience was unwavering even after I arrived. Any situation that I felt was not to my satisfaction was resolved immediately. Many of the other volunteers were very surprised with the promptness of UBELONG compared to their sending organizations. In my opinion, UBELONG is the gold standard when volunteering abroad.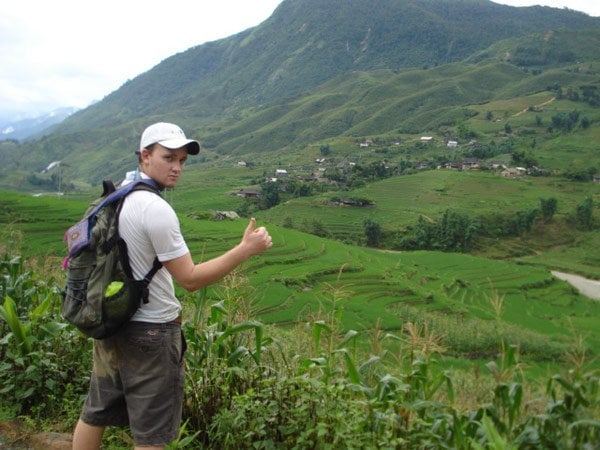 GO: Describe your day to day activities as a volunteer.
Spencer: My day to day activities varied depending on the day, but my average day was a refreshing mix of exciting bus rides, intriguing work, and fantastic street food. I would start the day with a bowl of pho (Vietnamese soup) from a restaurant right outside my dorm style apartment. I would then stroll to the bus stop and wait side by side with locals for the bus to arrive. When I finally got to my office, I would cool off and prepare for the day. I would be sent a list of documents that needed editing from different people within the organization. After I finished that task, I would read business literature and write short summaries to help my co-workers make recommendations to possible social entrepreneurs. Between these two main tasks, I would make time to enjoy local street food with my coworkers. The food was fantastic and an aspect of my trip that I still miss to this day. In the evening, I would sit with my fellow volunteers and enjoy an ice chilled beer as we discussed our days and different life experiences. When I had time off, I travel to different regions of the country with other volunteers. I found these trips to be the highlights of my whole experience. Vietnam is a very scenic country and offers experiences that range from hiking in the jungle to sitting on a beach sipping a fruit cocktail.
GO: How has this experience helped you grow personally and professionally?
Spencer: My trip to Vietnam has had a substantial impact on my life - and one that has inspired me to teach English in China upon my graduation in May. I found myself seeing life through a much broader looking glass. Making it clear that getting a regular desk job was not an option quite yet. There is so much more of this world I want to experience and learn about. Teaching English in China will both benefit me professionally as well as metaphysically. My experience in Vietnam showed me these beauties, and made it impossible to ignore this desire.
At my young age, I was afforded an opportunity that most people don't have. Growing up in a country like the United States allows its citizens options few people have. Most people allow these opportunities to fall by the wayside, which is disappointing. If I had one piece of advice for students, I would encourage them to explore the option of using a volunteer related job experience as an alternative to a typical summer internship program. The reward will be much greater than any monetary return they will receive otherwise.
Meet Ai Yamasaki, UBELONG Vietnam volunteer alum
GO:Why did you decide to volunteer with UBELONG in Vietnam?
Ai: I heard about UBELONG through a friend of a friend (essentially a stranger), which is not always a reliable source, but I decided to go for it and apply to the program in Ho Chi Minh City, Vietnam. I wasn't sure what to expect, but from the very first email that UBELONG sent me, I could tell that I had made a good choice. They were so helpful, attentive, and supportive, even connecting with me on Skype to make sure that I was adequately prepared to embark on my journey. They talked to my parents, answered all my questions, and calmed some of my fears before I left to immerse myself in a new culture. I could not have been more satisfied with the way UBELONG guided me through!
GO: Describe your day to day activities as a volunteer.
Ai: In Ho Chi Minh City, my day-to-day activities included: grabbing a home-cooked breakfast, catching the bus, teaching an English class at a local elementary school in the city, eating lunch, going to another site to teach English to local volunteers, then coming back home and taking a rest. Some days I would also have a Vietnamese lesson, where the same volunteers would teach me common phrases in their language. Usually I would have one day off per week, and I used the weekends to travel out of Saigon to the Mekong Delta, to Da Lat, etc. It was very easy and cheap to plan such tours, which were typically bus tours with food and hotels booked in. During the evening hours, I often met up with my fellow volunteer teachers at a nearby cafe to relax while brainstorming ideas for the next day's lesson.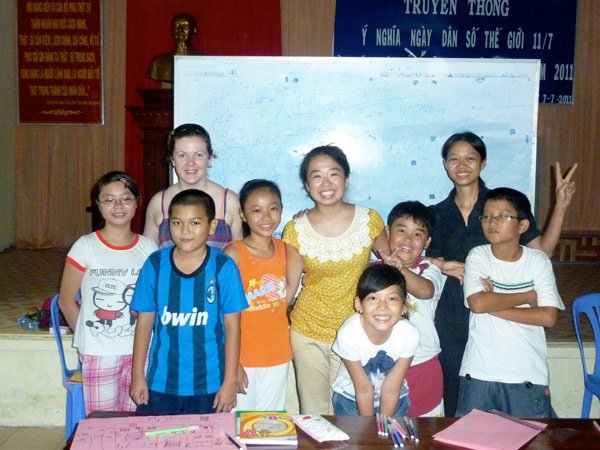 GO: How has this experience impacted your future?
Ai: In high school, I had dreamed of volunteering abroad, but I never thought that I would be able to do so. I love kids, I love to volunteer, I love to teach, and most of all, to travel. Being a bilingual first generation Asian American, I have always been fascinated by new languages and cultures. On this trip, not only did I have the chance to learn about Vietnamese culture, I also made friends with the other international volunteers from Britain, France, Ireland, and Australia. I was proud because I even had several chances to correct European stereotypes about Americans.
The month I spent in Vietnam was not only an eye-opening experience, but it was also a push for me to grow as a person. At home amongst my peers, I was relatively shy and reserved, keeping my thoughts and opinions to myself. Being a role model to the children and a cultural ambassador with the volunteers, I found myself becoming more confident and outwardly compassionate. I learned how important it was to express yourself, to have an open mind, and to love! What makes us fundamentally human is our ability to think, share, create, and of course, to change; although I feel as though I am still in the process of self-discovery, my experience in Vietnam definitely put a whole new perspective on my true self. I am eternally grateful for UBELONG and all of the people I met in Ho Chi Minh City for such an incredible trip!
Further Info
About UBELONG
UBELONG is the most affordable, professional and supportive international volunteering organization in the world.
Volunteer abroad in Africa, Asia and Latin America from 1 week to 6 months.
We are based in Washington, DC and led by volunteers and leading university professors.
WHAT can you do?
Through our Volunteer Abroad program, for periods of one week to six months live in a community and volunteer on a community or environmental project.
WHERE can you go?
Asia: Cambodia, Vietnam and Laos
Latin America: Ecuador and Peru
Africa: Ghana, Morocco and South Africa
WHEN can you go?
Projects run year-round and you can join from one week to six months.
HOW much do you pay?
Costs start as low as US$350 for a 1 week placement.
Among other world-class services, you work 1 on 1 with a UBELONG Mentor and receive a Preparation Briefing, in-country orientation, housing, meals, project supervision and 24/7 support.
All of Their Programs