Join Volunteering India to travel and make a difference in New Delhi, India! Volunteering India offers a variety of types of volunteer projects. Volunteering India works with local organizations to guarantee the most positive social impact possible. Volunteers can work with in many different fields including: childcare, women's empowerment, orphanage work, and more. Volunteering India offers their programs throughout the year starting at $249 USD. Projects can last from one to 8 weeks, summer and group/family trips are also popular. Check out the Volunteering India site for more information!
Reviews
Alumni Interviews
Meet Lucy Cullivan, Volunteering India - India alum
Lucia Cullivan is from Dublin Ireland, is currently doing Masters in Dispute Resolution in Dublin. In 2010 she graduated from UCD Dublin with a Bachelor of Financial Services degree. She currently works for a Bank as an Operations Manager. She enjoys travelling, walking, reading and spending time with her family. She went to India in March 2012 to volunteer in the 'Street Children Project' in Delhi.
GO: Why did you decide to volunteer with Volunteering India in Dehli?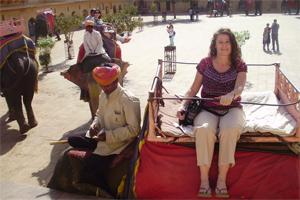 Lucia: When I chose to do some foreign volunteering, I had not decided where to go in the world until I seen a lot of websites promoting India as a place to volunteer.
Prior to my trip I did a lot of research on Volunteering companies and chose to go with Volunteering India, because the website was very informative, the general feedback was good and it gave me the confidence to choose to volunteer with them. Once I paid the deposit and the fee, I was a bit nervous until I received the Pre Departure booklet, which was excellent. This then gave me even more confidence in my choice. All pre departure questions were answered by email very promptly.
GO: What made this experience unique and special?
Lucia: This was my first time to volunteer abroad, and spending time with the children and the warm greetings from the children each day when we arrived at the project I will always remember. The children really like spending time with the volunteers and are fascinated by the culture differences and are inquisitive and interested.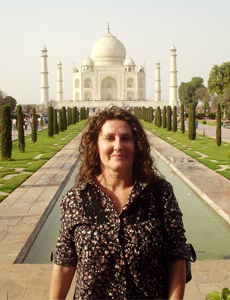 I was also allowed to experience the children's home life and the welcome we received from their families was very humbling. We were made to feel that we made a difference by being there. It was also good to meet and spend time with other volunteers to hear their stories.
GO: How has this experience impacted your future?
Lucia: The children are never far from my mind since I returned to Ireland. I can still see their smiling faces. I would like to return again to India to volunteer again some day. I went home wanting to give more practical help for'' the Street Children Project'' which unfortunately I have not done yet, but will make arrangements soon when I have the time e.g. sending school supplies, organising fund raising etc. I admire the project members in India who turn up each day to make sure these children get some education they are truly to be admired and revered.
Meet Thomas Carroll, Volunteering India - India alum
Thomas Carroll is from Newry, Northern Ireland and currently teaches children with Emotional and Behavioural difficulties in Belfast. He travelled to participate in the street children program in New Delhi, India from July 2nd until July 22nd 2011. He enjoys sports in particular football, travelling and not taking life too seriously!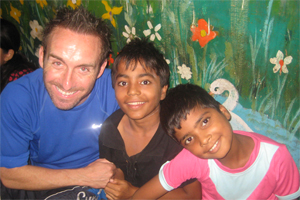 GO: Why did you decide to volunteer with Volunteering India in India?
Thomas: I decided to volunteer abroad with Volunteering India as it offered the best combination of affordability, quality of program and most importantly for myself flexibility. Most other programs seemed very prescriptive in terms of dates and such whereas Volunteering India allowed me to determine how many days or weeks I could commit to.
GO: Describe your day to day activities as a volunteer.
Thomas: A typical day involved an exciting adventure on the New Delhi rickshaw / bus network to and from the street children project near Mori Gate. During the day I was afforded the opportunity to be creative in terms of education and a variety of fun strategies (including some questionable singing) were employed to impart the teaching of English to some very enthusiastic street children! The evening were a chance to sample the wonders of New Delhi especially the huge range of incredible street markets as well as things like going to see a Bollywood film in the cinema or touring some of the amazing historical and cultural sites. (Going to visit the site of Mahatma Gandhi's home and place where he died was particularly moving).
GO: What made this experience unique and special?
Thomas: What made the experience of volunteering in India both unique and special was the opportunity to work with people from across the world as part of a team to do something to give back to others, particularly those most in need. It was the chance to use my skill set as a teacher to work with young street children who are not afforded the most basic of human rights and it was an absolute privilege.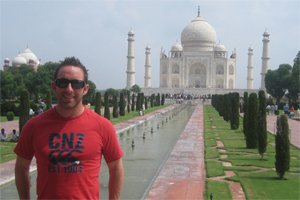 GO: How has this experience impacted your future?
Thomas: Personally the volunteering experience in New Delhi serves as a continuing reminder to myself of how challenging and difficult life is for others and how lucky and fortunate I am in my own life. I will never forget the smiling faces and the simple appreciation of children when I gave them something as simple as a sticker on their books. I should also mention what wonderful hosts Volunteering India were and how they provided the platform for an incredible experience in India.
Meet Sally Smith, Volunteering India alum
Sally is from New York, USA. She is currently studying mathematics and education at the University of Buffalo. She is a dancer, she loves to bake cookies, and to travel.
GO: Why did you decide to volunteer with Volunteering India?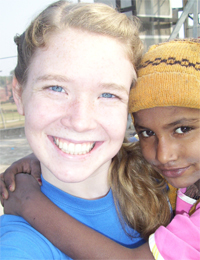 Sally: I decided to volunteer abroad with Volunteering India because when I was researching possible programs that would allow me to volunteer in India they had the most comprehensive program. I wanted an organization that would provide food and lodging at a reasonable price.
Another reason I decided to Volunteer with Volunteering India is because they offered a week orientation where they teach some useful Hindi phrases and you go sight-seeing with a staff member who shows you around to all the important places, including the Taj Mahal! For me Volunteering India had the best program, with the best reputation, and the lowest price.
GO: Describe your day to day activities as a volunteer.
Sally: A typical day during my stay started with an early breakfast, around 8:30. After breakfast I had about an hour to get ready before catching the bus to my placement. The bus was usually packed full of people on their way to work. I rode the bus for about half an hour, and the bus stop was just a two minute walk to my placement.
The first half of the day was dedicated more towards educational lessons and I would work with a small group of children on the alphabet, numbers, or building vocabulary. I had an hour break for lunch, I went to a local cafe. When I returned the afternoon had a little more time for lessons and then the activities switched to something fun for the kids. Sometimes we would sing, go to the park, dance, or color. When I left the center I would either return home or go sight seeing around New Delhi. Dinner was provided and I would often go out after dinner with other volunteers to different markets, or to walk around town.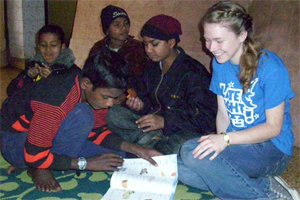 GO: What made this experience unique and special?
Sally: I can honestly say that volunteering in India has been the most rewarding experience in my life. I had traveled previously, but only as a tourist. This was the first time that I had been truly submerged in the culture of a different country, and one that is so unlike the culture of the USA. The children that I worked with in India didn't have homes, and only had one or two pairs of clothes.
Despite this whenever someone would donate any type of food they would always try to give me some of what they had before eating it themselves. The children always had smiles on their faces, and it was this selflessness and joy that is prominent in my mind. To see children who appreciate everything they are given was wonderful.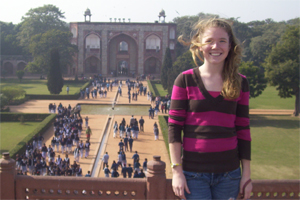 GO: How has this experience impacted your future?
Sally: This experience has definitely impacted me in a big way. I plan on returning to India as soon as I can so I can volunteer again. This experience opened my eyes to new cultures and has inspired me to volunteer abroad in other places as well. This spring I plan on traveling to South America to teach English to children there as well.
I don't think I would have the courage to do this if it had not been for such a positive experience in India. This experience caused me to have a new outlook on life. If these children could be happy with nothing, I should be even happier with all the opportunities I have in life. This trip has given me a new appreciation of my life, and a new desire to learn about the lives of others
Meet Sarah Dufour, Volunteering India-New Dehli volunteer
Sarah is from Pennsylvania and is 19 years old. She is a sophomore in college at the Pennsylvania State University (Penn State). She is studying Poverty and Development in the Eastern World and hopefully minoring in Political Science and Middle Eastern Studies. She likes to spend time with her friends and family.
GO: Why did you decide to intern with Volunteering India in New Dehli?
Sarah: I decided to volunteer in India because I have always had an interest in the culture and it was on the top of my list of places to travel to. I chose Delhi because of the Street Children Program. I am very interested in poverty in the eastern world and I wanted to experience it up close and personal.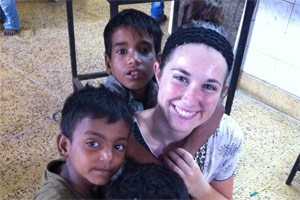 GO: Describe your day to day activities as an intern.
Sarah: As a volunteer I stayed in a dorm like setting with other volunteers. We would wake up in the morning and eat breakfast in our host family's kitchen (which they would provide). After we got ready for work and headed out. I rode the public bus 45 minutes to my center. At the center I taught the kids some basic English. I had an hour lunch break where other volunteers and I would go into the market and get lunch. After lunch I went back and played games with the kids. At 4:00 I would ride the bus back home for dinner with my host family. After dinner the volunteers were free to do what they wanted. We would often go to the local markets, go sightseeing, or just relax around the room.
GO: What made this experience unique and special?
Sarah: This was my first volunteer abroad trip so all of it was new to me. It was special to me because I met amazing people. My host family and the program staff were all incredibly nice. I made friends with other volunteers that will last a lifetime. And I had close relationships with some of the kids at the center. Being immersed in a new culture was really neat as well. I feel like I wasn't only seeing Delhi but I lived there for close to a month.
GO: How has this experience impacted your future?
Sarah: This experience was my first view of what true destitute poverty looks like in person. I will never forget what I saw and the people I met. Although I am no longer in Delhi I am keeping connections with the center I worked at by sending two of their students to school! I will pay yearly for this and I am so thrilled about it. I get to stay in touch with them for the years to come and watch the children progress everyday. It has affected me personally by defining my views on the world and different cultures. It allowed me to really break out of my secluded American bubble. It has affected me professionally by helping me decide what I want to do after I graduate.
Further Info
About Volunteering India
An effort, as small as spending time helping others, can go a long way in bringing change in lives of many. The sheer feeling of accomplishment or joy that you get by lending a helping hand to people and organizations can be quite overwhelming.
We at Volunteering India, provide you with the opportunity to participate in projects dealing with health, community development, child education, disadvantaged residents and many more. We aim to improve the living conditions of the locals in India and need your support for doing so. These projects will not only help the less fortunate but also help you as a volunteer to know another culture, may be another language and make new friends for life.
All of Their Programs