Volunteer Abroad
50 Things I Learned Volunteering Abroad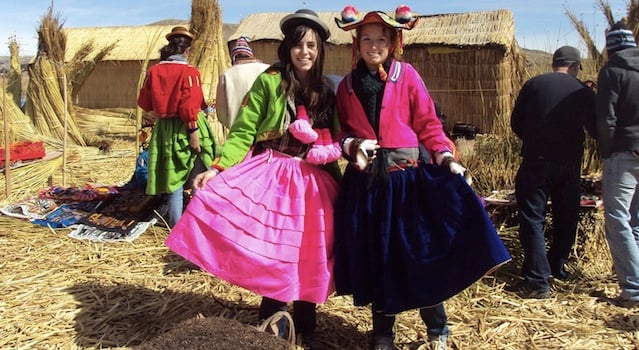 Growing up in California, I always knew that cultural experiences were important to me. Surrounded by Spanish-speakers and immigrants from countries I couldn't place on a map, I became intrigued. I started taking Spanish classes in seventh grade. Not only did I quickly fall in love with the language, but I also discovered how fond I was of the culture, the food, the history, and the people. After all, the world wouldn't be what it is without cultures embracing each other and sharing their passions.
My first trip abroad was a family excursion to Italy after high school. Out of all of the famous and historical and breathtaking attractions that Rome and Florence have to offer, the Colosseum stood out to me the most. The giant structure was a reminder of the wondrous ingenuity that the ancient Romans embodied. While I was appreciative to have taken this luxury trip to some of the most famous tourist spots on the planet, I was still yearning for a different experience.
As I worked my way through college, Spanish classes had become more advanced; I had read short novels all in Spanish and was more enthralled with the culture than ever. But nothing in a classroom would have fully prepared me for my service learning trip to Peru during undergrad, which mixed volunteer projects with learning Spanish. It was an amazing and life changing experience, to say the least!
My next experience outside of the US took me on a solo volunteer trip to Oaxaca, Mexico. It was a natural progression of travel experiences - from family vacation in Italy, to college group service learning trip in Peru, to solo volunteer experience in Mexico - each more adventurous and immersive than the last.
What can you learn from volunteering? Besides learning a ton about myself and my own limits, here are 50 more things I learned while volunteering abroad.
Appreciate what you have. Volunteering in underdeveloped countries means facing new daily challenges. Try living a few months without things like clean tap water, wifi internet, smart phones, clean streets, and you will realize you've taken some things for granted.
The Spanish slang for "white girl" is guera (pronounced where-ah).
Combination of volunteering and education is the best way to go - take some language classes and at the very least be knowledgeable about your destination and the needs of the locals.
Try new food, especially local delicacies you won't find elsewhere. (Yes, even if that means chapulines, the Oaxacan grasshopper!)
Long-term programs are almost always better - more sustainable and more impactful.
Short-term programs can be just as impactful if you're with an organization that has a good relationship with the community.
Local culture, and I mean local, is important so immerse yourself in every way you can. Focus on what makes your foreign city unique, even within the national culture.
There's always more to do. Prioritize, but don't stress about doing and seeing every little thing.
Latin Americans are very proud.
Other cultures aren't always open to new opinions. Listen and learn in a new place before you share yours.
You don't have to know the language to teach it.
Stereotypes are for the birds. Even if you find some assumptions to be true, it's never right to generalize. I quickly debunked some misconceptions about Mexico while volunteering there.
Time somehow goes by faster when abroad. Appreciate and take advantage of every day you have.
You don't need technology. It can be scary to let go of that smartphone and get off the laptop but millions of people around the world survive without.
Pets in one country are food in another. Case in point - cuy (guinea pig) in Peru.
Homestays are the way to go.
If you're volunteering abroad on a long-term trip, it's definitely worth it to take a vacation from your volunteer vacation. Explore other sites the country has to offer.
Volunteering doesn't have to be expensive.
All too often, volunteering abroad becomes more about the volunteer than the community.
Not all volunteer programs are ethical. Do your research beforehand and be sure to read reviews of programs.
Not everyone should volunteer abroad. Find what's right for you.
No one back home will really understand your experience.
Being vegetarian doesn't mean the same thing abroad as it does at home. Even though I'd tell a waiter or my homestay family that I didn't eat meat, they would sometimes get confused and think chicken was part of my diet. My tip: be as clear as possible about the types of meat you eat and learn all of the local vocabulary for each food (other fab tips).
Long lunch breaks in Latin American culture are the best. (Late night and small dinners aren't though.)
Language barriers don't really need to be barriers.
Locals are inviting and friendly so don't be shy. Share your own culture as well.
Prepare as much as you can but don't have expectations.
NOTHING is open in Mexico on Sundays - so save this day for day trips and spending time with friends.
There may be a general sense of American stereotypes but people from other places are welcoming to Americans.
It's the little things you need to remember to pack - there were some days I don't know what I would have done without the little things I brought like my reusable water bottle and Advil and Nyquil.
Dia de los Muertos (Day of the Dead) is my favorite holiday.
It takes me about 2 months to feel completely at home and acclimated to a new country/city.
I am one of those white people who hate to see other white people while abroad. While in Mexico, I did not enjoy the surge of tourists.
Don't over pack, your suitcase will always be fuller on the way home.
600 people at a family reunion in Mexico is normal.
You can never be too polite. Learn "please" and "thank you" from the start.
Potential employers love hearing about your volunteer abroad experience.
Watching soap operas with your host mom is a great way to learn the language and bond at the same time.
Driving in Mexico, as in many foreign & underdeveloped countries, is scary.
There are cultural differences that take time to understand.
You can never take too many travel photos.
People really do appreciate your volunteer efforts.
Not all Mexicans are Catholic - my homestay family were practicing Mormons. Go figure.
Don't expect to change the world through your volunteer project. Making someone smile is pretty great though.
Traveling alone brings a sense of independence and strength.
You can find always similarities between yourself and new people, no matter how different you may both seem on the surface.
One volunteer trip usually ignites a passion that leads to many more.
You will never forget your experience or stop learning from it.
If you're on the fence about volunteering abroad, you should just do it!
The benefits of volunteering are endless. Clearly, traveling and volunteering has taught me a lot - and I know it won't stop here. This list will continue to grow throughout my life. While meeting other travelers and working at Go Overseas as the Volunteer Abroad Director, I have had many opportunities to see the difference volunteering abroad can make in a person's life.
What has traveling and volunteering abroad taught you?