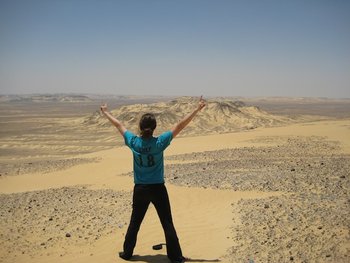 Remember that scene in Sex in the City 2 where Samantha almost gets in big trouble for making out on the Abu Dhabi beach? Well, you may have laughed, but it's not exactly a joke. Pull a stunt like that in some countries and your hot night out will land you in some very hot water.
While ladies on the road must always take extra safety precautions, women traveling to countries where gender equality is far from the norm must keep a lot more in mind.
Though in male-dominated societies, women must sometimes (literally) take a back seat, there are still many ways to stay empowered. Follow these six tips and you'll be able to enjoy your travels without much hassle:
1. Cover up
Don't be one of those naïve tourists riding a camel along the Sphinx in shorts and a tank. While your guide may not give you a hard time when he's accepting his pay, you'll have tons of trouble walking in the crowded streets. In Middle Eastern countries where the laws of Islam hold strong, it's best to bring along cardigans, loose pants, and long, flowing skirts.
While traveling in Fez, Morocco, a city much less touristy than Marrakesh, I found that my jeans and long-sleeved peasant blouse didn't even stop the stares. So, I bought a jallabiyah, a long pullover robe, to fit in with the rest of the crowd. Not only was I finally able to take in the colorful dyes and potent spices with ease, but the jallabiyah also kept me warm during my 12-hour overnight ride to the countryside.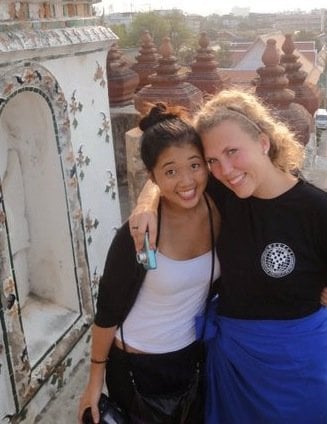 2. Put a ring on it
Remember the age-old tale in which Abraham's wife is taken away on their travels because he tells the royalty that she's his cousin? Not the best move! Fend off excessive male attention by putting a simple band on your ring finger—and letting people know you're taken!
Many women echo a common sentiment when traveling independently: to avoid awkward conversations and harassment with people you encounter, pretend to not be available (besides, no one wants to constantly defend their single lifestyle). Some women have gone so far as to call traveling partners of the opposite sex their "husband." Maybe it won't lead to any great romance, but it could leave you feeling calm and confident if you lose your way in twisted side streets. Men in traditionally patriarchal societies are more likely to leave women who appear "taken" alone.
3. Beware that "just friends" doesn't always translate
Though your best guy friend might actually just be your friend (despite some teasing here and there), platonic friendships don't exist everywhere in the world. Sometimes, casual one-on-one hang outs with a local man, such as grabbing some coffee, will be misinterpreted. If you give him your phone number, chances are you'll receive a slew of romantic text messages that coming week. Be clear (explicitly) in your conversations to make sure he understands your intentions are friendly only.
For example, take Emily's story. On a weekend getaway in Baños, Ecuador, Emily and her friends met a group of guys who could really dance and swapped phone numbers to meet up again. However, early the next morning the phone calls started and just didn't stop. Though the ladies never returned the calls—or affection—the men continued to send messages even after they had returned to their volunteer base in Ecuador. For weeks, Emily went to bed every night to the message, "Good night, my precious. May you dream of angels."
4. Escape the catcallers
If you're walking by yourself or with a group of women, don't be surprised if you hear a whistle, a cry, or a chain of words that make you blush. Often, you may be able to hold your head up and keep walking, but if these calls feel more threatening than rude, make sure to get out as soon as possible. Avoid walking alone late at night and stick to main streets that are well-lit. Do not give these men an opportunity for any funny business.
Should you ever feel in any danger, consider jumping in a cab versus walking home. The extra few Euros are a small price to pay for your safety. In a case where men do approach you in an aggressive manner, whip out some moves from that self-defense class you took last semester.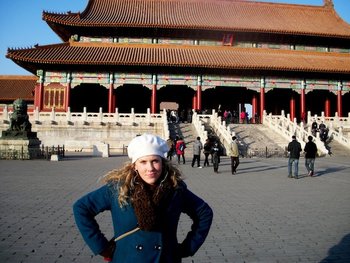 5. Take advantage of the women-only venues
Don't let all the men-only hubs get you down. Just check out the places that are exclusively open to you. If you feel like you're suffocating in typical places where men reign, opt instead to get creative and find activities that empower you.
Consider traveling in the women-only train cars, or catching a play in a local theater with a feminist emphasis. Many different countries will have women only bath houses for you to soak up, or consider letting loose in a belly-dancing or yoga class.
Share your femininity with your sisters around the planet.
6. Save your "Samantha" side for later
While living in Israel, a tiny country in the Middle East, my husband and I may find ourselves in an ultra-Orthodox Jewish neighborhood and an hour later surrounded by the bikini-clad on the beach. While in very religious neighborhoods like Meah Shearim, we make sure not to hold hands or even touch. But once back home in Tel Aviv, anything goes. While running along the water in the early afternoon, I see couples lying on each other in the sand as though they are in their own little world.
Read the crowd and behave accordingly. Avoid offending other cultures as you delve into their world. Look at these instances as learning opportunities - you may come back with a better appreciation for the gender equalities you enjoy in your home country.
Most importantly, don't let your fears stop you from traveling. Just arm yourself with the facts, take the necessary precautions, and get ready to explore!
What differences did you notice when you traveled in traditionally patriarchal societies?