Teach Abroad
7 Tips for Becoming a New ESL Teacher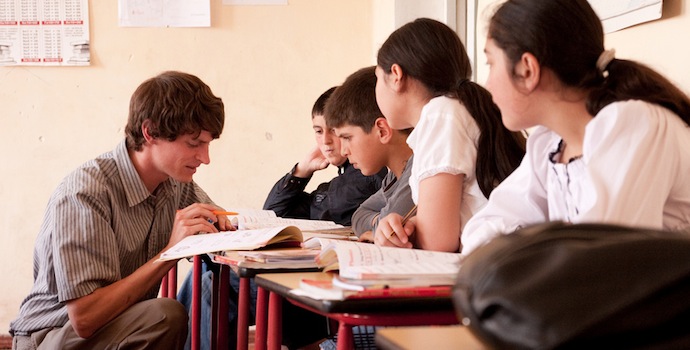 Photo Credit: Greenheart Travel
So you've probably done the hardest part. You've decided to pack up your life and go teach abroad - congrats! If you have zero teaching experience, fear not. Even if you've never explained a phrasal verb, much less lived abroad, it's normal to start questioning yourself as your plane glides away from that gate. Luckily, there's a wealth of information and people out there to help you prepare for this exciting experience.
From understanding your teaching contract, to acting confident in the classroom, here are some tips for new teachers to help you get off on the right start.
1. Understand your contract and take the time to find a good offer
Ok, first things first. It's easy to get swept up in the excitement of moving abroad and say yes to the first job offer. But before signing any dotted lines, stop and ask some questions. Megan Peet, who blogs about her two years teaching in Korea, has definitely picked up some wisdom along the way. "If you were promised things like housing, health insurance, or flight reimbursements, make sure those are stated clearly in your contract." Just because the online job listing presented a nice list of benefits and pay, doesn't mean it will magically be in your final contract. Make sure!
Samuel Jeffrey, who writes the Nomadic Samuel cultural travel blog, advises new TEFL teachers to take time to find the right position. "In many countries, such as South Korea, it's a teachers' market where there are always a plethora of teaching positions," he said. Fresh out of college, he eagerly accepted the first position offered to him in Seoul, but after more experience, he developed much higher standards. "I was able to sift through offers that weren't up to my standards while only accepting jobs that provided quality working conditions, full benefits, and a decent apartment. My biggest piece of advice is to do your research and to not necessarily accept your first offer," he said.
If you're teaching abroad through an organization like Reach to Teach or LanguageCorps, be hyper specific about your expectations. If you don't communicate these up front with them, then it is really hard to justify being upset if they place you somewhere that is less than your ideal.
Make sure your teaching contract covers:

Health insurance: Does your school provide coverage? How much?
Holidays or sick days: How much time off do you get? Is this paid time?
Hours: Make sure your schedule is clear in your contract. Do you have a weekly number of minimum or maximum teaching hours? What happens if you go over or under that? What's the school's overtime policy?
Housing: Does the school provide housing? Shared or private? Are utilities included?
Payment: Is your salary clearly listed? How will you be paid? How often?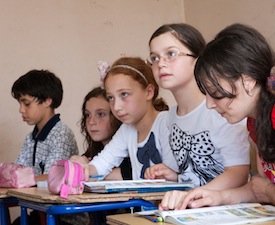 Photo Credit: Greenheart Travel
2. Reach out to fellow teachers for lesson-planning advice
Depending on your school, you may be required to follow a specific textbook or lesson format, while other schools will expect you to create your ESL lessons from scratch. If you're new to teaching, definitely reach out to more experienced teachers for lesson planning tips. Consider incorporating ESL games into your lesson plans, and be sure to cater your lessons to your students. Adults, teenagers, and children all respond and excel in the classroom to very different activities, so be mindful of teaching different ages.
I remember asking a local Chilean teacher about how she prepares lessons for so many different grade levels every week. She responded: "Make the students prepare something for you." She advised creating lesson plans that let the students create, like a presentation or group project, as opposed to you, the teacher, always scrambling to give. Be sure to have a number of ESL teaching tools on hand for more intensive projects.
My biggest piece of advice is to do your research and to not necessarily accept your first offer.
3. Confidence is the key to classroom management
Unpredictable situations are part of teaching (and life!), and staying calm is really the best advice. "Even if you aren't sure what to do, as long as you act in control, I believe the students see you as that," said Michelle Pernini, who taught classes of rambunctious 12-year-olds in Chile. Sure, there will be days you're frustrated, but it all boils down to how you can flow with these situations and stay calm. "Remember, all the preparation in the world will still be turned upside down when you enter the classroom," Pernini said, which is why being flexible and confident were her best tips.
Some tips to help you feel confident and prepared:

Go over rules on the first day: Before starting class, know how you'll handle bathroom breaks, cell phones in class, etc. On the first day, go over your expectations with your class so everyone's on the same page.
Use your voice: Your tone and volume have a lot of power. A loud, clear voice can help students stay engaged in your lessons. But a loud, stressed voice will convey nervousness. Keep your tone calm, and remember, the way you use your voice will influence everything!
Build rapport: When students respect you, you'll see a big difference in their behavior. But respect goes two-ways in the classroom, so show an interest in getting to know your students, and ask them how their day is going. When you forge individual connections, it really makes a difference.
Find your allies: The allies are the students who will help quiet their friends down when you're trying to get the group's attention - a big help!
Get advice!: Reading different blogs and articles (like The Beginner's Guide to Teaching Abroad) will set you on the right track.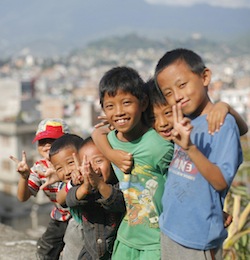 Photo Credit: Greenheart Travel
4. Make an effort to connect with your students
The first few weeks of teaching felt like a whirlwind of faces. To get off on the right foot, show students that you genuinely care about learning more about them. Respect flows both ways in the classroom, and when you work to create this mutual respect, classroom management will also become easier (Win!). Since you're living in a new country, ask students to tell you more about their culture and country. Chat with them after class if they're hanging around. End class everyday with a fun group activity to build the group's bond.
5. Be smart about housing
"During my first contract, I literally lived on a shack on top of a roof," Jeffrey said about his first job in Korea. "Looking back, I should have walked away from my job," he said. Your housing can make or break your teach abroad experience, so make sure you're clued into the standards before accepting.
Most schools in Korea offer modern studio apartments for foreign teachers, but occasionally, Jeffrey said a shady school will try to cut costs by placing teachers in substandard housing. What's substandard? It varies from country to country. For example, central heating might be rare (even in Seoul), so before you pass something up, recognize what's normal in your city or village. Korea's "villas" are older buildings, while the city's modern apartments have better insulation and amenities. But remember, there's a difference between an old, cramped apartment versus something that is dangerous or uninhabitable. This is where you ask questions!
Tips for finding good housing:

Talk to other teachers: Reach out to bloggers and past teachers from your school. Ask them about typical housing conditions and where most foreign teachers live.
Ask your employer to send you photos: Don't feel rude asking if your school can send you send photos of where you'll be living. If a school is unwilling, that raises some red flags.
6. Explore the new, but don't forget yourself
Whether it's ordering duck tongue, or hiking an active volcano, living abroad is a daily kaleidoscope of new experiences - that's what lures so many of us overseas! While you're encouraged to explore and break out of the comfort zone, don't forget old hobbies. Familiar rituals can help you keep anchored while you're adapting. Whether you're a vegetarian and want to continue being a vegetarian abroad, or love jogging every morning, don't feel that you must completely forget your passions just because you're in a new country.
The first few weeks of teaching felt like a whirlwind of faces. To get off on the right foot, show students that you genuinely care about learning more about them. Respect flows both ways in the classroom, and when you work to create this mutual respect, classroom management will also become easier.
With smart research and an open mind, you're ready to go! Everything else now rests on your flexibility, sense of humor, and attitude. "Expect ups and downs, but enjoy every minute of it because it'll be over before you know it! " is Peet's advice for new TEFL teachers. "You're about to have one of the greatest adventures of your life!"