AGA Announces Their 2015 Study Abroad Scholarship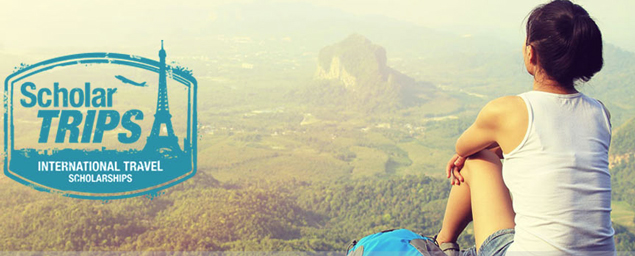 Get excited, to-be study abroaders; Allianz Global Assistance (AGA) has just announced the launch of their 2015 Study Abroad Scholarship, ScholarTrips. This national scholarship will award six outstanding students with $2,500 to use towards a trip studying or volunteering abroad. Think of all that you can do with $2,500:
Fly roundtrip to France and pay your housing and food for a month (or more)
Cover the course fees for a Spanish immersion program in Costa Rica
Pay an entire semester's worth of living expenses in China
Travel, explore, say yes to experiences you'll never forget!
We get that studying abroad can be pricey, but fortunately there are companies like Allianz Global Assistance that believe so passionately in the power study abroad has in shaping students worldviews for the better, they want to help make it more accessible. So why is an insurance company sponsoring a scholarship? And what can you do to apply? Read on for the inside scoop.
Who Has Won Past ScholarTrips?
You may not have heard about this scholarship before, but this is actually the seventh year that AGA has helped support study abroad through scholarships.
This journey not only improved my German, but inspired me to continue international pursuits and develop a better understanding of the world.
The one big difference is that this year, they'll be giving out larger scholarships for the 2015 round to help winners cover more of the essential expenses, like flights, housing, program fees, and meals while abroad. Scholarship winners can apply the funds to their choice of a study abroad or a volunteer project.
Alana and Hayden: Study Abroad Students in Germany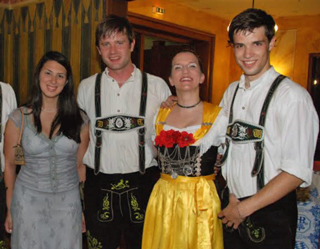 Alana, a past ScholarTrip winner ended up using her scholarship to spend study abroad in Germany. She spent her time there immersing herself in German language and culture while living with a host family.
As Alana says, "this journey not only improved my German, but inspired me to continue international pursuits and develop a better understanding of the world. I am determined to continue my passion for international travel and a lifetime as a global citizen and world traveler."
Similarly, another ScholarTrip winner named Hayden also spent time in Germany as a result of the scholarship. For him, the three weeks he spent on an exchange was a huge opportunity that influenced his future career goals.
"By living with a German family for three weeks, I was able to gain a greater appreciation for their language, culture and customs. With this experience, the knowledge and understanding that I have gained will affect me personally as well as when I apply for a job after graduating college," says Hayden.
Ryan: Volunteering in Nicaragua
On the other end of the spectrum, ScholarTrip winner Ryan, put his scholarship towards a service learning trip in Nicaragua where he and his group of fellow volunteers helped with construction work on a home and a new elementary school in the rural community of Las Perlas.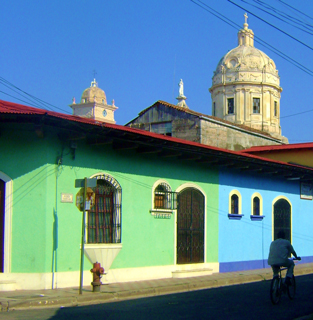 "Each
 day held new surprises, whether it was waking up to the sound of roosters or having a balloon fight with all the local children," says Ryan of the experience. "Despite the ever-present poverty, Nicaragua is never short of sights to see... The people of Las Perlas did everything in their power to make us feel at home, including amazing us by making do with their limited resources to feed over a dozen hungry teenagers. This was a once in a lifetime experience, and I recommend it to anyone who has a heart for adventure."
Why Does AGA Want You to Study Abroad?
AGA, an insurance company which works in 34 countries, has long supported travelers as they explore through travel, event, and consumer speciality insurances. Their team is dedicated, compassionate, altruistic, and, perhaps most importantly, international.
They know first hand how important study or volunteer abroad experience is and they have benefitted from it themselves. This scholarship is a passion project for them; a way for them to "pay it forward" so to speak, and help others fall in love with their own little corner of the world.
"This scholarship program is very dear to our hearts at Allianz Global Assistance," says Anna Sofia Font Mera, a Digital Marketing Analyst at AGA. "Many of us here were incredibly lucky and grateful to have had an experience abroad early in our lives and we constantly talk about the impact those experiences had in our development and daily lives."
AGA team member Ingrid spent four years in Australia studying and working. "For me the most valuable take away was getting to know myself and becoming somebody I love till this day," she says. Her colleague Kristin graduated from an international high school in Venezuela, fluent in Spanish, and said, "it gave me experience with different cultures, languages, viewpoints, and an appreciation and awareness for my own country and culture."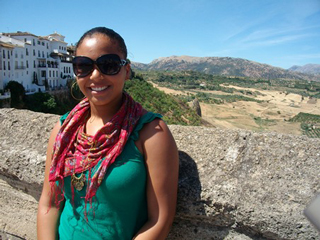 Joe, AGA's Chief Marketing Officer, perhaps sums it up best: "There's not a textbook, website, or TV show that can compare to actually experiencing the sights, sounds, and cultures of a foreign country. We created ScholarTrips to give students an opportunity to see what the world has to offer as we believe there's no better complement to their education."
As the world gets smaller, this sort of international experience at a young age is imperative for creating a more understanding global community, and building thoughtful members of said community.
How to Apply to ScholarTrips
To apply for the ScholarTrips scholarship, you must be a high school or university student 14 years or older and currently reside in the United States.
To apply, first pick a place outside of the United States that you want to travel to, and submit a 60-90 second video OR a 500-word essay that answers the question: How can international travel impact your life?
Allianz will determine the six winners based on their evaluation of:
Creativity
Uniqueness
Message and appropriateness to message
You can submit your applications from October 12 to November 13 and the winners will be announced December 7, 2015.
So get filming or writing and explain how being abroad will change you. It might be because you can't resist the allure of living somewhere new for a few months, but we're also willing to bet it's because you'll learn about your world, yourself, and become a more well rounded person for it. Not to mention, you probably have a better chance at winning than you realize... just not if you don't apply!