How One Woman Avoided the Student Debt Crisis and Traveled the World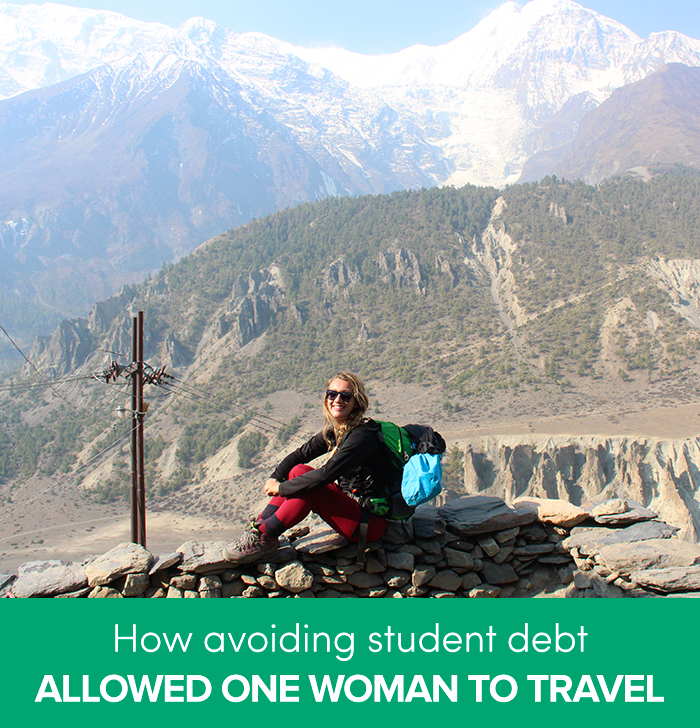 Before I turned 18, I'd never left the country. Almost 10 years later, I've traveled to 54 countries and worked in over a dozen, including South Africa, Nigeria, Mongolia, Egypt, Qatar, and Paraguay. I've worked with the Presidents and Central Bank Governors of countries all over the world, and speak two other languages fluently (Chinese and Spanish).
I started bussing tables and waitressing at the age of 15, socking away tips to pay for college (or so that was the idea).
When I think of what's enabled me to land my dream job and live the lifestyle I've always wanted but never thought possible, one main element comes to mind: my lack of student debt. I had avoided being a part of the student debt crisis.
My Choices Before College Set Me Up to Avoid Student Debt
I come from a hardworking, blue-collar family from Buffalo, New York, so I knew early on that my parents weren't going to be able to pick up the tuition bills. That fact never discouraged me, it just made me work harder.
I started bussing tables and waitressing at the age of 15, socking away tips to pay for college (or so that was the idea). But with the ever-rising cost of higher education in America, I knew my $5,000 in savings were never going to cut it.
Fortunately, I was also president of my class, head of multiple student organizations, and a Varsity cheerleader. With a 4.0, I was your classic over-achiever, but it's because I knew I had one chance to make it out of my hometown and become the first person in my immediate family to hold a college degree. I had a fire under my butt.
I applied to 13 universities and was accepted at all of them, but I'll never forget the day a letter came from the University of North Carolina at Chapel Hill: I had been awarded a full four-year scholarship worth $140,000. I remember putting down the letter and crying for a very long time.
I was still undecided, however, because society told me I should attend the most prestigious school I could afford, no matter the price tag. I could just take out student loans!
I had been admitted to a few Ivy League schools and, unaware of what that kind of money really meant, thought $50,000 worth of debt wasn't a terrible price tag for being able to put that name on my resume for the rest of my life.
Fortunately, I was graced with, well, sheer blind luck and wound up choosing the full ride. I went on to the four happiest years of my life at UNC (Go Heels!).
It Also Affected My Career Significantly
Looking back, the choice I made at 17 to stay out of student debt affected the first decade of my career in the most positive way imaginable.
Not everyone will have the choice to stay out of debt, but many people have the choice between $10,000 and $60,000 worth of debt.
Most of my peers had their student loans in mind when they chose their first jobs after graduation (and statistics say 70% of millennials are unhappy in the workforce). I didn't have to think about loan repayments when I chose my first job out of college. And I didn't have to think about student loan repayments when I quit my first job out of college.
I was working as a management consultant in NYC, but desperately wanted to work overseas. I took a leap of faith and got hired in my dream role in international media sales and worked in a new country every three months for three years... and counting.
And I didn't have to think about student loan repayments when I took a gap year to develop a freelance writing and coaching business this year. I traveled through Europe and Asia for 14 months while pursuing my low-paying passion. And I knew it was true when it occurred to me, "If I was in debt, I'd never be able to do this."
A Few Caveats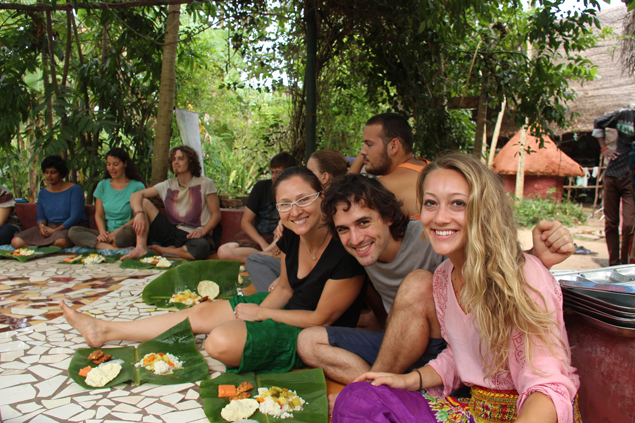 I know, I was incredibly lucky. I worked hard, but I was also incredibly lucky. I know not everyone will have the choice to stay out of debt, but many people have the choice between $10,000 and $60,000 worth of debt, between applying to scholarships and not even trying, between working part-time while going to school and not, between going into debt for a "prestigious" school and attending a perfectly fine but far more affordable option, and between taking out public or private loans (public tend to be more well-regulated and subject to less predatory practices).
I don't tell you my story to make you feel bad if you are in debt. I tell you this because:
You might be in a position to get an education without going into debt (or going into less debt) and I'd like to give you more reasons why you should do that,
You might be a young professional considering going into debt for graduate school, and I'd like to ask you to be very sure that's the right move,
You might already be in debt, but your younger siblings, friends, neighbors, and someday your children, aren't, so you can share this article and help inspire them, OR...
You might be a budding entrepreneur who can help find private sector solutions to America's student debt crisis and build a happier, freer future for our country. Just look at WeFinance, Student Loan Hero, and Common Bond.
The Core Message
While being debt-free certainly facilitated a lot more opportunities to say yes, say no, and pack up and travel that I'd like more people to be aware of and be able to have, it isn't a complete barrier to spending time overseas.
Some volunteer organizations like the Peace Corps qualify you for loan deferments or you can even pay off your debt while making money teaching abroad. You just have to get creative, and most importantly, practice sound financial habits to get yourself out of debt as quickly as possible.
And if you're applying to college or considering grad school, be very wary of going into debt or go into as little as possible. You may be sacrificing much more than you're gaining by going for that name brand.
Tips for Avoiding Debt (or More Debt)
Apply for scholarships, even the smaller ones. Competition may be less than you think and many online companies have created scholarships as part of their public relations or CSR programs.
Plan to work part-time while in school or over the summers.
Choose public loans over private loans when possible.
Take IB/AP courses that will transfer as credits to your college degree, possibly allowing you to graduate early.
Consider taking the more affordable option.
Identify a practical career direction before going to graduate school. Is it 100% necessary?
Think about getting your degree from European and Asian schools that offer low-to-no cost for American students.
Explore gap years or read about studying abroad with student loans.