5 Budget Tips for Traveling while Studying High School Abroad in Spain
So you're spending some time studying in Spain while in high school? You're in for a treat, as your new home is full of geographical, linguistic, and gastronomical diversity. From mountains to beaches, Spanish to Catalán, and seafood to steak, your traveling options in Spain are best defined by the phrase "too much to see, too little time."
So you're spending some time studying in Spain while in high school? You're in for a treat, as your new home is full of geographical, linguistic, and gastronomical diversity. From mountains to beaches, Spanish to Catalán, and seafood to steak, your traveling options in Spain are best defined by the phrase "too much to see, too little time."
To avoid adding the phrase "too much to see, too little money" to your vocabulary, follow these tips while traveling in Spain to enjoy what the Iberian Peninsula has to offer without breaking the bank.
1. Know Your Renfe (The Spanish National Train System)
When traveling between large cities, the cheapest option is often the bus in Spain. However, when you're planning a short getaway and don't have enough time to spend an entire day in transit (these bus rides can be upwards of six hours), the most convenient option is often the high-speed train, known in Spain as the AVE. With limited stops along the way, AVE trains connect major cities like Madrid, Barcelona, Valencia, Málaga and Seville.
To get a good deal on the AVE, it's best to book in advance. However, don't despair if you and your friends have a sudden urge to pack up and see a new city three days from now—if you travel in a group of 4 (or any multiple of 4, for that matter), you can book a mesa (table) on the train. This consists of two seats facing in one direction and two in the other, with, not surprisingly, a table in the middle, for as much as 50% off the regular price per person.
Don't have three buddies to go with? Check out Compartemesa to see if you can join up with other travelers to jump on this amazing discount.
2. Take Day Trips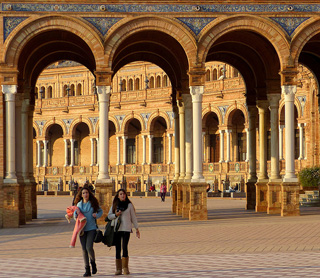 While there's no doubt you'll want to see Puerta del Sol in Madrid, La Sagrada Familia in Barcelona, and La Alhambra in Granada, one of the best things about Spain is its rich offerings in smaller cities and towns that can be visited in one day's time, saving you money on accommodation.
Transportation is usually cheap too, and to make these excursions even more affordable, you can always pack a picnic lunch. Not only are day trips budget-friendly and high on the ease-of-spontaneity scale, they also allow you to get a more thorough understanding of the local culture of the region where you're living.
And best of all, by opting for day trips as opposed to overnight excursions, you want have to contact mom and dad to tell them you need extra spending money.
Some Suggested Day Trips:
From Madrid, you can visit Toledo, Segovia, Alcalá de Henares, Aranjuez, and more
From Seville, try Itálica, Carmona, or Ronda, among others.
From Barcelona, your options include, but are certainly not limited to Girona, Tarragona and, Sitges.
And the list goes on…
If your home base is not one of these big three, or you exhaust these options and are looking for more, the countless blogs and travel forums that dot the web, your host family, people at school, and local friends should all be able to give you some great tips -- and perhaps even join in for the fun! After all, you'll likely only be attending a high school program in Spain once, so make the most of it and explore as much as you can.
3. Take Advantage of Free Activities
It's unlikely that you'll come across a free all-you-can-eat buffet in your travels throughout Spain, but that doesn't mean you'll have to pay for everything you see and do -- especially if you're traveling in Spain to contextualize what you're learning about in school!
One of the best freebies are the free walking tours that are available in most major cities. Depending on the city and the company, tours are either general (i.e. "Seville") or themed (i.e. "Gaudí's Architecture in Barcelona"). The logistics are simple: you meet your tour guide at a specified time and central location and enjoy a two or three hour tour, by foot, with a knowledgeable local.
Tours are free of charge, though many people offer the guide a small tip at the end. This is a great way to see the city and learn the history and culture without having to do too much research or spend too much cash. Check out Runner Bean Tours (Barcelona), Ogo Tours (Madrid), Pancho Tours (Seville, Málaga, Cádiz), and Granatours (Granada).
Student ID card benefits cover all aspects of life, from transportation to hostels to movie theaters to restaurants and beyond!
Speaking of free, before you visit a new city, it's also worth it to check out which monuments and museums are free on what days and times and organize your days accordingly. For example, Madrid's Thyssen-Bornemisza Art Museum is free on Mondays from 12pm to 4 pm, and Seville's Alcázar is free for one hour on Monday afternoons, depending on the season.
And what's the next best thing if it's not free? Discounted! Use your age to your advantage — many tourist attractions offer youth discounts with the simple flashing of any form of ID with a birth date. You can even get additional perks if you apply for an International Student ID Card, and/or a Spanish carnet jóven (youth card, available through the local government). Benefits cover all aspects of life, from transportation to hostels to movie theaters to restaurants and beyond. Even without these special cards, you can get discounts on airfare simply for being under 26 via STA Travel.
4. Anyone Got a Couch to Crash On?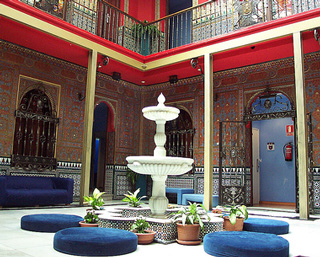 To save money on lodging, (and what high school student doesn't want to do that?) try to start your trip early in the morning rather than at night to save the cost of a night's stay.
If you are of the extremely adventurous (and frugal) persuasion, you can find places to stay for free on CouchSurfing (usually someone's couch, hence the name), or a campground. Worried about security? Ask your host family or friends if they have any family/friends in the city you're visiting who are willing to let you crash for a night or two.
One step up, pricewise, would be a hostel. Great sites to search are Hostel World and Hostel Bookers. Prices here vary depending on the location and quality of the hostel and the set-up of the room (number of beds, location of bathroom, etc.).
Finally, if comfort is of extreme importance to you but you don't want to break the bank on a hotel, try searching for a place to crash on AirBnB, a website on which people offer a room in their apartment, or their entire apartment, for short-term rent. Prices vary significantly, but a thorough search could find you a room for 15-20 euros/night, which is comparable to many hostels. Again, note that to use this service, you must be at least 18 years old.
5. Eat Carefully
There's no denying that one of the best parts of studying in Spain are all the local delicacies you get to try -– seafood in Galicia, paella in Valencia, ham in Extremadura…the list goes on. But with so many delicious, and admittedly sometimes pricey, treats to try, what's a high school student on a budget to do?
The best way to taste authentic food without breaking the bank is to do so at lunchtime by ordering the menú del día, or daily menu. Found at almost every restaurant all over Spain (due to a policy imposed by former dictator Francisco Franco decades ago), this two- or three-course meal is often around 10 euros, give or take a few depending on restaurant quality and location. This midday meal, usually eaten around 2 or 3 pm, will likely fill you up and allow you to go light at dinnertime.
Other options for affordable eating include street food and picnics from food markets. Plus, remember that most hostels and many AirBnB and CouchSurfing apartments offer kitchen access so you can prepare simple meals on the road as well.
Traveling in Spain is a dream come true for any high school student lucky enough to study abroad here, and will undoubtedly be something to remember until the rest of your life. Following these tips to save on cash while exploring Spain, you have no excuse but to see every corner of the Iberian Peninsula! ¡Pásalo bien!
Photo Credits: Plaza d'Espagna, Vanessa Gutierrez, and Ebifry.