Gap Year
Essential Tips for Your Au Pair Abroad Job Hunt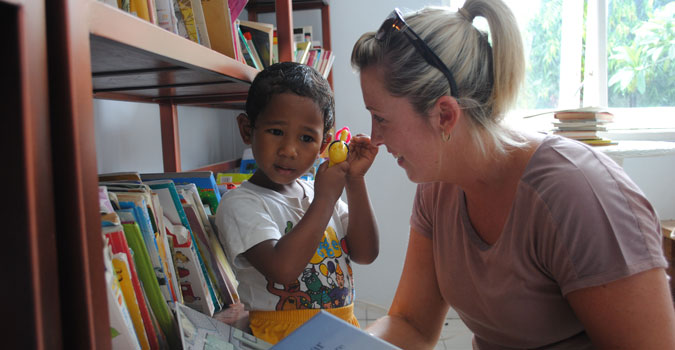 Au pairing abroadcan be an incredible experience. You get the opportunity to work abroad and become fully immersed in a foreign culture -- but without having to hit the books or work behind a desk!
Trying to find the right au pair job and the right family can be overwhelming.
But trying to find the right au pair job and the right family can be overwhelming. Throw in different laws and regulations, different expectations and compensations…. and…. your brain is probably spinning! Don't worry, we're here to help with these seven helpful tips on what you should know when you're looking for an au pair job abroad.
1. Make Sure You Know All That Is Expected of You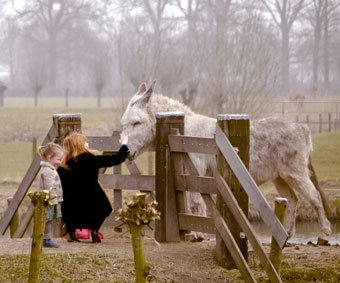 You'd hate to get all the way out there, start a new job and life, and find that you hate it (or discover that you're getting the short end of the stick!).
Generally speaking, au pairs help out with the children. They're responsible for taking them to school, playing with them, helping them with homework, etc. and sometimes also perform light housework -- though childcare should be by far your primary duty.
This can also vary depending on the time of year. During the school year you may find yourself with a lot of free time, while in the summer you could be working much more -- but who knows, you may also be accompanying your family on a holiday.
In exchange for your work, you will receive room and board, and often extra pocket money or a stipend of some sort as well. If you're living in a non-English speaking country, you may also receive assistance on language courses.
It's worth noting, however, that there are sacrifices to be made as an au pair, and you will not have the level of privacy or freedom you would have in most other international experiences.
2. Figure Out Where You Want to Go
Europe is by far the most popular destination for au pairs, but even narrowing it down to one continent is not enough to narrow your search. Pick a country -- or even better, pick a city, though it pays to be flexible for the right au pair host family or situation. Begin your search there.
While it's helpful if you have knowledge of the local language, it is not always necessary. Typically your host family will want you to use English (or your native language) with their kids.
Pick a country -- or even better, pick a city, though it pays to be flexible for the right au pair host family.
That being said, many au pairs opt to take language lessons in their free time and some au pair programs include this. (Some countries, like France, even require it if you're au pairing longer than a couple months.) Keep this in mind as well when you're choosing a destination.
Helpful Hint: No preference and unsure where to go? The Netherlands has a pretty sweet set up for au pairs, with a structured au pair program focused on cultural exchange. By law, agencies cannot charge you more than 34 Euros for their services. (Of course you must pay for visa, flight, etc.)
Then you are required to work no more than 8 hours/day, no more than 30 hours per week, with at least two days off. You are also guaranteed a minimum of two weeks paid vacation. And basic health insurance. You'll be paid 300-340 Euros per month. And your host family must contribute at least 320 euros toward language classes for you. Sounds pretty great, huh?
3. Decide How Long You Want to Au Pair Abroad
Many au pair gigs are a year long. However, if you don't have that much time to commit, there are often shorter term opportunities -- whether it's two or three months during the summer, or a 4-6 month job.
However, you will likely find yourself more limited in your opportunities in the shorter-term options, so be aware of this. Different countries have different limits (or minimums) so this may help make your decision for you.
Minimum/Maximums Duration for Au Pair (or Work & Holiday/Travel) Visas
Australia - maximum 6 months at one position if on Work & Holiday Visa
Belgium - up to 12 months (need a D-type Schengen visa after 3 months)
France - minimum of 3 months, maximum of 12 months but can be extended to up to 18 months
Germany - minimum of 6 months, maximum 12 months
Spain - maximum of one year, but can be extended another year
4. Decide the Best Way to Find Your Host Family
If you go through a program provider, you will be spending a chunk of change to find a family. However, you're guaranteed placement with a pre-screened host family, and likely one that has hosted au pairs before and knows the whole deal.
You'll also have support in figuring out how to get any required visas so you can be sure you're legal, and you will have someone to help you and back you up should any problems arise with your host family.
That being said, there are plenty of sites out there (free and fee-based) that have databases full of families looking for au pairs if you choose to search for an au pair job without an agency. For example:
Finding an au pair gig independently can be overwhelming, and there's less of a security blanket than with a program, but you can be as choosy as you'd like. You can select the exact family you want, based on their profile and location, and you can talk things out with them, Skype with them, and even ask to speak with previous au pairs if they've had them.
Other important considerations before choosing to use an agency
Situations vary program by program and family by family (and country by country!), but there are other factors besides room and board to consider when you're looking at jetting off to au pair abroad:
Know if you're going to have to pay for your airfare. Often you will, but sometimes it's partially or fully covered.
The same goes for visa fees, insurance, and even language class. Some programs include this (likely paired with higher fees) and some families cover some of this. Most times, you're on your own. But it's definitely a consideration!
Find out if other extras are included. If you're heading off to a country you've never been to, it can be overwhelming. Some programs offer in-country orientations and opportunities to participate in social activities and meet other au pairs in your area.
Decide how much structure and support you need. With program providers, you can typically expect to have a more set number of work hours (or guaranteed days off) and set weekly/monthly pay or stipend -- plus the support to back you up if you find yourself in a situation where your family isn't abiding by those set standards.
5. Research to Make Sure You Get the Right Situation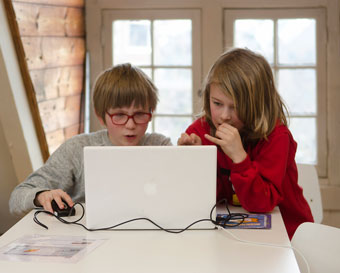 Once you've figured out where you want to go and found potential placements or programs, do your research to make sure you're going into the right situation for you.
Find out how much other au pairs in a similar area work (hours per week, days off per week, number of kids looked after), how much they get paid, extra benefits (i.e. cell phone, transportation, classes, etc.) and what kind of work they're doing.
Try to find out if you can reach out to past au pairs with your potential host family. Search Facebook and Google for au pair groups in the city or region you're looking at and try to speak to au pairs that are already there working. Get the scoop -- and make some ready-made friends for when you're abroad!
If you're looking at agencies, check out fees and what's included to make sure you're getting a decent deal. Compare similar programs against each other.
If you're doing things on your own, make sure that you're following all the rules and are going to be there legally. Some countries have specific laws protecting au pairs, so make sure your host family isn't try to circumvent any of them.
On the flip side, some families offer tons of extra "bonuses" -- paying for some of your airfare, a cell phone, transportation passes, you name it. Find out what the going "rewards" rate is in your host country and see if you can negotiate some bonuses for yourself!
6. Know the Visa Requirements -- and Look Them up Early!
Perhaps most important, make sure you're eligible to work abroad! The age range for serving as an au pair is typically 18-30, though this can vary country by country.
Why would there be an age range, you ask? Because you are typically au pairing under a special visa, and these are limited to certain ages. (In Europe you are sometimes on an au pair visa, in Australia or New Zealand you would likely be on a Work and Holiday visa.)
The sooner you start researching visas, the better.
Do your research early to know what might be required to apply for your visa (like a background check) and how long it might take. Some can take months, and some require you to show up in person to a consular office (which may not be close to you and may require you to book appointments weeks or months in advance!), and ultimately could affect where you decide to go in the end.
The sooner you start researching visas, the better. You don't want to tell your host family you have to back out because you waited too long to get started!
Visa fees can also vary a great deal, and you want to make sure it's something you can afford; it could end up being a deciding factor for you if you're wavering between two different countries.
7. Be Absolutely Sure You Know What You're Getting Into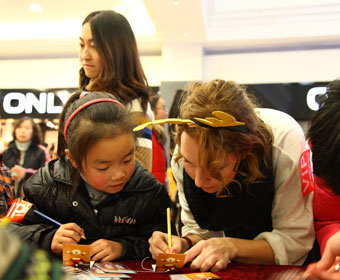 Photo Credit:
Smaller Earth Au Pair in China
Once again, living with a host family as an au pair is a great cultural experience, but it is not all fun and games.
Your ability to travel, go out at night, or have much of a social life could be greatly compromised.
Your only free time may be at random times in the middle of the day, you may have to work weekends or only have one day off a week.
You may find yourself in a situation where you're working 80 hours a week. (And if you find yourself with a host family taking advantage of you, don't be afraid to find a new family!)
Since families provide meals, you won't have as much say in what you eat, and you very well might not have the ability (or feel comfortable) to run out and grab your own food or do personal shopping.
And again, since in most cases you are living in the same house as your host family, you won't have a ton of privacy, you could find yourself at their beck and call since you're right there, and you'll only have one space to go and relax. (You probably won't be spending your evenings sprawled out on the living room floor watching Netflix!)
Basically, to be an au pair you need to be very, very flexible. Make sure this is right for you and you can handle this before you dive in to au pairing. Do your homework and manage your expectations.
Now, Take the Leap!
Once you've prepared yourself for life as an au pair, it's time to jump in and enjoy it! True, it won't always be like living an exciting life on vacation, but there is so much to be gained from hunkering down and getting to know a family and a culture up close and personal -- very personal!
The opportunity to witness another culture so intensely is something that doesn't come along every day.
Beyond the relationships you'll have made, you'll come out of this experience a lot more confident and probably a better idea of what you want out of life. (Maybe no kids? Hopefully not!) You'll have worked abroad -- bonus points for your resume! -- at a job probably way harder than any office job, so go ahead and tell your future employer that in your interview.
You'll also come away with a whole new insight into a new culture, perhaps new language skills, and a new perspective on life and ways of living. There are so many tiny little details that differentiate cultures -- and not just big national cultures, but unique family cultures -- and the opportunity to witness another culture so intensely is something that doesn't come along every day, so make the most of it!