10 Exotic Destinations to Volunteer Abroad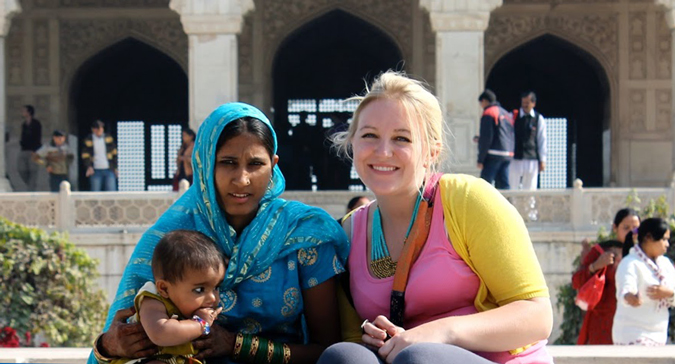 What does your mind conjure up when you think of 'exotic lands'? Different, unusual, mysterious, enticing. A striking blend of natural beauty and unique culture. A place that must be experienced to be fully understood. As travel becomes less costly and foreign soil more desirable, we are seeking out countries once just read about in books like Out of Africa and The Adventures of Marco Polo -- especially when it comes to volunteering abroad.
If you've been thinking about using your skills abroad through volunteer work, we know you don't just want to give back to a community abroad, you want to experience somewhere truly different as well. So, for adventurous do-gooders, this list is just the beginning, but will undoubtedly help you get started on finding a different -- dare we say, exotic? -- destination to volunteer abroad.

With over 17,000 islands, Indonesia continues to mesmerize visitors from around the world. Bali is the only island where the majority of the population practices Hinduism (the rest of the country is primarily Muslim). Java, the largest island, is home to over 100 million people, many of whom live in the capital, Jakarta. Komodo is home to the dragon.
Many volunteer abroad programs in Indonesia focus on wildlife and environmental conversation – both on land and in the water – working to maintain the diverse ecology native to the islands. Potential volunteers will also find there is work to be done in education and development, especially in the aftermath of the 2004 tsunami.

With several thousand years of rich history, multiple cultural and ethnic groups, and a wide range of wildlife, a volunteer placement in Sri Lanka is the embodiment of exotic. A large island off the southeastern coast of India, it is known as the "Nation of Smiling People." However recent events such their 30-year civil war and the 2004 tsunami have tested their resilience.
Much of the volunteer work to be done in Sri Lanka revolves around wildlife conservation, namely the Sri Lankan elephants. Other work includes English teaching and post-disaster development.

Located on the northwestern coast of South America, the once-Spanish colony of Peru is now an incredible country of over 30 million people and a rich indigenous heritage. Its geography, including both the Andes Mountains and the Amazon rainforest, are not just the source of some major climate and cultural diversity throughout country, but also home to some animals and ruins unlike any other on the planet.
As the country continues to progress, youth and community development require further assistance -- meaning, there aren't just ample opportunities to discover and immerse yourself in a rich and diverse country, but to volunteer as well. Volunteer programs generally focus on healthcare, education, and gender equality.

Madagascar is full of incredible, one-of-a-kind natural wonders that have developed in its isolation from the African continent. Even now, the hard to reach nature of the island has kept Madagascar culturally isolated as well, and volunteers will feel worlds away from home as they immerse themselves in a unique blend of African and Asian culture. Not to mention, those lemurs made popular in the recent Pixar film (Madagascar) are much more surreal to see in real life!
Unfortunately, after this African island-nation won independence from France in 1960 it has struggled to create a stable government ever since. As a result, Madagascar has one of lowest human development index scores; the majority of the country's 22 million people live on less than $1/day. Healthcare remains inadequate as organizations set out to improve healthcare delivery and health education. Environmental conservation efforts are also popular among volunteers, and offer some of the more remote (and beautiful) placements throughout the country.

A group of islands off the western coast of South America, the Galapagos Islands are a province of Ecuador. Famous for the birds which led to Charles Darwin's Theory of Natural Selection, these islands are now a part of a biological marine reserve.
As the population is only a mere 26,000 people, the majority of volunteer work of the islands focuses on the wildlife. Organizations devoted to the conservation of the rare animals found on the Galapagos its environment regularly take on volunteers to further assist with their efforts.

India is home to over nearly 15% (one-seventh) of the world's population. A country bursting with vibrancy – in color, in taste, in language, in culture; it is at once overwhelming and intriguing. And while it does have one of the world's fastest growing economies, it still has a need for volunteers in various fields.
Recent events have pushed gender equality to the forefront of issues requiring India's attention. Volunteer programs focusing on youth development, education and healthcare are working to address the massive population and lack of basic necessities available.

Officially part of the People's Republic of China, Tibet, a region just north of the Himalayas has been vying for separation for years. Tibet is primarily Buddhist, as once home to the Dalai Lama. Full of mystery and unique culture, high up in the mountains, Tibetan life is about as far from the States as you can get. Tibet is the lowest of China's provinces on the UN's Human Development Index, and much work is needed to help develop the younger generations. Education, including teaching English, is the primary focus of volunteer programs in this region.

An archipelago in the middle of the Pacific Ocean, Fiji encompasses over 300 volcanic islands. With palm trees lining idyllic beaches, this paradise may seem like the perfect spot for a hammock and a coconut. But there is still work to be done. Several coups in the past 30 years have rocked the otherwise stable country, most recently in 2006.
Similar to other island-nations, much of Fijian volunteer programs dedicate their time to marine conservation. Other projects focus on the development of sustainable infrastructure and education in rural communities.

The Central American country of Belize and its 330,000 resident have 8 recognized languages. The diversity extends beyond the people to its ecosystems as well. With the Caribbean Sea to its east, home of the world's second–largest barrier reef, and jungles on the interior, the country offers much to be explored.
Environmental conservation is the primary focus of volunteer organizations in Belize, many of which have set up sanctuaries for wild and marine life. The fields of education, healthcare, and gender equality also require suitable volunteers to provide assistance in development.

Although Burma has been relatively closed off to the rest of the world for quite some time now, it has recently opened its doors fully to foreigners to come visit the country both as tourists and volunteers.
Volunteers can spend time working with a project -- likely in education -- while exploring nearby mountain ranges dotted with pines, or the seemingly endless coastline running alongside the Bay of Bengal. Most unique though, is the opportunity to immerse yourself in a country and culture that has seen little influence from the outside world (don't even think about trying to use your cell phone here) and to feel worlds away from home.
Explore Another Country
While this list is by no means exhaustive, it gives you a jumping off point to begin your search for countries both enticing and in need of assistance. With so many places offering unique experiences unlike what you find in the West, you are bound to come across some unusual and exciting destinations in your time abroad. So go forth, discover ye exotic lands!
Photo Credits: Bali:
one
,
two
,
John Y. Can
Sri Lanka:
one
,
Kristen
,
decafinata
Peru:
one
two
one
Galapagos:
one
one
two
India:
one
two
three
Tibet:
one
two
three
Fiji:
one
two
three
Belize:
one
two
three
Burma:
one
two
three
.