Internships Abroad
How to Get Paid Internships in Australia in 5 Easy Steps
Undertaking a paid internship is one of the best ways to gain experience in your field, learn more about how your industry operates, and to build connections and networks.
If you're considering an internship abroad, there's no better place to find an internship than Australia. The country offers the ease of English-speaking language, a mild climate and laid-back lifestyle, endless travel and sightseeing opportunities, and a strong economy. With a current national minimum wage of AUD $18.29 ($14), it's a perfect spot for a paid internship.
After moving to Australia several years ago, I was able to successfully land a three-month internship in the not-for-profit industry. The experience was incredible- I was respected as a valued team member, I learned so much about the industry, and how the charity sector operates in Australia. Shortly after my internship was complete, I was able to land a full-time, paid role within this field, and I am sure my internship experience played a large factor in this.
The high quality of living in Australia means paid internships can be found, but it might take a bit of work to secure one. So how can you land your dream internship in Australia? Here is a five-step plan for making your dreams into reality, snagging a cool internship in Australia, and setting off on the adventure of a lifetime.
Step 1: Talk to Your University for Advice
If you're still a current student, talk to your university first to get more information about finding an internship in Australia.
Your study abroad office can offer opportunities, school-specific scholarships, and other resources that are only available to students, such as a database of internships for students to access. They can also advise if your college can offer course credits for an overseas internship, or if tuition will still need to be paid while overseas. Both of these are important factors if you're currently enrolled and want to do an internship in Australia.
Colleges often have partnerships with international universities, meaning they may have connections to assist with finding housing, or you may have the option to take courses at an Australian university while interning. This could be a great way to combine a study-abroad experience with an internship.
Step 2: Consider Your Internship Options
Ideally, an internship should be in a role that will enhance your chosen career path, or be within the industry of your field of study. However, when deciding on an internship, also consider your interests and hobbies, other career interests, and related roles. All internships will provide transferable skills, increase your knowledge and experience base, and will be a great addition to your resume.
Australia offers a huge range of internship options, thanks to its modern and robust economy.
Top industries in Australia include tourism, mining, business and finance, media, and agriculture. Fashion, arts, IT, marketing and fundraising, and the not-for-profit sector are also thriving industries.
You may find yourself working with an international Fortune 500 company in Sydney, assisting a small local business in Brisbane, or working with wildlife in the country -- there is something for everyone!
Business & Finance Internships
An internship in finance is best completed in one of Australia's largest cities, such as Sydney or Melbourne. The Australian finance market is unique, as it is both isolated geographically, but is also strongly aligned with the Asian market. This means interns from overseas are able to learn valuable insight and experience in this market, an asset for all business and finance students.
Not-for-Profit/Charity Internships
There are over 50,000 registered charities across Australia, offering a huge array of services to the community. While it can be easier to find unpaid internships in the charity sector, this could be a good option if you are studying and/or working, and wish to intern part time.
If your dream job is working in marketing or communications, or advocacy or program management for a charity, an internship is a great way to get your foot in the door and hopefully lead to a full-time role in the future.
Media Internships
A paid media internship is best completed in one of Australia's larger cities. Many PR, communications, and media outlets have established paid internship projects, allowing you to gain working experience in a fast-paced environment, and you'll be treated as a valued member of the team. In such a competitive and rapidly-changing field, a paid internship in media is a great way to make your resume stand out.
Fashion Internships
Australia has a large fashion and retail industry, with many Australian designers receiving international attention for their creativity and design.
Similar to media, fashion is a competitive field and hard to break into, so an internship in this field will be valued by future employers. Sydney and Melbourne both host large international fashion weeks, and the Australian love for supporting local labels means the industry will continue to grow in coming years.
If your interest is in retail management, purchasing, or design, an internship in one of the country's major department stores is for you.
Ready to start browsing internships in Australia? See our full list of Australia internships and use the "Industry" filter to find the industry which most interests you!
Step 3: Decide Where & When You'll Go
Australia is a gigantic country, so you have lots of options in terms of where and when you go.
The Best Times of Year for Internships in Australia
The Northern Hemisphere summer is a popular time for internships, as it is during summer break. Remember- this means it will be winter down under, but not to worry- Australian winters are mild and pleasant.
Outside of summer breaks, you may find an internship to fit in with the school semester term. To get the most out of your experience, it's best to commit to at least several months to really get a feel for the company and their way of working.
Best Australian Cities for Internships
For most internships, larger cities like Sydney, Melbourne, Brisbane, or Perth will have the most to offer. Like major cities around the world, these destinations offer internship opportunities in most major fields, and there is plenty of culture to experience during your internship too.
However, if you study biology, agriculture, or mining, you might find yourself in a smaller coastal or inland town. Wherever you end up, make sure you leave time afterward (or before) to travel and explore the country.
Step 4: Search & Compare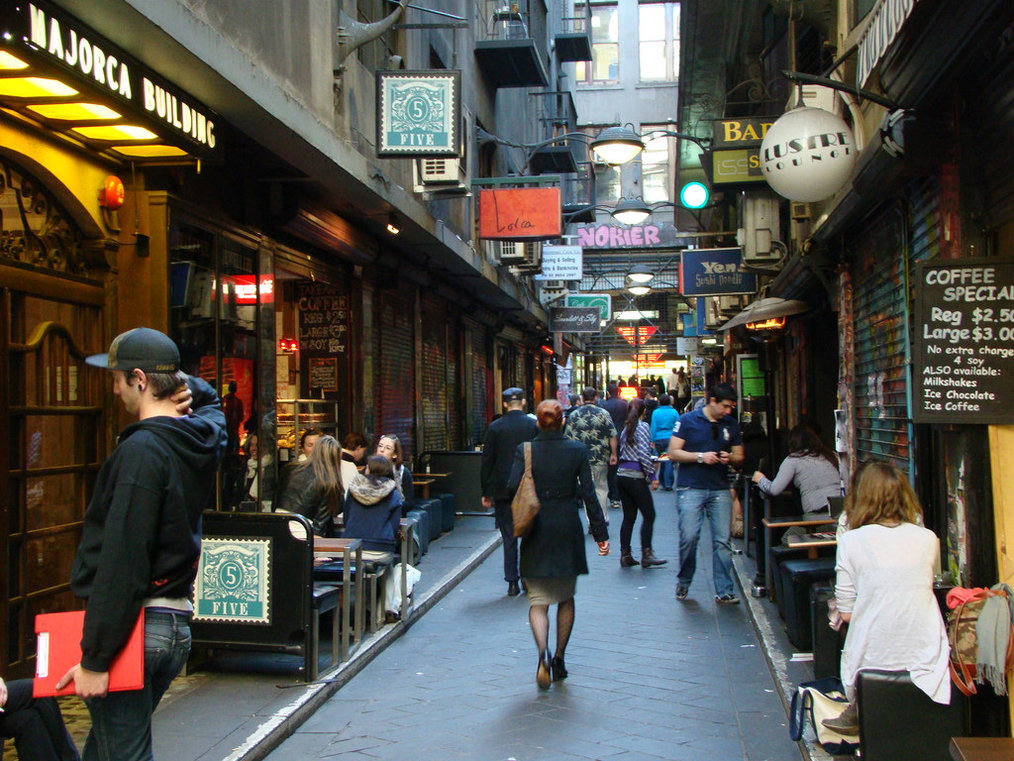 There are many internship options out there, which can be both exciting and overwhelming. However, try to make a calculated decision based on your personal preference and future career goals.
During your search, you should determine if it is better for you to go through an internship placement provider or arrange one independently. Independently sourced internships can be found through networking, online research, local companies with operations in Australia, or on social media. Don't be afraid to reach out and ask your favorite company or organization if they offer internships -- you might get lucky.
Use an Internship Placement Provider
There are lots of organizations that can place you in an internship in Australia.
The advantages of using these organizations are that they will often guarantee you an internship, and they already have relationships with tons of companies across Australia. Of course, these organizations will charge you a fee, but sometimes they also include (or at least help you out with) housing, insurance, and other necessities, which can simplify the process for you.
Go Overseas is a great resource to get you started on your research if you know some basics of what you're looking for, like host city, internship length, or internship field.
Find Your Own Internship
If you're more of a DIY kind of person, you may prefer to arrange your own internship. Since the work and holiday visa can be arranged without sponsorship, you can find and apply for just about any paid internship in Australia, as long as it is for less than six months.
Major job search websites are a good starting point, including Seek, Gumtree, and CareerOne. The possibilities are endless, once you start searching. Treat your internship application as you would at home -- make sure your resume is updated, write a killer cover letter, and do your research on the company before any Skype or telephone interviews.
Step 5: Visa Options & Find Housing
If you've followed these steps and secured an internship, congratulations! Now it's time to work through a few more logistics before your first day of work.
Everyone who enters Australia requires a visa, even tourists, so it's important to ensure you are eligible and can obtain the correct visa type before booking your flight. Most interns will qualify for either the work and holiday visa or a student visa if they are also studying. Note that all visas have an application fee attached, and immigration may also require proof of financial means.
Work & Holiday Visa
Many nationalities, including the US, UK, and Canada, will qualify for a Work and Holiday Visa, or W&H Visa, either subclass 462 or 417. This allows visa-holders to work (or intern) for up to six months per company, and is valid for six months. So, in theory, you could complete two back-to-back paid internships in your year. In most cases, the second year of this visa can also be obtained, but this requires completing work in a regional or remote area of the country.
The application process is simple, but you must be between 18-30 years of age to obtain this visa. You do not need to show proof of an internship or employment to apply.
Important Note: Keep in mind, you can only obtain this visa once. So if you're planning to intern in Australia for a short period of time and think you may want to return to live and work for a year on this visa sometime in the future, you may not want to spend your one chance at this visa on an internship.
Student Visa
If you will be studying while interning, you may qualify for a student visa. Students are also able to work up to 20 hours per week during school term, or 40 during school holidays. If your internship is paid, this will count as part of your working hours. However, if unpaid, you can still find part-time paid work, a massive advantage for cash-poor students!
Other Visas
Dependent on your internship, circumstances, and eligibility, you may also qualify for the 407 Training Visa or the 408 Temporary Activity visa. Contact your university or the Australian Department of Immigration for more details on each.
Housing Options
When it comes time to find housing, your first port of call should be checking with your university, and/or internship provider. They may be able to either provide housing or recommend affordable options near your placement. Otherwise, a houseshare is the best way to find an affordable option, and also meet new people! Check out flatmates.com or gumtree.com to get an idea of what's out there.
Now that you're up to speed with the best way to find an Australian internship, get out there and make it happen! Before you know it, you'll be saying g'day to your new life down under, gaining awesome work experience, and having a great time in the process.
This article was originally written in October 2015, and was updated in July 2018.