10 Great Study Abroad Stories on Go Overseas this Winter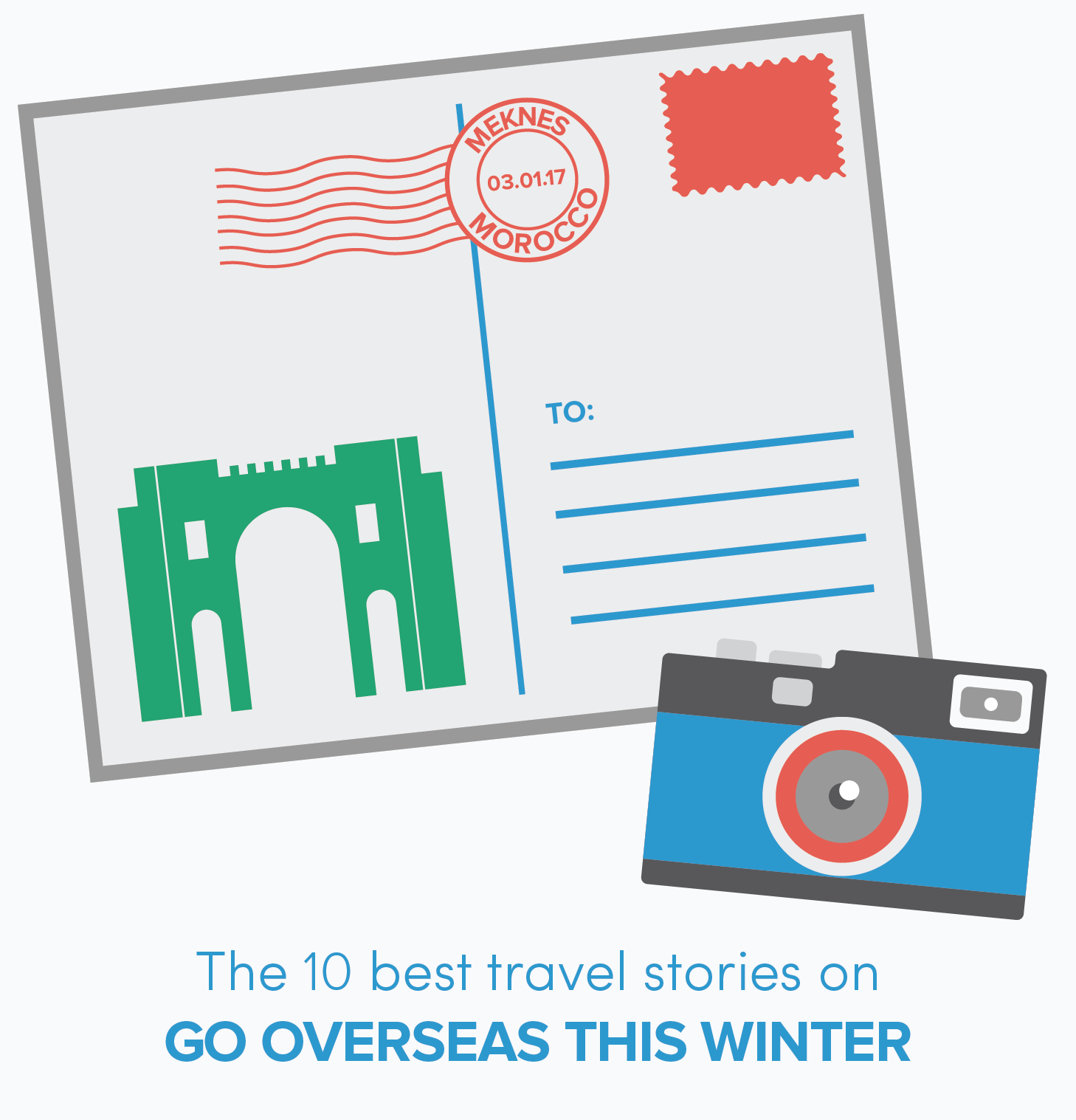 We at Go Overseas can write an infinite amount of articles talking about study abroad - hints, lists, opinions, we have it all - and we're a pretty great source because most of us have studied abroad once or twice in our day.
Sometimes it's even better to hear from more of the Go Overseas community! Here are ten original stories of inspirational study abroad experiences that'll get you inspired to start booking plane tickets yourself:
Brock Becker
Program: USAC Costa Rica: Puntarenas
"Before going abroad, I was a very high pressure, high energy and very stressed out person when it comes to work, school and uncomfortable environments. Latin America in general has such a laid back, family oriented type of culture that at the end of my time has definitely lowered the levels of anxiety that comes with stressful situations. When it comes to waiting for busses for hours on end, or having trouble crossing borders and sleeping in run down hostels or in a bus station, all has changed the way I look at my life and what is important and worth stressing out about. This is the one thing that I have learned most about myself and about traveling for the past year."
Studying abroad can be more than just a great experience - it can change your perspective on life and yourself. Brock took himself completely out of his norm by studying in Costa Rica - and many of those changes aren't pleasant at first - but when you learn how to mold yourself to the new ways of life, you may even mold yourself into a better and more understood version of yourself. Let going overseas change you as it will - you'll maybe discover ways that life outside of your "home" could be even better for you!
Read Brock's full review of his study abroad experience.
Eric Wu
Program: Arcadia University- Scottish Business in the Arts Summer
"Finally, I joined a Church while I was abroad, and in doing so managed to join the college group that was part of the church. This gave me plenty of socializing time with their weekly events, and even gave me a greater appreciation for maintaining my faith in different settings…[and] I got to go to one of their "contemporary" churches, making me realize that things aren't nearly as archaic in Europe as I thought when it comes to worship."
Though not talked about very much, faith does play an enormous part in study abroad for many. Trying to keep practicing your faith while abroad may be difficult, but if you seek out the right resources, your religious group could become your link to the local culture and new friendships. Plus, by practicing in a different country, you may discover things about your religion you never realized!
Read Eric's full review of his study abroad experience.
Gabe Lewis
Program: New Zealand Study Abroad Programs with Frontiers Abroad!
"When I first arrived in Christchurch, I made it a goal to get out and explore the countryside of New Zealand every single weekend. I accomplished this by purchasing a car with three other friends, who joined me on expeditions backpacking, white water kayaking, rock climbing, bungee jumping, surfing, skiing, and touring different vineyards. We managed to see most of the South Island during our semester, encountering some beautiful rural locations and mind-blowing towns next to the ocean."
Gabe is an outside-the-box thinker and we appreciate this to the utmost extreme. A lot of us when we study abroad think we're limited with what we can and can't do while "away from home" but in reality, all opportunities are still there. Gabe gave himself a goal and where others may have stopped when they got to getting a car, he managed to do it and got to explore so much more of his host country because of it. Don't be afraid to push your comfort levels and boundaries. Amazing experiences could be right on the other side of them!
Read Gabe's full review of his study abroad experience.
Gwyneth Talley
Program: ISA Study Abroad in Meknes, Morocco
"Every morning I would wake up and have a quiet breakfast…with my host mom before heading off to school. My host dad would already be outside at work (He was a horse trainer) and my host siblings would still be asleep. Some mornings I would get up early to go ride with my host dad…In the evening, my host mother would fix a light dinner of vegetables, but if we had company over, my dad would set up a big grill outside and we would have lamb brochettes (kebabs) and bread. Afterwards, we would have coffee and tea and sweets over endless conversations usually in a mixture of French, Arabic and a little broken English."
I have read and heard many stories of those wanting to go overseas to a completely different culture but being a bit afraid to do it. Especially for young women traveling alone, sometimes nerves get the best of us. Gwyneth took an extremely different culture and made it comfortable by living with a host family that really did seem to accept her completely into the family - with daily routines and casual but interesting conversations (and activities like horseback riding!) Gwyenth really made Morocco a living-overseas-like-a-local experience.
Read Gwenyth's full review of her study abroad experience.
Mélanie Vistelle
Program: API & UMass: Direct Enrollment at Universite Paris Diderot
"This experience was special because it allowed me to reconnect with my roots. I am half French but we moved away when I was 5 years old so I didn't remember really living there. It was awesome to see what living there was like on a day-to-day basis versus just being there on vacation."
Melanie is just one of many students that are growing up with multinational families. Many have spoken about Heritage Study Abroad but that heritage may even be closer. Growing up with a parent and family that is "foreign" to your home may have a great deal of culture and influence of their home country, but you may not have the opportunity to live there. However, studying abroad in a country that has ties to family is a wonderful way to understand yourself and your family better - and may even help with communication (relatives that don't speak english?) and possible opportunities for your career - especially if you already have dual citizenship!
Read Mélanie's full review of her study abroad experience.
Sergio Fernandez
Program: IES Abroad Milan - Business Studies
"I planned a trip to Prague to meet my dad who had to go for work. We had Friday off that week so I decided to go from Thursday-Sunday. My dad's visa was expired and he wasn't allowed to enter the Euro Zone. Thus began the adventure. I booked two more nights at my hostel and off I went. The first night I went with a Honduran guy and a German guy to a CouchSurfing meeting at a bar and the owner of the bar ended up having two pet pumas. He was walking one of them around the bar on a leash and then it went and laid up on the bar. That was pretty wild!"
Another fear that we've all heard is the fear of something going wrong during travel - and we've all heard the stories of what happens when things do go wrong. Sergio took a pretty big mishap and turned it into an adventure that was one of the highlights of his time abroad. When there is travel, there are mistakes. Embrace them - maybe that missed train will lead to something even cooler than pet pumas.
Read Sergio's full review of his study abroad experience.
Stephanie Numata
Program: ISA Study Abroad in Suva, Fiji
"I wanted to go to Fiji and immerse myself in their culture as much as possible. I was able to completely fulfill that by joining the basketball team at USP. I was very hesitant on joining at first, but I was so glad I did. I met so many friends through basketball. I saw my teammates almost every day of the week. We had practice a few times a week and games every Sunday. Also everyone from all the local teams would come together a couple nights a week to play pickup games at the school or church. So I was able to grow very close to them. There is a big basketball tournament called the Easter Games and teams from all over the island come to play in this week long tournament. I spent all week with my teammates and made many new friends from other teams. It was the best experience, and I am still close to so many of them."
Stephanie gained something that many study-abroaders hope to have, but it is difficult to come by: local friends! To get the culture immersion she wanted, she took something she already loved and turned it into an opportunity to meet locals in an every-day way. Joining the local basketball team allowed her to cross cultures with a mutual game that lead to friends (and fun)! Joining a local team or organization will break down barriers and have you feeling more like you belong and allow you to gain a deep connection with your new home.
Read Stephanie's full review of her study abroad experience.
Victoria Copans
Program: Spend next semester studying in Sicily, Italy!
"Another aspect that made the academic experience special was that the Italian language classes were not composed solely of American students but of people of all different nationalities. This meant that we couldn't just switch back to our native language during class and it really forced us to speak Italian and immerse ourselves in the language."
Victoria took a very popular and "typical" study abroad destination and created a unique experience of her own. By choosing Sicily because she thought there would be less tourism and more culture, Victoria knew she was going to get more of a true "Italian" experience - complete with local events like a Film Festival!
She also points out that just because you choose one country to study in, doesn't mean that you'll only learn that way of life! By studying Italian dynamically with other foreigners, Victoria got more of an understanding about different languages and it forced her to converse more in Italian because of additional language barriers.
Read Victoria's full review of her study abroad experience.
Zac Macinnes
Program: ISA Study Abroad in Lima, Peru
"It's almost a cliche to say that students come back from study abroad more mature, and for me it was no exception. Back in Boston, I immediately sought out my study abroad office. I didn't know it at the time, but I had made an unconscious decision to pursue a career in international education. Emmanuel requires most majors to have an internship their senior year, and mine was (naturally) in the study abroad office. That year, I met representatives from ISA and other organizations on campus at Emanuel. One thing led to another and the rest was history!"
It happens to a lot of us - once we get back from going overseas, we need more international influence in our lives - and many career paths change because of it. Like Zac, many students that study abroad then can find a job through their experiences and connections. From one of many times abroad, Zac grew extremely interested in the program and now works for them! Studying abroad can be an incredible semester, or it could be the beginning of a wonderful job opportunity!
Read Zac's full review of his study abroad experience.
Browse study abroad programs to find the perfect one for you.