High School Abroad: A Way to Help Your Teen Make Friends and Grow?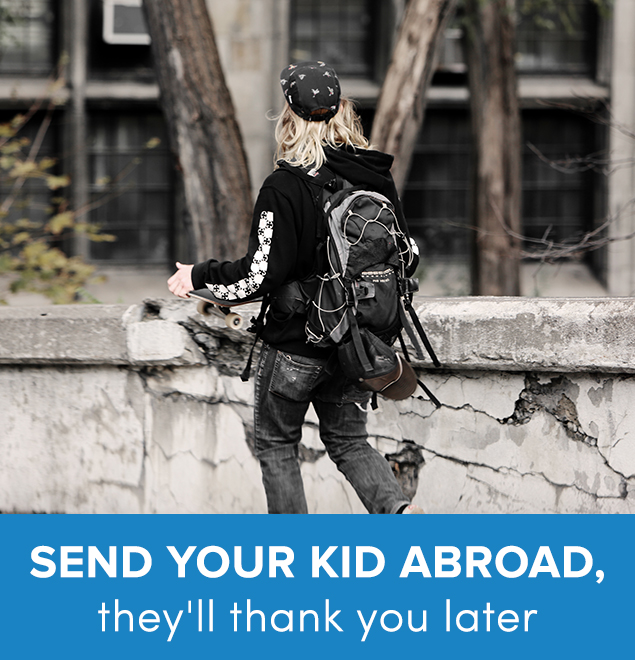 As a parent, you want your kids to succeed -- and not just in academics, but in their social lives, personal growth, and overall happiness. Yet sometimes, especially with teenagers, we worry when we notice kids becoming socially awkward. We want to help.
One of the greatest gifts that study abroad gives a young person is independence.
If you're looking for ways to help your teen make friends, find independence, develop their personal identities, and grow, there are a number of suggestions for parents. But have you thought about sending them abroad? Encouraging them to explore their role in the world through high school abroad? No? Then read on to find out how a high school abroad trip could help your teen make friends, explore their identity, become more confident, happier, and independent.
What is High School Abroad?
To clarify, in this article when we talk about high school abroad, we're talking about a very broad spectrum of programs and experiences. This could be anything from a week-long travel tour over spring break or a 2-week language immersion program in the summer, to a full semester or year doing a high school exchange abroad.
The type of program that's right for your teen will largely depend on number of personal reasons, though we would encourage you to encourage your teen to go overseas for as long as they feel comfortable and have the time for. One week is great, but a whole month will have an even larger impact.
Let's Address the Fears First
There are plenty of reasons not to feel worried about encouraging your teen to study or volunteer abroad during high school. For example, it's far away, they're not mature enough, they've never been away from home, their friends and family support them at home, they are stars on the soccer team, they have to pack in the extracurriculars to get ready for college applications.
The list goes on as the comforts of home and the pressures of preparing for collegiate futures seem to trump any possible advantage to study abroad.
But that's where parents and teachers might just be surprised. Increasingly, studies are finding that high school is exactly when students should study abroad. These impressionable, defining years are the perfect period in a young life to develop skills that will be forever beneficial. They have the power to change your teen. Not only will this type of experience allow students to grow and develop quickly and in thoughtful ways, but it will set them up for success in college, career, and beyond.
"Why should we keep teens at home when they're at their most creative? Let them explore," said one mother who encouraged all of her teens to take solo trips before they were 18.
High School Abroad Helps Them Explore their Identity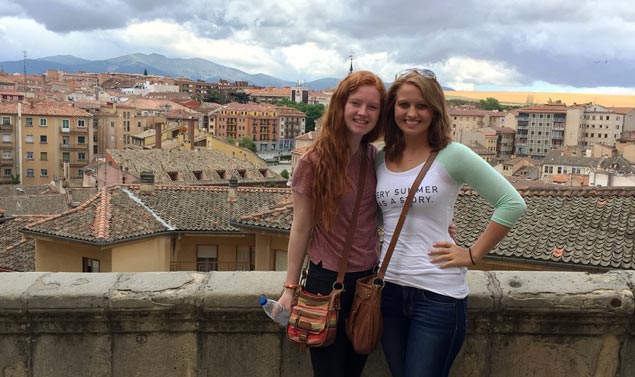 One of the greatest gifts that study abroad gives a young person is independence. Some students might inherently crave being independent and responsible for themselves, but others might need gentle encouragement.
This is a time when young people are trying to discover their world for themselves and while they still depend on the stability and constancy of family and school, they are starting to look to themselves when making big decisions and deciding how to act and think. That's because, to put it concisely, they are trying to figure out who they are.
A study abroad experience in high school will help them do exactly that. Students will be away from everything familiar, from their parents, fellow students, soccer teams, and teachers. They will have to start making decisions for themselves, carefully, thoughtfully, and then celebrate the successes and learn from the consequences.
This is an age when parents are still trying to help guide their children, but finding that balance between letting go and being in control can be hard to manage. As Raychelle Cassada Lohmann points out in her article, "The Impressionable Years," published in Psychology Today, "Unfortunately, many parents miss the unique opportunities the adolescent years provide because they have a hard time letting their child grow up. So rather than letting their teen explore the world and make mistakes, they err on trying to control their child's behavior."
Letting your child explore their world outside of their comfort zone while studying abroad might be just the balance you need.
Young adults will make mistakes, they will be successful, they will be proud of themselves, and mature and advance incredibly quickly. Once outside of their safe comfort zone, they will start to really identify the person they want to be, become self-reliant, and truly begin the long journey of learning their place in the greater context of the world.
For some teens, being outside of the familiar, in a place where no one knows their past, their reputation, or where they haven't yet been pigeonholed into a certain identity, it's the perfect opportunity for them to explore a new one. They can shed the "shy kid" reputation and shine.
It's an Opportunity to Learn Understanding and Tolerance
High schoolers are making decisions each and every day, trying to figure out who they are and what they want out of life, school, and friendships. They experiment in everything from fashion to relationships, trying to determine their identity. By creating a study abroad experience for your teenager, you're allowing them to be in a place where they can learn for themselves, through every decision and interaction, who they are and who they want to be.
While studying abroad, students have to problem solve, adapt, work with others, learn to lead and to follow. These soft skills will go a long way in helping students prepare for college.
Some of the most important ways that this can happen is through the joys and challenges of cross-cultural exchanges. It can be a shock for young people to be thrust into a situation where people don't act or think they way they expect them to. How they react and adapt can teach them a lot about acceptance, understanding, and tolerance.
To learn these skills early on at an impressionable age can really make a huge difference in how someone views the world as they get older. They learn how to adapt, how to appreciate diversity, how to balance differing opinions and traditions. Imagine how this student, the one who has had to navigate an entirely different culture during their formative high school years, will thrive in a collegiate setting where they are exposed to a new and vibrant array of perspectives.
They Learn Soft Skills That'll Prepare them for College
One of the greatest benefits that a young person can glean from studying abroad in high school is learning how to live with, communicate with, study with, and travel with others. Study abroad is a wonderful opportunity to learn about oneself, but perhaps an even better chance to learn about others and how to relate to them.
While studying abroad, students have to problem solve, adapt, work with others, learn to lead and to follow. These soft skills will go a long way in helping students prepare for college and succeed once in a higher educational setting.
At the same time, they're improving on their communication skills out of necessity, which will help them in social situations for years to come.
Capitalize on Teens' Formative Years
High school students are at an important point in their lives. They're developing, learning, and becoming young adults. They're constantly questioning, exploring, and trying to figure out who they are and what their place is in the world.
A high school abroad experience will give students the kind of soft skills and personal growth benefits that will not only set them up for success in their future, but will help shape and mold them into thoughtful, responsible, curious, independent citizens of the world.
Perhaps Go Overseas' community member Eli Cushnir sums it up best. In his review for SPI Summer Program in San Sebastian, Spain, he writes, "this experience takes you way out of your comfort in so many ways, from your home-stay to the cultural immersion, and everything in between.
"I had never been out of North America before this trip, and this experience taught me that I want to spend a lot of my life traveling the world, meeting new people, and putting myself more and more out of my comfort zone. We all do so much to increase monotony in our daily lives, so do yourself a favor, and have an adventure so far out of the ordinary that you will never forget for the rest of your vida!"
It Forces You to Not Be Shy
When you're abroad, out of your comfort zone, and constantly interacting with new people, you're forced to speak up for yourself. Sometimes, it's a matter of literal survival (if you can't grocery shop in Spanish, how will you ever eat?!?). For shy teens, this is a fantastic opportunity to get them to speak up for themselves, develop confidence, and discover just how much they're capable of.
Friendships Formed Abroad are Strong
If you've ever studied or traveled abroad, you might be familiar with the phenomenon: we're often quicker to make friends when we're abroad and surrounded by other travelers who are equally enthusiastic to make quick friendships.
Similar to a summer camp setting (and, by the way, there are summer camps abroad -- some of which have a strong focus on language learning), that shared experience has a powerful impact on teen's abilities to make strong and lasting friendships -- and quickly.
We all do so much to increase monotony in our daily lives, so do yourself a favor and have an adventure!
If your teen is naturally adventurous and loves experiencing new things, they might discover that they're finally surrounded by other like-minded people their age for the first time. Naturally, this is often the key to breaking the "but I don't feel like I relate to any of my classmates" issue.
What's Your Opinion?
Of course, we think high school abroad is a truly amazing and personality-altering experience (in the best way possible, of course). We also recognize that it's hugely important for parents to buy in to the experience and encourage their students to take a trip abroad.
So, we hope that even if this idea hadn't crossed your mind before, you're at least considering it. And if you're still on the fence about sending your teen abroad, let us know some of your thoughts, concerns, and opinions in the comments below.
Photo Credit:
Feature image
, SPI, and ECI.