Trine from Denmark, Jakob from Germany, Flo from Finland. They were all remarkably charming, albeit timid at times, and somehow all very good at tennis. They were also all foreign exchange students at my high school in Indiana.
Why the thought never crossed my mind to follow their lead and study abroad during high school is beyond me. With ample opportunities popping up every day, it is a wonder I did not spend a semester in Argentina with Greenheart Travel or a summer in Spain with LPI Abroad. I guess a life without regret is a life not lived!
According to the Annual Statistics Report for International Youth Exchange by the Council on Standards for International Educational Travel (CSIET), in the 2010-2011 school year nearly 2000 high school students packed up their bags to study abroad. Though the most popular destinations for U.S. high school students remain to be Germany (385), France (171), Italy (129), Japan (108), and Brazil (103), there is increased participation in programs offered in Asia, most notably in China (85). This number is down, however, from a 2005 peak of 2600 U.S. high school students studying abroad. It would seem likely that economic reasons have played a role here since studying abroad in high school is admittedly a luxury.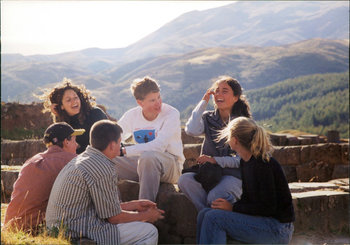 It's also interesting to note that in 2010, 29,000 foreign exchange students came to the U.S. to study abroad in high school. This is an increase from 26,000 students in 2005. It's hard to make sense of these trends as the United States continues to fall in world education rankings.
Two perspectives
Few would argue that studying abroad offers experiences as unique and different as the students embarking on the journey. Let's take a closer look. Two students, American Noah Langholz and Spaniard Jorge Moro Deiguesca, offer comparative reflections of their study abroad experiences during high school.
Meet Noah Langholz, an American high school senior from South Pasadena, California. Noah is reflecting on his experience studying abroad in Torcy, France, a suburb of Paris. Although the city itself was not very exciting, its proximity to the City of Lights allowed for frequent visits and cultural immersion. Noah spent the year living with a host family on a house boat on the Marne, a river that intersects with the Seine.
And on the other side -- Jorge Moro Deiguesca, a high school student from Zaragoza, Spain. Jorge traveled to the USA to spend a year studying in Eads, Tennessee, just east of Memphis.
No Regrets!
From America to France, or Spain to America, Jorge and Noah agree on one thing: studying abroad is rarely an experience that students regret. It is still important to pick a program that fits your needs and desires, as well as plan ahead. While it may take a little effort, students will share the "it was totally worth it" sentiment from the moment their plane lands in a new country.
Ready? Explore high school programs abroad.
Photo Credits:
IES Abroad
and Noah Langholz.